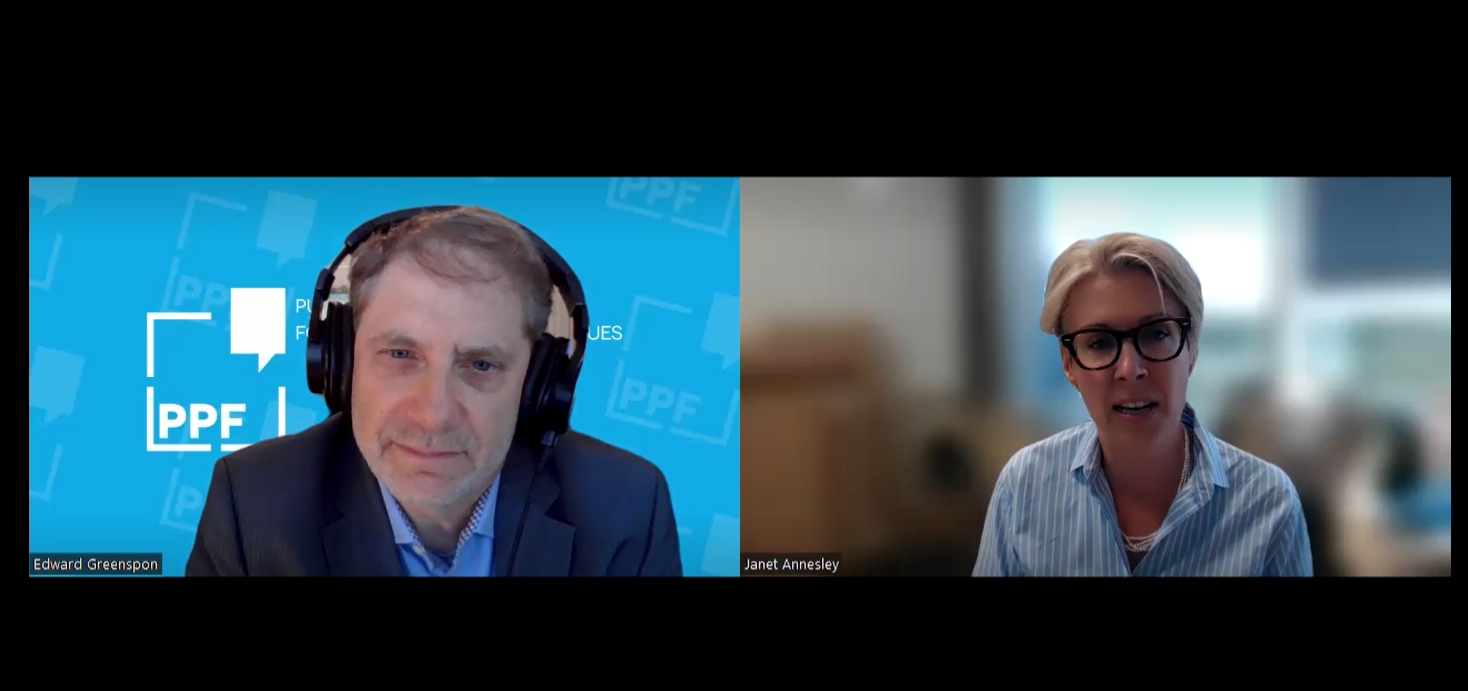 News
"We are ill-prepared": Facing Canada's electrification challenge
At a PPF members' event the co-authors of Project of the Century talked about picking up the pace of electricity building, getting provinces aligned, and taking a Ted Lasso-approach to the problem
Canadians are not ready for the electrification challenge that lies ahead, say the authors of a new Public Policy Forum report.
People expect they will have electricity immediately, that it will be efficient, affordable, reliable and, more and more, that it will be clean. But a forecasted doubling in demand over the next 25 years presents an historic challenge.
"As complex as the fossil fuel, liquid hydrocarbon system is, our electricity system is even more complicated — and fundamentally more important," said Janet Annesley, the Chief Sustainability Officer at Kiwetinohk Energy Corp.
She spoke at a PPF members' event with PPF President and CEO Edward Greenspon about the report they co-authored, along with Arash Golshan and David Campbell, called Project of the Century: A Blueprint for Growing Canada's Clean Electricity Supply – and Fast.
The pace of what needs to be done to build up supply capacity is extraordinary, said Greenspon. It will require doing in 25 years more than what Canada did in the last 100 years in building electricity.
The question is, can Canada put in place the conditions to pick up the pace?
"There's a demand-supply attention deficit disorder. We're stimulating demand, as we should. But we're coming late to the supply side. It's going to take some exquisite coherence of policy and different orders of government to get us where we need to go," he said.
Annesley also noted the lack of attention on this increasingly urgent issue: "We are ill-prepared, because we've taken the system for granted for so long. And in this new era, we're going to have to understand the system, even as consumers, more and more."
Their report offers a road map for how Canada can meet the challenge.
The event touched on the federal government's Clean Electricity Regulations, which are expected in the coming weeks ("everyone is on pins and needles" about when they will land, said Annesley ), the important role of Indigenous ownership positions, and the need for a 'hurry-up offence'.
The authors also fielded questions about the challenge of getting provinces aligned, given their historic reluctance to embrace freer trade and intertie electrical systems. The trade of electricity will raise, for instance, huge transfer of wealth questions that will need to be resolved.
Despite the scale of the challenge ahead, "we should not overlook though how far we've come," said Annesley. "The phase-out of coal, I would have thought at one point that that was going to be impossible, but now we're on an accelerated phase-out in Alberta."
"At the risk of sounding like the Ted Lasso of electricity, we've got to work together as a team. We'll surprise ourselves with our own success."
Join our network of policy leaders across Canada. Become a member.