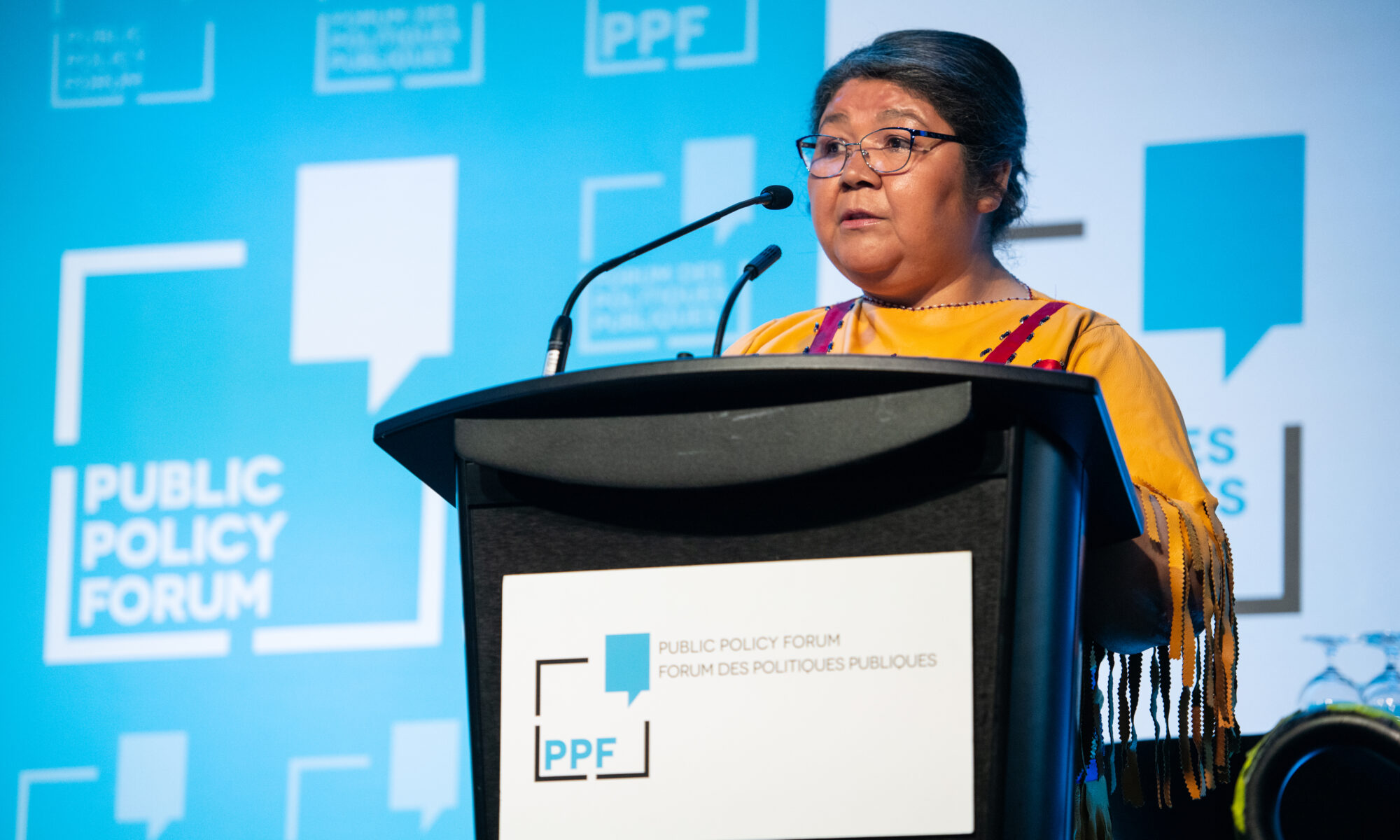 Transcript
Anastasia Qupee: 'My leadership has been built on the history and the lessons of the Innu'
Anastasia Qupee is a former Grand Chief of the Innu Nation and one of three commissioners on the Inquiry into the Treatment, Experiences and Outcomes of Innu in the Child Protection System. The following is a transcript of her acceptance speech given at the Public Policy Forum's Atlantic Dinner and Frank McKenna Awards on June 13, 2023. 
Every one of us here tonight is at a place of our own journey. My journey, like all of yours, is rooted in the experience of my ancestors. My roots are Innu and they go back thousands of years in the land known now as Quebec and Labrador. My father was a nomadic hunter. My mother was a child of a nomadic hunter. They grew up living in a nomadic life, travelling on foot, snowshoe and by canoe. They didn't know there were provinces and boundaries. They knew the land, the lakes, the rivers and had the skills to survive and raise my generation on the land.
That never happened. I am the youngest sister in a family of 16. My siblings were born in a tent on the land where births and deaths were a normal part of life. Caribou have been at the heart of the Innu culture for thousands of years.
In my first language, Innu means human being, the foundation of our culture and our spiritual beliefs that everything has a spirit and that humans are not at the top of the hierarchy with everything else: the trees, the water, the animals below us. My culture is communal, and when the well-being of the group came before individuals' wants and needs.
However, in the 1960s, my parents and grandparents were forced into moving into a year-round village. The priest ruled over the village. My parents' generation didn't speak English. The priest was the first school teacher and he was violent and abusive. My older brothers and sisters were taught that our culture was evil, that the drum and our spiritual practices were the ways of the devil.
By the 1970s, there were no sober households in our community and this brought with it all the symptoms of a collapse of our culture, including child neglect, family violence, physical ill health and much trauma. My generation became the poster child for colonization. My parents had no way to anticipate what the future would hold. They knew nothing about residential schools or the Indian Act in other places across Canada. They could not provide political leadership for life in a year-round village.
Fortunately for me, and why I am here now is that they did provide leadership to our family. They taught us that in spite of the messages we learn from non-Innu world that we were inferior to white people. They were indeed important that our culture and life on the land was important. My older brothers and sisters learned to read, write and speak English fluently. They started to work in the first political organizing in our community, and my sisters became helpers in the health fields and in the school. They were trying to make life better for everyone, not just for our family.
As a young woman, a single mom, I simply knew I needed to contribute to the well-being of my community. I started community service in health programs, leadership, and I heard more individual stories and became more aware of all the systemic barriers. I knew I needed to do more. My time as elected Chief of Sheshatshiu First Nation and then as Grand Chief of Innu Nation were years of huge challenge and often frustration and anger. I learned that I needed to laugh the way my parents and grandparents would laugh, even when there seemed little to laugh about. I learned that we had to have our own Innu vision of a healthy future and work hard to make that happen. I also learned that my leadership didn't start with being elected. The best of my leadership has been built on the history and the lessons of the Innu who came before me, because they also dream of our health and well-being, our reconnection to our land. There are so many examples of Innu trying to make dreams come to life.
Today, as one of the three commissioners leading a provincial inquiry into the treatment and outcomes for Innu children and families and the formal child protection system, I am humbled to listen to the terribly painful stories of Innu. Many of them my peers, who as children were not protected by a system which said it would keep them safe. This is a very difficult kind of leadership for me to be trusted by my people, to ensure the success, to share these experiences. Some of them truly life and death are heard and then used to help build the framework for developing our own law and Innu children and family well-being services.
We are on this path. We signed a protocol two years ago this month with the Newfoundland government to take concrete steps to work together toward an Innu-led vision and the progress is real. Provincial child protection staff must contact Innu community workers to involve them at the earliest opportunity in every referral involving suspected harm to an Innu child. This is a huge step forward on my journey as a leader and our journey, as Innu. I am proud how my past has played a part in where we are and are heading. And I thank you for acknowledging my journey with this award. May all our journeys continue in good health. Thank you.