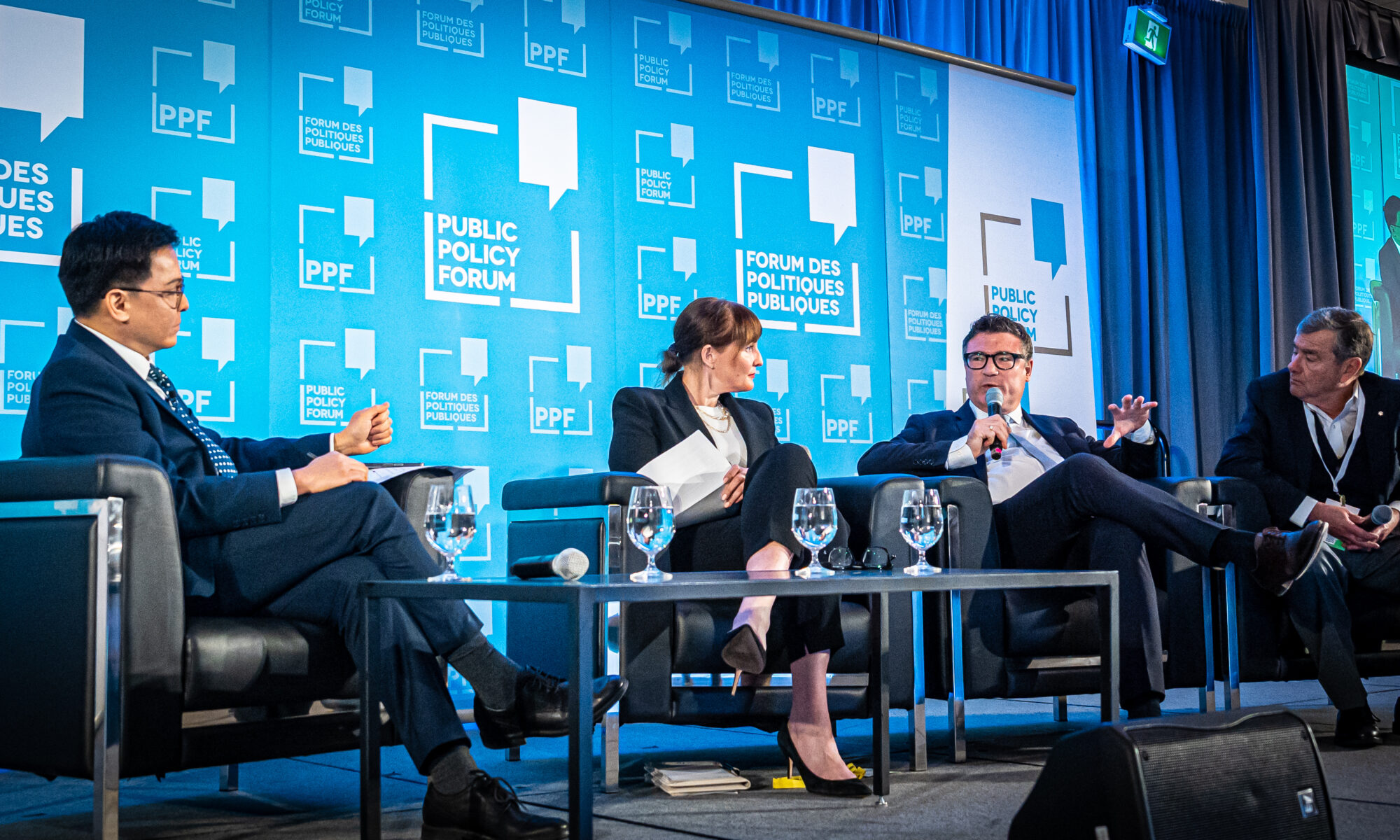 Transcript
Why hydrogen is the No. 1 element on the periodic table
Panel discussion with:
Mollie Johnson, Associate Deputy Minister, National Resources Canada
Stefan Kaufmann, Expert, European Hydrogen Business and Former German Hydrogen Commissioner
John Risley, Chairman and CEO, CFFI Ventures
Moderated by Michael Serapio, Anchor, CPAC
Michael:
How would you describe hydrogen to a layperson and its importance in the energy transition? Mollie?
Mollie:
I think the irony of that question is only truly known to my chemistry teacher from Grade 10 or 11, that I was being asked about the element being the first on the periodic table, if we look to the title of the session. But when we think about hydrogen, it's a clean fuel. In Canada, we have such an advantage because it is produced from those natural resources where we have a huge advantage. And so that's really important. It's produced by technology and innovation that we here in Canada have produced for a long time. It's not new; it's something that's very rooted in our economy and our people, and we have a history with our energy system. Our people have a long time doing this. So, when I think about hydrogen, it's the 'what it is,' as the clean fuel, but also the 'how we get it done.'
But then why is it important to the energy transition? We talk a lot about electrification. We talk a lot about the different pathways for decarbonization, but we can't electrify everything. We really need to be thinking about the mix of energy that we're going to need to get from where we are to our decarbonization goals. That's why it is critically important that we have these options and opportunities to look at different things in different parts of the country, different parts of the world, as we're thinking about what we're trying to do.
Michael:
I'm going to pick up on that point a little later, but let's keep going down the row here. Dr. Kaufmann, what would you say about hydrogen and its potential in the energy transition?
Dr. Kaufmann:
Thank you for the invitation to this panel. We heard a lot about why hydrogen is really a game changer to reach our climate goals. It's why we need green molecules and not only green electrons to decarbonize in hard to avoid sectors, but it's much more important for Europe, for example. We can transport green energy from areas with infinite potential of green energy to Europe by shipping it as a fuel, by shipping it as ammonia, or liquid hydrogen in the future. That is what makes hydrogen really a game changer. Also, to decarbonize Germany, we have an import demand of up to 80 percent of our green hydrogen in the future. Because I'm here also speaking for the European Union, Europe is a global leader in green technologies and hydrogen technology at the moment, but we see that we need global action and global co-operation to reach our global climate goals. That's why the European Union is very committed to strengthen co-operation in the hydrogen sector with Canada in three areas. First, to strengthen our research, co-operation and development of skills. Second, in the area of looking for supply chains from Canada to Europe, especially from eastern Canada, Quebec, Ontario, for example, to Europe. And the third sector about working on the common regulatory framework about standards, for example, which is really necessary that we work on global standards together – European Union and Canada.
John:
Just to pick up on what's been said, I think the two most useful data points to carry around in your mind is that, one, hydrogen is already a huge industry around the world. You can't make steel, you can't refine oil, you can't make fertilizer without it. And the production of hydrogen today is very carbon intensive, it accounts for more than two percent of the world's global emissions. Two percent may not sound like a big deal, but if you combine the carbon footprint of both the U.K. and Indonesia, it's about that same number. So, it is a big deal. The point is that if we can convert the production of hydrogen today, just in existing-use cases, to green, that has obviously a big impact on the global carbon emission footprint. The second thing, and the doctor just mentioned this, but it's really important to understand hydrogen as a mechanism to transport electricity made with renewables from where you can do it very cost efficiently to where it's much more expensive.
So, if you think about wind farms in Europe — and we all go to Europe on a regular basis and you can't travel around Europe today without seeing evidence of wind farms — really there's no more landmass. All the good areas for wind have already been consumed. And that makes sense to go right into the grid. And now we're in offshore and you can't fly anywhere, go over the North Sea or go to the U.K., without looking down and seeing wind farms. Well, when was the last time you saw a wind farm in Atlantic Canada, for instance, or across the country? We have huge landmass, we've got a really good quality wind resource (we all hope we might have a better quality solar resource). But the point is, we can make electricity in this country much more cost efficiently than you can in Europe today. But we can't move the electricity to Europe. And we need hydrogen; hydrogen is the mechanism by which we can move that cheap electricity to Europe, where it's got, obviously, a very compelling market opportunity.
Michael:
That dovetails very nicely to, Mollie, what you were talking about as well, about how hydrogen will be an important piece. And part of it too, I think, is because, if you go back, way back, it was actually thought it would be hydrogen vehicles that would replace gas-powered engines. Instead, there's now this choice over batteries, the development of battery industries. So, where does hydrogen come in then? In a practical sense, what spaces will it fill where batteries cannot?
Mollie:
I think people will get tired of me talking about regional systems or choices and planning, but it matters. One example is the hub model for hydrogen that is being set up in various parts of our country. In Edmonton, there's a very successful hub model where, for medium- and heavy-duty vehicles, hydrogen is the right fuel choice. It doesn't require you to be as bound to going back to the charger every single night when you're doing the work of your shipping routes and that sort of thing. So, it becomes very effective and efficient. I think it depends what mode of transportation you're going to use, but it also requires some planning, because if you do have a hydrogen vehicle and you're doing a trade corridor route all the way down to Mexico, if they don't have hydrogen down there, you're kind of scuppered. You have to be thinking about where you're going, where you're coming back to, how the system is planned. I don't think we can be as binary about 'we're going to electrify or use hydrogen everywhere,' but we do need to think about what are the best opportunities in each part of our country. If we're producing hydrogen with natural gas where we have that advantage, perhaps that's a better opportunity, whereas with using it in different parts of the country, what works best for us?
Michael:
There are distinctions in terms of hydrogen, and I'm thinking about the colour coding here: green hydrogen versus blue hydrogen versus the colour of 2021, turquoise hydrogen. Dr. Kaufmann, could you talk to us a bit about the different processes that are used to develop it and the distinctions, the colour coding, that's applied to it as well?
Dr. Kaufmann:
First, hydrogen is an invisible gas, which has no colour. So, the colour is about a production method. Grey hydrogen is hydrogen made in a reforming process by natural gas. The big problem is by producing one kilogram of grey hydrogen, we emit nine kilograms of CO2. That's what we want to avoid with hydrogen we produce. At the moment we have, at the end, only grey hydrogen in the world for chemical production. And that's why we look now for other methods to produce. If you capture the CO2 in the process from reforming that thought carbon capture in storage or carbon capture in usage, it's a blue hydrogen, with nearly no emissions anymore. We can use the CO2, for example, to produce e-fuels, or we can store it below the sea, for example. That's what Norway's doing and also Alberta and a lot of countries are talking about. So, producing blue hydrogen at the end outcome of the reforming process using natural gas. And then we have green hydrogen. It's splitting water by renewable energies in oxygen and hydrogen. We have also some red or pink hydrogen. It's splitting the water by nuclear energy; that's what France is doing, for example. Or we have turquoise hydrogen, that is, at the end, also based on natural gas. But the product is not gas; the product is a solid carbon coming out and you can use it to build streets, for example. But the problem with turquoise, it's a very low level at the moment, so we think that we can have it at a commercial level maybe in 2030, maybe 2028, but it doesn't exist, it's only research at the moment. What we do have is blue hydrogen, green hydrogen, grey hydrogen and also red and pink hydrogen.
Michael:
John, do you think the colour distinction matters in terms of developing an industry and harnessing the potential of it all?
John:
Resolving the climate crisis requires all hands on deck and every gun blazing. Is blue hydrogen as good as green hydrogen? If you were a purist in the matter, you would say, 'No, no, we need green. We shouldn't have blue because there are issues with blue and we're continuing to emit,' although we're trying to capture all the emissions and is that capture process 100 percent effective? So far, it's not. But I think that's a silly argument to make. The answer is we need blue because blue is an existing business, or a function of an existing business, that has carbon capture attached to it. And we need to absolutely go down that road as fast as we possibly can. Do we need green? Absolutely, we need green, too, because we're not going to electrify every vehicle in the world today. We can't build the power generation and the electrical grid necessary to do that. So, hydrogen has a role to play in hard-to-decarbonize sectors like shipping, for instance. And we heard in a previous conversation about its role in making green steel, and we need green steel. So, we need every single colour, except for grey.
Michael:
And what's interesting, Mollie, is that the government's tax credit program, it actually doesn't really rely on the colour.
Mollie:
Well, it's hard to regulate the rainbow. Looking at carbon intensity is really the thing that we want to be thinking about. As we move towards carbon neutrality, move towards Net Zero, as we're moving towards 2050, we've got to think about – for all our fuels – how are we consistently moving ourselves down to Net Zero? We can look at numbers, we can try to figure out how we get from where we are to where we want to be, but I think that's ultimately — and just as John was saying — that's the goal. We've got to be all hands on deck and figuring out how we're constantly working together to find that way to lower carbon intensity. As well, the work that we do internationally is very important because we're a panel of international people here who are trying to figure out not just what we do in our own country, but how do we build those relationships so we can take our product from one place to another. And we've got to be able to measure that, we've got to have common standards, we have to be able to verify that. And coming back to those numbers of carbon intensity and what works, and can we trade and verify what we're doing, that's going to be critically important as well. Trying to figure out how it's made? OK, but really, what are we producing and what is the value and impact on the environment? That's what's critically important.
Dr. Kaufmann:
Just to add, I think the Canadian tax credit — it was compared to the IRA in the United States — is a very good incentive compared to the incentives we have in Europe at the moment; it's a distinction between the level of carbon intensity, that's good. From the European side, if you talk about investments from the European side in Canada, we have to be honest and that's also the underlying state of energy policy that EU investments in Canada will only go to green projects, if it's the EU level. I don't talk about private investments, but if you talk about EU investments, we talk about green investments.
Michael:
Where would you at this point, John, describe the industry here in Canada in terms of its development and really harnessing its potential? Where are we as a country?
John:
We're in the middle of a race. Canada has no particular licence to win this race other than we do have a really good quality wind resource. And we're large producers of grey, which means that we can be large producers of blue. So, we have a seat at the table. The question is, will we make use of that seat? The government, to its credit, is saying all the right things. I have been around business and government for longer than I care to remember, and I don't know that I've ever seen any government as committed to a policy as I think this government is. I worry that we need to move quickly. We are in a global race. And can there be multiple winners? Yes, because the energy industry is enormous, as we know. But the supply chain for this emerging industry — because it is emerging, there are zero large green hydrogen projects anywhere in the world today; we can be amongst the leading field. But the point is, the supply chain capable of standing up these projects is very, very thin. And you are going to see, once the roles around the IRA get promulgated and Treasury finishes designing those roles, an enormous amount of capital is going to flow into projects in the United States and that will consume the supply chain for years. We need to be part of that early supply chain process. We can't wait; we've got to get going. Am I optimistic? Yes, but that's what keeps me awake at night.
Michael:
Where's the public-private mix of that?
John:
Government has put in place a framework in response to the IRA that I think, we've largely heard this morning, is competitive. But there's a lot of details that still have to be worked out, details around what the tax credits exactly apply to and what, by definition, they may not apply to. We need to have that information. Contracts for difference, in my opinion, are really important. My personal view is that I don't want contracts for difference to be a subsidy. I want them to be a market generating activity that sets a floor and hopefully we can trade, the market will mature — and I'm hoping the doctor will agree with me here — to the point where pricing will be in excess of that floor. But there is no market today. And if you're going to spend $10 billion or $15 billion on a project, you can't do that, you can't finance it, in the absence of some sort of market commitment. And so, contracts for difference have a really meaningful role to play in that but I don't want them to be a subsidy. That's a very important distinction.
Dr. Kaufmann:
I completely agree. There are a lot of announcements, around €250 billion to €300 billion of announcements, around 600 announcements globally, for green hydrogen projects. But very few, maybe 10 percent of them, are financed investment decisions because, at the end, we have a lot of obstacles. We don't have the electrolyser capacity; we don't have the infrastructure. So, talking about Germany, we have a lot of technologies, we have a lot of companies looking for green hydrogen, but we don't have the infrastructure to bring the green hydrogen to the back land in from Germany. So, we need pipelines, for example. If we have to ship the green hydrogen as ammonia, which is what we have to do because you can't ship the liquid hydrogen at the moment, you need a cracker. There are no crackers worldwide, on a big scale, to crack the hydrogen out of the ammonia. That is what we have to develop and if we don't have that, very few companies can sign an FID and that's why all the projects are announced but not started so far.
Michael:
Mollie, in terms of infrastructure, where can investments be made? Where do investments need to be made in terms of establishing infrastructure for the industry?
Mollie:
That's a very big question. There's a lot of pieces that have to be built. Maybe I'll just back it up. I'm in full agreement about the potential that we are holding right now, huge momentum in trying to figure out what our opportunity is. Our proof is going to be in our ability to get it done and to get things done and to get those projects built. And that will include, as you say, infrastructure. It will include being able to move product off our shores and get hydrogen into our distribution system and all these pieces. But I think the other big opportunity is for us to simplify how we do all this work together. We've got the big pieces coming out of the budget, we've got a number of programs that are very impactful, we have tax credits — and that's just at the federal level. And then there's the entire provincial system. There's a lot of things that we need to do together in order to achieve this and trying to find a way that we all throw in together to take this potential to make it happen, so that we're building the record of success and capitalizing on the moment. That's really the piece that we are going to need to be able to capture this. On infrastructure, there are a lot of pieces, but it's going to depend on what our big projects are and where we go next.
Michael:
I want to bring in a couple other questions that we're getting from the participants right now of the forum. First question, what keeps you up at night when you think about Canada achieving ambitious global growth in hydrogen?
John:
At the talk this morning, which I thought was a great idea — to put together a SWAT team of the right deputy ministers at the federal level — but the provincial government also needs to be at that table because, in very large measure, the provincial governments are the local permitting authority. We need all governments acting in unison here because policy doesn't happen just within one government. And this is not something that's been done before. If you stand back — I'm a 40,000-foot guy; that's what happens when you don't know anything about anything — I worry that all the ambitious targets that we've got for climate change, we can't meet them. It's not possible. We're not moving quickly enough, there's not the right sense of urgency.
So, what's going to happen? I'm not a climatologist, obviously, but extreme weather events are scaring the hell out of people and are we going to get more of them? If we get more extreme weather events, you will get political will because you will get people saying, 'Hey, we need to be doing something urgently.' We can't spend two years permitting a renewable energy project because, in this country and most other jurisdictions, we don't treat the permitting of renewable energy any different than we treat the permitting of anything else. And that is crazy, it's nuts. What are we doing? We need to get behind this in a comprehensive way because this is a huge opportunity. The prime minister talks about jobs and new jobs and great jobs. Where our project is based in Newfoundland, there is today over 50 percent of the adult population in those communities on unemployment insurance. That's nuts. All those people could be working today. And that's not just a climate issue, that's a jobs issue, it's an economic development issue. It's where the future of the world is going, and Canada's got a meaningful role to play in that — if we get our act together.
Michael:
What's the rationale for the EU to only direct their investment toward green hydrogen instead of prioritizing carbon intensity, regardless of colour?
Dr. Kaufmann:
John talked a little bit about the problems of blue hydrogen and medicine boil-off and so on. So, we think it's not, at least from a public funding point, to invest in blue hydrogen infrastructure. If Equinor or some companies also in Canada will do that, OK. But funding — and also if you talk maybe about delivery agreements or whatever —- should go into green hydrogen projects, because green is the future that we are sure about. So, that is, at the end, the rationale behind this thinking of the European Commission, and not only the European Commission, also a lot of member states. As well, my green German government with a green economy minister, we know that we need, for the transition period for the next years, to ramp up the hydrogen economy, we will also need blue hydrogen. So, if blue hydrogen is on the market, somebody will buy it, for sure. It's about funding infrastructure, funding ecosystems at the end.
Michael:
A bit of a technical question here: Do you believe that we can move hydrogen when we can't even move the much more energy-dense LNG? Will the weight of high-pressure tanks make it uneconomical?
Dr. Kaufmann:
Yes, very clearly. I talked about ammonia. We have a global ammonia production of 200 million tonnes a year, and 20 million tonnes of ammonia are shipped every year globally. We have a shipping industry with around 200 to 300 ammonia ships, we have ammonia harbours. So, we can ship hydrogen as ammonia — not as a liquid hydrogen; we don't have the ships at a moment — but for sure we can, and have to, ship hydrogen as ammonia. Talking about LNG, that's what we have in Germany now. We have to import a lot of LNG, not only in Germany but in Europe. And so, we have to build up LNG terminals and they have to be hydrogen-ready, which is not that easy. We have to have to right tanks, for example, to avoid the boil-off. But we are working on that.
Michael:
What is the one obstacle we need to clear in Atlantic Canada to build massive scale wind and unleash the power of green hydrogen for a new oil rush out east?
Mollie:
We need to get the regulatory framework locked, loaded and ready to go. We have huge potential for offshore wind and we're getting there. We're moving quickly.
John:
We've got this tremendous, as Mollie says, offshore wind resource in Canada. We don't have a single offshore wind turbine anywhere in the country today. I mean, it's bizarre, really. And we don't have any policy around that; we don't have a regulatory framework. But the government is — and working with the provincial governments are — committed to putting that policy framework in place. And you will see investment follow the right sort of policy framework, absolutely.
Michael:
What role does research and the university sector play when it comes to Canada's green transition and hydrogen? Is more research funding needed?
Mollie:
Just from my perspective, we're learning a lot right now, but there's always going to be 'what's next?' We continue to invest in what the 'next' is. And we know from the International Energy Agency — the statistic always changes — but 50 percent of the technology we need to get to Net Zero isn't developed yet. And so, we will continue to invest; we have programs at Natural Resources Canada, the NRC and others, and it will continue to be an important part of the work that we're doing.
Michael:
We're about to wrap up our conversation here, but I think it's probably worthwhile to leave a closing thought. I asked each one of you to give an opening thought on hydrogen. What impression, what question, issue do you want to leave in the minds of the participants here right now when it comes to hydrogen and the potential for Canada and, Dr. Kaufmann, perhaps the potential globally?
John:
This will not be well known to folks in this room: Canada was at the forefront of the hydrogen industry 100 years ago. You asked Mollie about the role of R&D. Electrolysers at scale are still an emerging science, and they'll get more and more efficient. The point is that Canada has got a meaningful role to play, it's got a legitimate seat at the table. It was a pioneer in hydrogen technology. I keep telling people that I have been around for a long time, longer than most everybody in this room: I have never seen a better, bigger business opportunity that belongs here in Canada than the one we're looking at right now.
Dr. Kaufmann:
I see a big potential for co-operation between Canada and the European Union, especially the eastern part of Canada, for green projects, like your project in Newfoundland. The shipping distance is not that long from Canada to Europe. And, for sure, the projects are green. The second point, talked about at the beginning, I think there's a really big chance for co-operation also on research; you talked about electrolysers ramping up and all these things. Europe is very strong in green technologies; Canada is strong in green technologies. We should put our forces together, strengthen co-operation in research and also in looking for production and manufacturing here. I think the IRA, as well as the tax credit in Canada, will attract European projects, global projects to Canada and the United States. We need some manufacturing also from German and European companies here, and that could also be a good chance for Canada. There's a lot of potential for future co-operation.
Mollie:
Our mindset in the government is how do we get this done? And depending on who I am speaking to and a number of folks here, I think that would be noted as a bit of a shift in terms of how the Government of Canada has thought about big projects over a period of time. Thinking about how we do this, how we work with everybody to do things, how we build a record of success in this space is critically important. So, how do we get this done? How do we do it in a way that supports our climate goals, our energy goals, our economic goals, our security goals? This is a big deal that can help us and help our country support our prosperities or moving forward. Trying to figure out how we can get it done is a challenge that we all have collectively together. All the ideas that we have to support us from getting where we are to where we want to be, we are super keen to hear all of them. So, thank you very much, and thank you for the opportunity to participate in this today.
Michael:
John, just very quickly, you say we have a seat at the table, that we can't squander the seat. What type of timeframe do you think Canada has? Is that a fair question?
John:
We're hoping to make FID on our project before the end of this year. There are a couple of projects in Nova Scotia that could well meet that same timeframe. This is not one project wins and another project loses. One project will be a catalyst for a second project; a second project will be a catalyst for a third and a fourth. And by 2030 — literally speaking and I'm not exaggerating — we could see $100 billion in capital going into this industry in Atlantic Canada. Atlantic Canada's never had a $100-billion investment in anything.
Michael:
John Risley, Dr. Stefan Kaufmann, Mollie Johnson, thank you very much for the conversation today.