Careers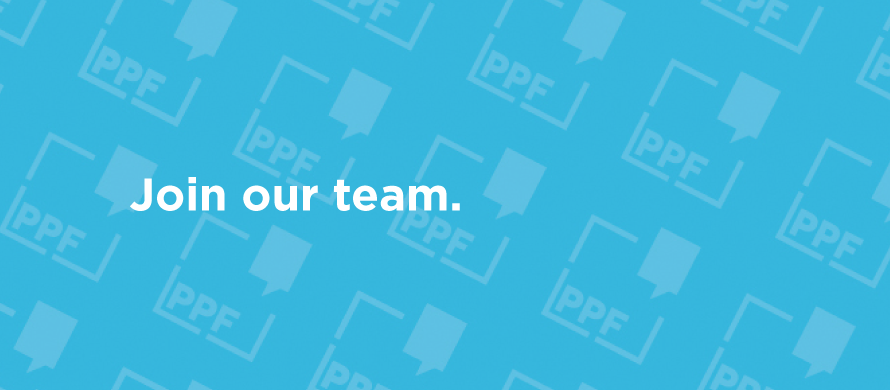 Work with us
PPF is a vibrant organization that fosters innovative thinking and a passion for public policy. We are always interested in hearing from talented people who want to join the team. PPF provides equal opportunity to all employees and applicants without regard to age, ancestry, race, citizenship, ethnic origin, place of origin, creed, disability, family status, marital status, gender identity, gender expression, record of offences, sex, and/or sexual orientation.
PPF is seeking diverse candidates to join its Board of Directors. PPF Directors serve in a voluntary capacity. Directors are elected for two three-year terms. In circumstances where it is considered in the best interest of the organization, Directors may be elected for up to two additional terms upon the recommendation of the Chair and subject to the approval of the Board. Directors meet 3-4 times per year and may also serve on one of two standing Committees (Audit & Finance Committee and the Governance & HR Committee). The Board of Directors is accountable for PPF's performance with respect to the mission and objectives of the organization and the stewardship of its financial resources.
Reporting to the President & CEO, the Vice President, Strategic Engagement & Fundraising leads and executes on PPF's fundraising, membership, and business development strategies, building and strengthening external relationships with a diverse set of PPF members, partners, and stakeholders. Internally, the VP manages, mentors, and oversees the performance of the Partnership & Membership team, and collaborates with colleagues to deliver on PPF's key strategic objectives and priorities.
The Chief of Staff to the CEO will be a force multiplier in charge of organizing the CEO's time and priorities and ensuring these are on strategy and being utilized for maximum impact. Strong organizational skills are a must, as is the ability to work with managers, staff and external stakeholders with a deft and determined touch. The successful candidate will be highly focused and disciplined and comfortable acting autonomously and making proximate decisions in sometimes ambiguous circumstances