Careers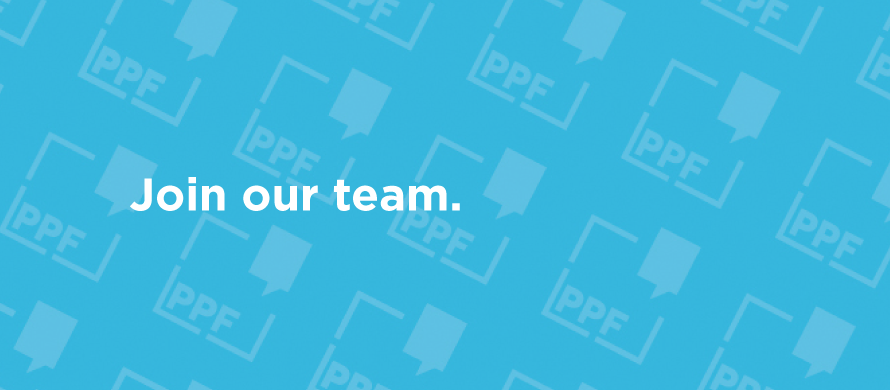 Work with us
PPF is a vibrant organization that fosters innovative thinking and a passion for public policy. We are always interested in hearing from talented people who want to join the team. PPF provides equal opportunity to all employees and applicants without regard to age, ancestry, race, citizenship, ethnic origin, place of origin, creed, disability, family status, marital status (including single status), gender identity, gender expression, record of offences, sex, and/or sexual orientation.
Current opportunities:
Vice President, External Relations
Careers
Vice President, External Relations
The Public Policy Forum (PPF) is seeking an exceptional leader, skilled in strategic business development, revenue generation and relationship building, to be its Vice President, External Relations.
Formed in 1987, out of the belief that dialogue between leaders in the private and public sectors leads to better policy, the Public Policy Forum has created an independent space for leaders to meet regularly and discuss governance and public policy. Over the past 30 years PPF's membership has grown to include more than 200 organizations from business, federal, provincial and territorial governments, academic institutions, unions and non-profit organizations.
Reporting to the President & CEO and a key member of the senior management team, the Vice President, External Relations develops and executes comprehensive and systematic external relations and revenue generation strategies in support of PPF's mandate – research, convening and celebrating Canada's exceptional public policy and public service leaders. The Vice President collaborates internally with colleagues at all levels, including the Vice President Policy, Chief Administrative Officer, and a skilled team of Directors. Externally, as a respected voice and representative for PPF, the Vice President engages a broad range of member and partner organizations that include federal, provincial, and territorial government departments, private sector organizations, Indigenous groups, post-secondary institutions, unions, non-profit organizations, and foundations.
As the ideal candidate, you are a skilled fundraiser, relationship-focused leader, with success and great comfort engaging and building meaningful partnerships with a range of stakeholders, including funders, members, and partners. You bring to PPF a bias to action, initiative, and an innovative and entrepreneurial spirit, as well as a deep passion for Canada and PPF's nation-building role. As a manager, you are an empowering coach and mentor who builds dynamic, responsive, and resilient team cultures that value service, inclusivity, equity, and diversity. Your experience and skills in media relations would be assets, as would your ability to communicate in both official languages.
If you have an interest in joining one of Canada's leading public policy think tanks, please click here to apply.
We thank all applicants for their interest; however, only those under consideration for the role will be contacted.