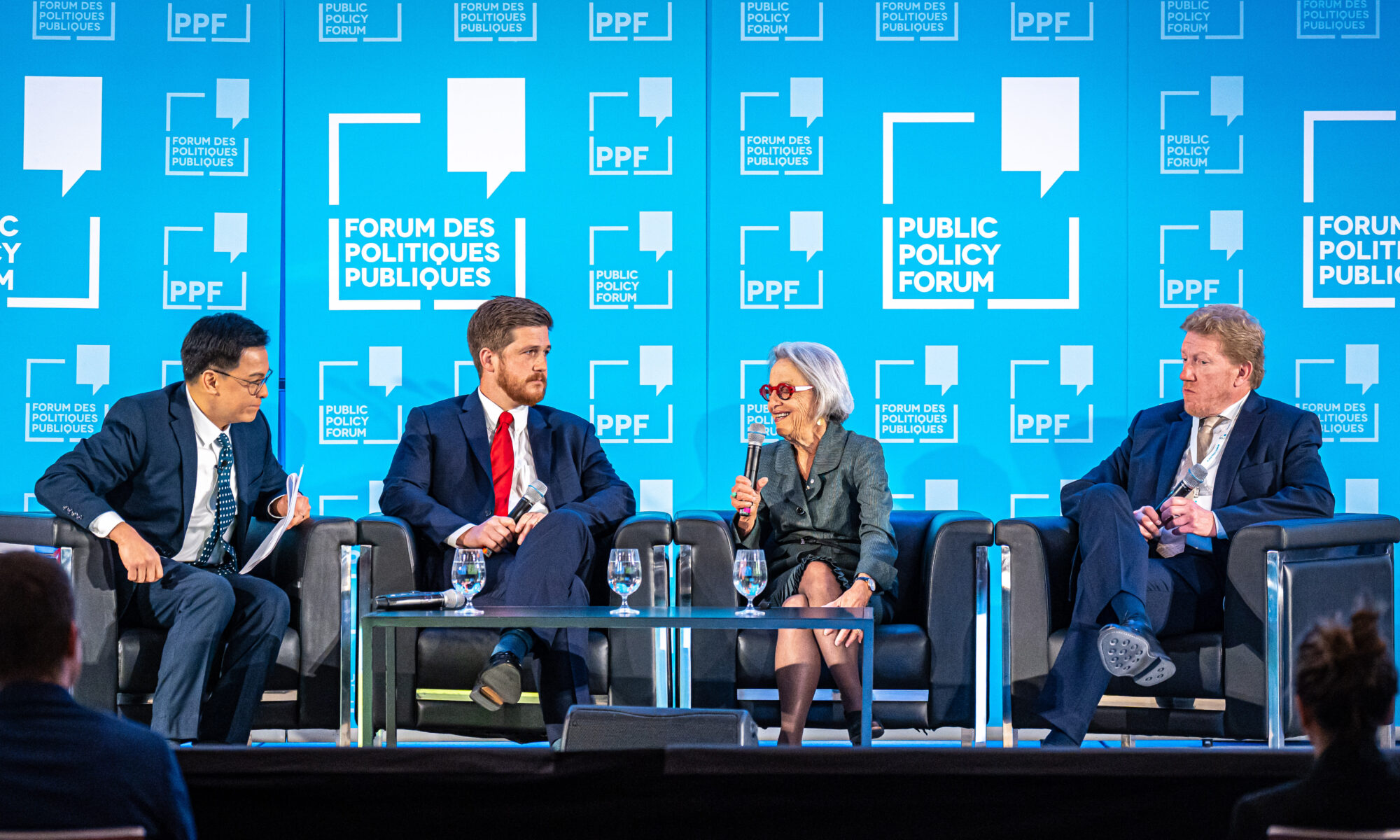 Transcript
Geopolitics have changed. Here's why Canada must, too
Panel discussion with:
Robert Johnston, Executive Director, Center on Global Energy Policy, Columbia University
Michael McNair, Global Managing Director, Tony Blair Institute for Global Change
Janice Stein, Belzberg Professor of Conflict Management, University of Toronto
Moderated by Michael Serapio, Anchor, CPAC
Michael S.:
I'm going to begin with the general question to each of you and, Janice, I'll get you to start us off here, as you and I know each other best through the years. When we say changes in global politics and how Canada needs to respond to that, what comes to mind, first and foremost, for you?
Janice:
I'm going to start, Michael, with the obvious but nevertheless compelling point that great power, politics and competition is back with a vengeance. This is not necessarily good news for Canada, but it's news that we have to take on board. The world that we knew even seven or eight years ago is gone. And the kind of competition that we are seeing in this competition is accelerating and deepening, is frankly going to be the scaffolding of the architecture that we have to deal with. What makes this particularly interesting is this competition has a new site and it is a fierce race for leadership in technology that is being developed in the civilian sector, not in the military sector. So, that's an inversion of a relationship that we've known for a long time. If you think about the '50s, the '60s, the '70s, DARPA in the Pentagon, which was its advanced research projects agency, innovated. And out of that came the internet.
This relationship is now, in fact, inverted. The innovation is occurring in the civilian sector and the military is trying to figure out how you procure from the civilian sector. But what does that mean? Almost everything that is going to push growth forward in our economies is also a national security issue. There is now an entangling, an intermesh of national security and prosperity and economic growth, and we are not going to be able to separate that conversation anymore. So, we need to be literate on both sides of that line in the world that we're moving into.
Michael S.:
Interesting that you talk about technology and how it's driving change globally because, Michael, technology's also matter that the Tony Blair Institute has addressed and we're seeing really the world in the midst of this technical technological revolution, if you will. So, do you see this as a driving force as well in geopolitics?
Michael M.:
So, the countries that we work with and the leaders we work with, ultimately what we try to do is we help them get big things done. And overwhelmingly, right now, the demand on getting big things done is building the digital infrastructure to enable high-quality services to their citizens, growing economic prosperity. And these countries — and these are the ones that we would often want to partner with as Canada and would see as prosperity partners — they're having to make really difficult choices of, 'Do I buy a data centre from Huawei or do I buy it from Oracle? And what will that mean in five or 10 years, based on that decision that I make?' And Canada has an opportunity as a friendly, middle power to be part of those conversations and to bring our own national interests to those conversations. And this has very real-life implications. So, if we look at the conflict in Ukraine, what we've seen is one of the advantages that Ukraine has had and has been able to hold on Russia is, one, a massive influx of commercial technology to help them win their fight and to help them defend their land. Starlink got the most noise when Elon Musk talked about potentially pulling it out because it is essential to their defence. But it's not just Starlink, it's a whole flood of commercial technology from around the world. Russia is much more reliant on its own digital technology and a little bit of Iran. And so, one, it is the influx of commercial technology, some of which was not even conceived of five years ago in the fight, combined with the protecting of their national digital infrastructure. These two things are a big part of why Ukraine's been successful, and other countries need to think about that in their defence as well. And as Janice was saying, it's not just civilian technologies leading the way; it's commercial technologies that are leading the way. And I don't think that realization has been fully grasped by policymakers yet.
Michael S.:
Which, I think it's probably fair to say, when you think of changing geopolitics, technology is not the first thing that pops into your mind, but again, in the midst of this revolution. So, R.J., when you hear this discussion so far, what pops into your mind?
R.J.:
Well, thanks for having me here this morning. It's great to be on this panel and back in Canada. And I was thinking about this and, Janice, your comments. When I went to grad school in Washington in 1995, industrial policy was something that other countries did. You went to the U.S., you studied what the Japanese, the Germans were doing, and no one was really looking at China in the same way at that time. But, of course, now it's quite different. And I think it's important for us as Canadians to recognize not just that there's these huge numbers being thrown around with the Inflation Reduction Act and China's MEC investments in digital infrastructure and biotechnology and clean energy and dual-use technologies, but also that for both the U.S. and China, as Janice said, that industrial policy is very linked to national security.
And what I see happening in Canada is we are doing industrial policy, but I'm not sure we found the sort of motivation behind it yet, the sort of national unifying purpose. It's interesting in the U.S. that China and the threat of China — perceived real threat of China — has brought Republicans and Democrats together to support massive industrial policy — semiconductors, solar panels, batteries; we know all the steps involved. On the Chinese side, they've been doing this for 20 years because they were driven by energy insecurity and fear that the U.S. would use its sea power to limit Chinese access to oil and gas in the Persian Gulf. So, that really helped incubate and drive their investments in things like clean energy. So, I'm curious for Canada and thinking about this at the Energy Forum dinner last night, what is our version of that? You know, we're not an energy-security-driven economy. It's part of what we do, we're partnered with the U.S., we're obviously passive about action on climate change and the things we can do there, but how are we going to anchor this industrial policy the way that others have done?
Michael S.:
As you consider that question, did anything pop into your mind?
R.J.:
I think it's no secret that we're going to be tied to the U.S. and what they're doing. I know that's going to be a big discussion point today of are we aligned with everything on the U.S. when it comes to China or just some things and not other things? And that's something the current government is looking at. But, yes, I think the work that, for example, I've been doing and many others on critical minerals and battery supply chains is probably a good example of what could work in other sectors as well, because that's something where we are getting visibility in Washington because we're offering a solution to a perceived problem in the U.S., which is insecurity and lack of adequate critical minerals to support the electrification of the economy. And without that, and similar countries like Canada, it's going to run through China and other countries that may not be as friendly to the U.S.
Michael S.:
Janice, as you heard R.J. talk about where Canada might fit into this, what do you think, because I saw you nodding your head very, very enthusiastically?
Janice:
I am in violent agreement with Mike and R.J. because we're all saying essentially these two agendas are joined. And with one exception here, just for one minute to digress, it's really interesting the way we describe Chinese industrial policy, because most of us think of it in two ways: as a response to resource deficits — what you just articulated R.J. — or as part of a very aggressive stance moving forward, which has fueled the threat perception in the United States. A third issue here: just doing this, executing on this, is China's only hope of pushing through that middle income trap because of its terrible demographics. So, there is a domestically driven explanation of what is happening in China. And I only put this on the table because we often think, all of us, that everything that another country does is targeted against us. There are really powerful domestic imperatives for this intensive investment in advanced technology that China's making.
So, what does this mean for Canada? I think R.J. put his finger right on it. We do not have a coherent strategy that crosses these lines and links what we do in our economy to national security in a broader perspective. How do we do this? Well, one way of doing it is exactly what R.J. just said. Where do we provide value in supply chains that are strategic? Because there's a set of supply chains that are strategic, which the United States heavily focused on and is reaching out to allies now and asking a question, 'What's your piece?' In order for us to do that, we have to, first of all, truly understand our supply chains, understand what value we bring to the table and make sure that we're not locked in. And this is my biggest worry, that we're not locked into a strategy where, once again, we extract resources across the spectrum and send them along that supply chain for somebody else to provide the value add. If that happens, we will have yet again missed an opportunity.
Michael S.:
Michael, when you think about it, to where Canada might fit in and where Canada might benefit, hearing what Janice just said?
Michael M.:
I'm going to give a very conventional answer to the unconventional problem that's been discussed this morning, which is our greatest global advantage is our proximity and our relationship with the United States, because the frontier of the technologies that are happening right now that impact geopolitics, impact our economy, a disproportionate amount of those are happening in the U.S. And so, one, it just remains a fundamental foreign policy, ought to be a nonpartisan priority, to have the relationship with the U.S. be effortless. And I know there's more talk that will happen about that later today. So, one, that is a tremendous competitive and comparative advantage that Canada has.
The second is, and I've certainly found this as I've traveled a lot the last couple of years, is that Canada needs to be more present in talking about technology and the end uses of technology for potential partners. And so, it's when we think about trade promotion or export promotion, it can tend to feel very conventional, as opposed to talking about solutions. And what are the specific things that countries want to work with, would benefit from clean technologies to do, or that Canadian innovators should work on because our envoys have told us actually there's an opportunity here for Canada? That muscle isn't really there, is the honest truth. And I think that there is a — I say this in a loving way because I love this country so, so much and this is, for me, a nonpartisan point — but I do think sometimes Canada, if you're a Lord of the Rings fan, it can feel like the Shire in the sense that it is worth fighting for. It is so wonderful, but it can sometimes forget how much is going on in the outside world that will impact it and it needs to be protected from. And there is a moment when the Shire starts to focus on what its contribution is and I think that the world is just changing so quickly and we have so many advantages in people, technology, proximity to the United States, we basically just need to be more proactive. I think that's what I'm saying.
Janice:
Michael, you just nailed it, frankly. It's for us to continuously ask, what problem are you trying to solve? Start from the problem that you're trying to solve. Let me give you one example. We have up and down the Pacific coast, through the Indo-Pacific and into the South Pacific, huge problems with illegal fishing. Huge. China has the largest fishing fleet. It roams very far from its waters. Well, we also have the half, and the Atlantic provinces in this country, one of the best clusters that is doing really remarkable work on sensors. So, these people know what's happening on the ocean, under the ocean, above the ocean. There's a fly on the water, they'll tell you. Put them together with MDA, a Canadian space company, which shares in real time satellite images, which it gives to the fishing community and says, 'Hey, Michael, there's a boat there that shouldn't be here.' Put those two assets together. We have a solution to a problem that is preoccupying the whole of the Pacific from north to south. Where are we in that conversation? Because if you don't start from the problem that people are trying to solve.
R.J.:
I think there's two types of problems, and I think my observation would be that what Janice described is an example of Canada contributing to solving a global public goods type of crisis, and I think that's what we're known for, if you look at our history in the last several decades. Unfortunately, I feel like the world is heading towards something a little bit more dark, maybe the Mordor side in a sense that there's still a demand for those global public goods, but in a world of fragmentation, of great power rivalry, as you mentioned, we're going to be called upon to contribute goods to different alliances; the transatlantic partnership, the relation with the U.S. that Michael described, and basically have to choose sides on certain issues where there's going to be consequences for going against great powers — Russia, China, whoever else that may be — and how we choose to position on those types of issues where it is a little bit more of that zero sum dynamic, is going to be something that maybe we haven't done as much historically.
Michael S.:
Can I ask, if we are the Shire, carrying on your metaphor, why don't we know what's happening in Mordor? What is it about leadership and discussion in this country that we don't view the world in that perspective?
Michael M.:
A frustration I often had when I was in government is that it felt a lot of the time, and this is a growth some, we're talking about economic growth. How do we achieve economic growth, which fundamentally is about business and investment and commercial leaders leading the way to prosperity and that environment being generated by government? I think a lot of the time that people in business are waiting for government to solve the problem of what needs to happen next. And I'll have conversations with business leaders where, on the one hand, they will decry how government doesn't know anything about business and then they will bemoan that government hasn't provided the solution for how we're going to solve the world's problems, and don't think to themselves, 'If we're hoarding too much cash, maybe we should invest in tech and maybe the cautious Canadian way of operating right now with just hoarding cash and not doing much is not the right answer.' The more cautious approach is actually to invest in technologies we know are coming and to invest in our people. It's this essential basic, but there's a proactivity muscle that Canada has had in moments in its history, which is essential right now, that I don't feel is there as much as it has been in the past.
Janice:
To go beyond that, what do we need in terms of proactivity? So, one, we actually have to have very granular knowledge of supply chains. And, of course, I think I'd be very surprised if there's anybody in this room who doesn't think that the United States is going to continue to be our most important partner. The United States is actually — leave aside its politics for a moment; let's just talk about its economy. Its economy is doing very well. It remains a dynamic, innovative economy. It's understanding those supply chains, where we fit, where do we bring value? So, yes, that was a public goods discussion, but it's also very much a Canada-U.S. discussion because that's actually a piece the United States doesn't want to do. So, when we can come to the table and say, 'We've got expertise, we've got a solution to a problem, that you have. You're busy, leave this one to us. We can do it.' If we think about that as a metaphor, that's the kind of proactivity — come to the table with a solution for a problem that their busy people don't have the attention even to deal with right now. I'll give you another one; and I know this for a fact. It's the Arctic. There could be nothing more important to the future of this country than the Arctic, frankly. We're not there. The United States would love us to be there. How they give us credit for that is a really important fight to have. But we need to be proactive.
R.J.:
Those are such fascinating examples. The Arctic and then the potential Chinese fishing presence in the South China Sea. These are now geopolitical hot zones and there is an environmental public goods layer to this. But there's also the real possibility you could get into a confrontation with a Chinese fishing trawler or with a Chinese submarine or a Russian submarine in the Arctic. That was always there at one level; now, that level has been elevated. And, Mike, you might know better than me, but I'm not sure in this country we're having that debate saying, 'We're used to doing these issues as public goods types issues, but now these are hard power type issues potentially. And are we prepared?' So, I agree with you that would be a real asset to the U.S. and to other members of the transatlantic partnership on both those fronts, ASEAN countries that are looking for that support, as you mentioned, in the South China Sea. But the risks of a confrontation are higher. And I'm not sure that debate, at least — I'm sure it's happened in Ottawa — but as far as the Canadian public and business sector goes, in my consulting days, the last three or four years, I think there was a lot of concern for Canadian companies sensing that they as businesses operating with China or exporting to China are going to get dragged into these kinds of things more and more.
Michael M.:
I agree, it's not on the conversation, but I think a lot more people are having the conversation of should the Government of Canada be spending two percent on its military defence budget for what? What are we doing? How are we actually making sure we've got the commercial technologies to ensure the security of Canada? And this is a nonpartisan point again, as well, because there's nonpartisans who think we should spend two percent and there's nonpartisans who think we shouldn't. I will make the argument that, one, Canada never committed to it; what Canada said was we would aim to move towards two percent. So, not even do it, not even move towards, it was to aim to move towards. Canada's policy is actually to move towards two percent. That's what it's doing. It's investing tens of billions of dollars in defence right now that it was not before. And that conversation of actually should we ignore what was pledged by the previous government but instead say, 'No, let's get to two percent,' and the massive tax increases that implies, how bad that would be for growth, and the brutal spending cuts that that would imply and how bad that would be for growth. Instead of saying, 'What do we do in the Arctic? How can Canadian companies create the technology so that we actually can defend our Arctic amidst global warming and what's going on with the Northwest Passage?' That's not the conversation we're having.
Michael S.:
We have a few questions here from the audience. I'll begin with what you just said. What is a key piece of national industrial policy for Canada that you feel is essential for policymakers to plan action now?
Janice:
That's a great question, because it says a key piece, not the key piece. So, that leaves us a fair amount of room here. Let me give you one example, though, where we engaged in industrial policy and succeeded beyond our wildest dreams as a result of good luck. The University of Toronto happened to hire the expert in deep neural networks 10 years ago. He left the United States because he didn't like the political climate there, came to Toronto, and he and his students have pushed forward the incredible revolution that's happening in AI as we speak that is just racing ahead of us. The government came in behind it and created a national AI strategy for five years and invested. And we now have an ecosystem. We are one of the top five in the world in AI, by any measures. Are they going to stay the course or are they moving on to the next thing? That's an enormous mistake, when you have a lead and your investment has given you early ROI, both in the commercial sector and obviously in the national security sector as well. Double down, stay the course, don't suffer from attention deficit disorder where you need the next new thing. So, that's the first thing I would say. Understand where you're strong, where you're leading, and double down on those investments where we've already built credibility and reputation.
Michael S.:
R.J., you're nodding your head.
R.J.:
I spend more of my time on the energy side, so I'm biased looking at industrial policy in that direction. What I'd like to see is an effort, as hard as it may be, to sort of replicate the success that we're having between Ottawa, Ontario, Quebec in the battery supply chain, that same kind of approach to western Canadian resource development, the decarbonization of oil and gas, the hydrogen play, the CCUS play, the bioenergy play. Those are all big global plays and we don't get to net zero without all those things happening. And I know the long-standing conversation comes with federal-provincial. But that piece, I think the model is working well on the critical minerals side and battery side and could be applied to some other areas, not just the oil sands but, as I mentioned, things like bioenergy, uranium, critical minerals out west as well, hydrogen economy. And that would fit into this framework of offering solutions to allies who are looking for those solutions in terms of reliable and clean fuels.
Michael M.:
I'll give you a quick example of a success story, which then will lead into what I would love for us to have a policy idea on. People forget about it but a few years ago there was a real push to figure out how do we actually solve our immigration short-term visa requirements so that certain companies who would want to invest in Canada could bring some people in faster. And that came from an effort from Canadian business saying, and other global businesses saying, 'We want to invest in Canada, here's why we're not. Here's the specific thing why we're not. Can you fix this?' And it didn't cost a lot of money. But there was a policy change that basically said that if you're going to be hiring a certain number of Canadians at a certain high wage level, as a result, I forget what the ratio was, five to one or 10 to one, you can bring in a certain number of really fast-track visas and bring those people in. And it was a huge success and it brought in a whole bunch of businesses.
That sort of approach of what business needs from government to actually unlock investment and unlock growth had been really specific, and a criticism I often have of business is that it's not often specific on the solution versus the problem definition. I would love to know what Canadian business needs to make more foreign acquisitions and for it to acknowledge with humility that in some areas we are technologically behind other countries, but we are cash rich, we are prosperous, we can solve that through acquisitions, and we can grow more global champions through proactive investment by Canadian business. What are the barriers to that happening and what are the policy interventions that can be made to support that? I don't have a great answer, but usually a policy starts with the problem you're trying to solve.
Janice:
Just for Canadians to understand, we've always had an industrial policy. There's a lot of discussion going on in our media, industrial policy is hugely risk. We've had an industrial policy in Canada since we built the national railways. And as we're talking about building a national digital infrastructure of the kind you talked about, of course we need an industrial policy. So, the right question: Where will we make a difference and what problems do we solve with it? But let's not debate whether we need an industrial policy and government as an investor.
Michael M.:
We don't have a choice.
Janice:
That's right.
Michael S.:
You all mentioned the United States and this next question goes to that. Today, Canadian policy seems designed to integrate and solidify Canada in U.S. supply chains. But is the U.S. going to be a reliable partner in the coming decades?
R.J.:
I don't think it really matters, honestly. Let's say they're not reliable. What would we do differently? We'll still be a big trading partner; we'd still be a security partner. If we look at our history books and the volatility of the social upheaval of the 1960s and '70s, it feels like we're heading that way again. We've got inflation, we've got social unrest, hyper partisanship. Canada made it through that. It's probably going to be very bumpy. If you read the Rage group work, which I know many of you do, that's been highlighted, this 2024 election cycle is going to be difficult and probably will have social upheaval and violence in various places. But Canada has to persevere and continue those relations. I don't think it can get to a point where it collapses, but it's something that happens in cycles and that we have to deal with either way.
Janice:
I often say to people, like a jigsaw puzzle, if we could cut ourselves off and move ourselves to the southern Mediterranean, Canadians would be a lot happier with the winter, but that's just not an option. We are going to live next to the United States forever. So, I fundamentally agree with what R.J. just said.
Michael M.:
And so do I. What I'd echo, though, is there was a podcast I listened to last week, James Moore and Gerry Butts talking to Peter Mansbridge about raising the alarm bell about the renegotiation of the new NAFTA, it's just around the corner and there's the all-hands-on-deck bipartisan effort that was the last negotiation that has to start kicking off.
Janice:
That's 2025-26 when the new NAFTA is up for renewal. Imagine what it might look like under different presidents.
Michael S.:
We're talking about the opportunities here. Is there any pitfall to tying ourselves too closely to the United States? And I'm going to bring in another question: As the EU works to chart a more independent path from the United States, are we better to align with Europe or America? So, are there pitfalls in choosing the U.S.?
R.J.:
I think there are, of course, but I think it's not clear how strong a partner Europe is going to be, in my opinion, given Brexit, given the immense cost of the war in Ukraine, given their reliance on relatively weak hard power, given their chaotic energy markets. I'm not sure that's a really compelling alternative. And, obviously, you have to go sector by sector, country by country where there are going to be some great partnerships, like hydrogen to Germany, and things like that. But I don't see that as a viable alternative to the U.S. in any way.
Janice:
The word used in the question almost echoes the Gaullist fantasy of President Macron's strategic autonomy. It's his recurring dream, but it's not grounded in reality. There is no strategic autonomy; Europe has no strategic autonomy. When you look at what's driven the assistance to Ukraine — to the embarrassment of Europe — it's overwhelmingly the United States. Take a look at the top 20 companies in the world. I think the last time I looked, 12 are American, six are Chinese. Europe has one. But Europe has a great export — regulation, because it can't make anything anymore at the top tier. So, it exports regulation. It's not a bad strategy, but let's understand what it does.
Michael M.:
I think it's a false choice, because we get to have both. We get to have positive relationships with both regions. But the important thing to remember about the question though, too: the concept that we get to focus on Europe rather than the U.S. implies that somehow Europe would focus on us and not the U.S., and their relationship with the United States remains as critical and strategically important as it ever has been.
R.J.:
Where I think there is an interesting parallel there is the question of Europe's hedging strategy towards China, that clearly Europe is not comfortable with the sort of aggressive industrial policy and security policy in the U.S. towards China. Canada has our own version of that; that we're not comfortable with everything the U.S. is doing vis-a-vis China, but we probably have less freedom to run this than Europeans do.
Janice:
I think Canada's misread in a very important way, R.J., what American strategy towards China is. If you listen to Gina Raimondo, who's the most effective spokeswoman for this, it is targeted at the very small, very strategic level of exports. And underneath that strategic level, the United States continues to trade with China. In fact, this last year, the year we have data for, trade between the United States and China has increased. And Janet Yellen walked back last week what she said during her visit to Ottawa. She came here and talked about friendshoring and she just said, 'We're not decoupling from China. We have a focused strategic strategy on key sectors, which are vitally important for national security.' I think Canadians have to hear that in a very, very deliberate way and not misread and overexaggerate and shoot ourselves in the foot here.
Michael S.:
We have about five minutes left. And, of course, the title of this discussion is geopolitics is changing, why Canada must as well. So, with that in mind, and as we begin this day at the growth summit, what would you like participants today, people who are watching on CPAC, what would you like them to bear in mind as we consider that topic?
R.J.:
Well, I think from my perspective, again, it comes down to this idea that we are going to have a more confrontational era of geopolitics. And I do think, Janice, I disagree slightly. I think there is a more hawkish stance in the U.S. that goes deeper. The strategic sectors are one layer of it. There's also this idea that insecurity in the U.S., about things are not going as well, seems China's gaining power in various ways economically and the fact that both Democrat and Republican governors don't want Chinese battery factories in their states, even though they're going to create thousands of jobs. It's just that toxic feeling about the domestic political impact. It's maybe not aligned with the data, as you say, but it does feel like that's going to be a real problem for us. And I think we have to decide, like the Europeans, how to respond to that. Where do we align with the U.S.? Where do we not align?
Michael M.:
I'll go so that Janice Stein can have the last word. I think it's really important to conceive of this conversation, again, from the division of labour. What's the role of business and what's the role of government? And I think that where we are in 2023, the answer to that question is very different than even what it was five years ago. Policy and the regulatory environment matters, a lot more than it did before. And so that's where government steps in. Commercial technology, commercial businesses matter a lot more in delivery than they did before, even just five years ago. Not just in military geostrategic questions, but also public services as well. That is, technology has changed the equation and Canada has not caught up yet.
Janice:
Just to add on and pile on, what would I like to see? Execution will be everything in this next decade. Execution. You have to have a strategy — but execution, each strategy, every day for lunch, frankly. We need a focus on execution and on problem solving. If I pick one, we need to build a national digital infrastructure. Execute. Within the broader framework of the strategy, and hold everybody's feet — businesses, the commercial sector, the government, all of us in this room who care about public policy — hold our feet to the fire. Are we executing?
Michael S.:
Wise words to consider as we start this day. Michael McNair, Janice Stein, Robert Johnston, thank you very much.