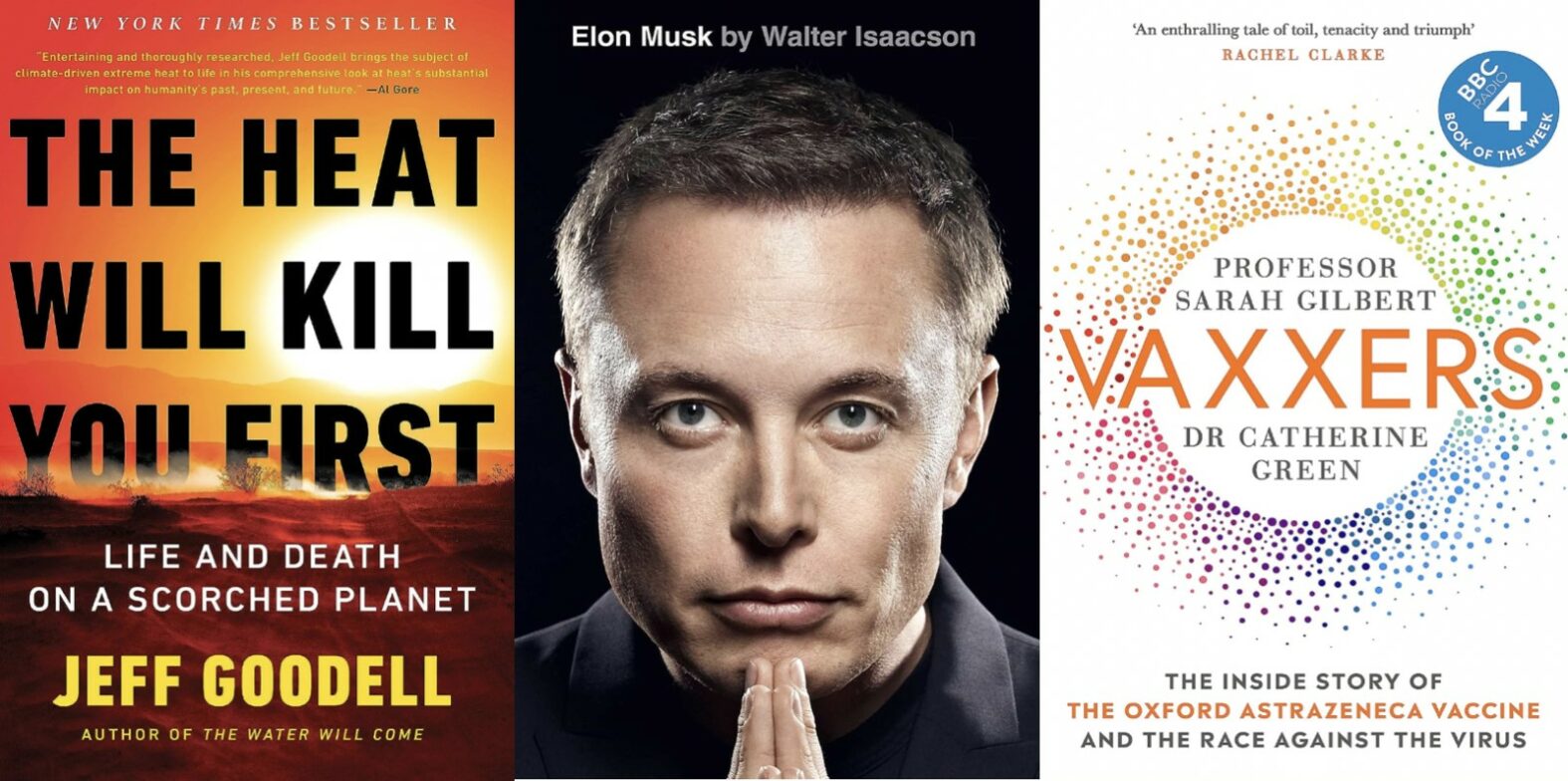 Article
PPF Reads: Our favourite books right now
Each month we ask PPF team members and Fellows for their book recommendations. Here's what they're reading.
Not Here: Why American Democracy is Eroding and How Canada Can Protect Itself by Professor Rob Goodman. This is an important and eye-opening read, especially as we watch our American neighbours go into election season in 2024. Goodman offers a history of and meditation on both Canadian and American democracy, what is unique about and worth defending in our nation, and how we can be proactive about defending democracy here at home. He calls for a "refounding" when it comes to our own distinctiveness as a method of resilience, and for all of us to think more deliberately of ourselves as a multinational democracy and recognize the inherent strengths in doing so. This book has me thinking, and more importantly acting too.  — Victoria Kuketz, PPF Fellow in Digital Democracy
Atomic Habits by James Clear. With over 10 million copies sold, it is not difficult to understand why this book is such a huge hit. While we know habits are integral to a person's success, there is always the question of how to stick to them. What I love about the book is that it not only gives simple tricks and tips to build a habit, but almost all chapters have interesting anecdotes that make it an interesting read. Whether you make New Year resolutions or not, this is a great book to pick up at the end of this year. – Shweta Menon, PPF Policy Lead
Values, Voice, and Virtue by Matthew Goodwin. This book sets out the landscape of the New British Politics and suggests that the ruling elite have so completely lost touch with people and their everyday priorities, that there is a seismic fracture in the U.K. The book suggests this is what is behind the revolt around Brexit. It is an interesting read and makes you think about the context in Canada and in the United States and other western democracies. — Marian Campbell Jarvis, PPF Public Service Senior Fellow
The Forgotten Girls by Monica Potts. If you read the Glass Castle by Jeannette Walls, this is the parallel sociological analysis blending a memoir and investigative journalistic study. In addition to societal issues such as addictions and domestic violence, the book triangulates around rural isolation, evangelical religion, lack of education and opportunity which keeps people, especially women and girls, from improving their circumstance.  A tragic, disturbing and well-argued book from which we recognize pockets of American society where poverty persists. — Marian Campbell Jarvis, PPF Public Service Senior Fellow
Miss Eliza's English Kitchen by Annabel Abbs. A historical fiction based on the life of one of the first cookbook writers, Eliza Acton. Miss Acton brought structure to recipes (list of ingredients upfront, recorded measurements etc.) such that meals could be replicated and adapted. It is a lovely story of food, friendship and upstairs/downstairs in Victorian England. Fans of Downton Abbey will enjoy it! — Marian Campbell Jarvis, PPF Public Service Senior Fellow
Between Doom and Denial: Facing facts about climate change, by Andrew Leach. This is the first in a planned series of Max Bell Lectures and you should go watch Dr. Leach give a talk in person if you can. Each chapter tackles one myth that gets in the way of reasonable and fruitful policy discussion about climate policy. This book does a major public service for all of us, because whether we're personally working on climate policy or not, we're going to be living with the consequences.  – Jennifer Robson, PPF Fellow
The New Map: Energy, Climate, and the Clash of Nations, by Daniel Yergin. This is a captivating book that reveals how the world of energy and geopolitics is transforming in the face of climate change, technological innovation and shifting power dynamics. The book covers topics such as the shale revolution in the U.S., the rise of China and its ambitious Belt and Road Initiative, the conflicts and rivalries in the Middle East, the new energy Cold War between China and the U.S., and the challenges and opportunities of the energy transition to a low-carbon future. It is based on extensive research and interviews with key players in the energy sector and provides a thorough and insightful analysis of the new map of energy and its implications for the global order. The book is a must-read for anyone curious about understanding the forces that are shaping the energy world. – Arash Golshan, PPF Policy Associate
Against Remembrance by David Rieff. I read this book some years ago when the peace agreement between the FARC guerilla and the Colombian government was under negotiation. Rieff, a war correspondent, offers a different perspective on reconciliation after the war and poses some controversial ideas about the best way to achieve peace and avoid future conflicts. What if collective memory is an obstacle to peace? What if remembering the great tragedies is used politically to keep conflicts alive? Can new generations turn the page easily without carrying the burden of past conflicts? The author uses examples of social conflicts and ethnic cleansing in former Yugoslavia, South Africa and the Holocaust to demonstrate his arguments. – Rodrigo Barbosa, PPF Policy Associate
Vaxxers: The Inside Story of the Oxford AstraZeneca Vaccine and the Race Against the Virus by Professor Sarah Gilbert and Dr. Catherine Green – This book is a good read!  Informative about the science behind vaccines and provides a human glimpse of the tremendous efforts, against the odds, to develop and produce a vaccine at scale.  Science-policy communication at its finest. -Marian Campbell Jarvis, PPF Public Service Senior Fellow
Walter Isaacson's new Elon Musk tome, weighing in at 688 pages — or 20 hours and 27 minutes on Audible — is epic in every sense, but it's also just a great romp that soars with telling detail: eels and hovercrafts at a Musk birthday party, a heroic hairdryer that saves a rocket launch, executives soul-searching on a rooftop at midnight, an alphabet of children. Musk's opening quote sets the tone: "I reinvented electric cars and I'm sending people to Mars in a rocket ship. Did you think I was also going to be a chill, normal dude?" The answer is hauntingly complex.  –  Alison Uncles, Vice President, PPF Media
The Myth of Normal by Gabor Mate. No matter who you are or what your deal is, understanding the role trauma plays in shaping your cognitive behavioural reaction to things is mega. Gabor is Canadian, but he leads the whole damn world on this dialogue. This book will maybe make you a better human as you go through life. – Allison Gifford, PPF Vice President of Policy & Programming
The Heat Will Kill You First: Life and Death on a Scorched Planet by Jeff Goodell. "What did you do while [Canada] burned, mommy?" "I read about it." I'm reading The Heat Will Kill You First: Life and Death on a Scorched Planet, at all hours of the night, a chaser for wildfire doom scrolling. It jolts me from parental leave's surrealism and reminds me of all the policy work we have to do to save the planet.  –Vass Bednar, PPF Fellow.
Marginal Revolution. I loved this podcast. Tyler Cowen and Marginal Revolution have had a major influence on my own thinking.  –Sean Speer, PPF Fellow
Four Corners: A Journey into the Heart of Papua New Guinea by Kira Salak. Adventure and travel writer Kira Salak was described by the New York Times as "real-life Lara Croft." Her debut non-fiction book describes her journey across the most foreboding jungles and rivers of Papua New Guinea, "to see what she was capable of." Repeatedly terrified or horrified for her, I couldn't put the book down. She also describes with great respect, while not romanticizing, the many Papuans she met along her journey. –Sara-Christine Gemson, Executive Director, PPF Academy and Action Canada
The Course of Bigness: Antitrust in The New Gilded Age by Tim Wu. This book offers an excellent analysis of the importance of government market regulation. It makes the case that more control is needed to avoid the excessive power of big corporations in the economy that can lead to increased social inequality. –Rodrigo Barbosa, PPF Policy Associate
Bush Runner: The Adventures of Pierre-Esprit Radisson by Mark Bourrie. The book is based on Radisson's own diary accounts. It tells a remarkable tale of his numerous adventures, turmoil and violence, disloyalty, mishaps, and occasional triumphs. Radisson was an adventurer, but also could be a scoundrel. He was allied with but also disloyal to the French, the Iroquois (who adopted him for a time), and the English, and not to be trusted — and his companion Groseilliers was apparently even worse!  A great read on a prominent character in Canadian history, if you can get through the rather gory first chapter.  –Glen Hodgson, PPF Fellow
Un dimanche a la piscine a Kigali by Gil Courtemanche. This book was recommended to me due to my international development background. It transports the reader to an exclusive view of the Tutsi-Hutu conflict and the AIDs epidemic in Rwanda during the 90s. Courtemanche narrates a love affair between a Canadian expatriate and a young Rwandan, surrounded by the havoc glowing around this beautiful and exclusive pool in a hotel in Kigali. -Leonardo Lozano, PPF Policy Associate
The Silk Roads by Peter Frankopan. A very well written (I mean page-turner) history of the world through the oft-neglected setting of Central Asia and the Eurasian landmass. Strong connections made to the societies, economies, and polities that emerged along the Ancient and Medieval Silk Roads. –Steven Hogberg, PPF Policy Lead
The Church Forests of Ethiopia. Wonderfully made photography project by Kieran Dodds on the role that the debre (or local rural church) is playing to guide local forest replanting, community resilience, and local Orthodox tradition in Ethiopia. Must view for anyone interested in holistic development and ecological regeneration. –Steven Hogberg, PPF Policy Lead
Unbroken by Laura Hillenbrand – The famous adventurer Bear Grylls called this the best adventure book he's ever read – a hard-to-ignore endorsement. The story of Louis Zamperini (unlikely Olympic hero, lost at sea during the Second World War for 47 days, followed by two and half years in a POW camp) is exactly as described: a testament to human endurance. –Colin Campbell, PPF Editorial Director
Don't miss more recommendations in our monthly PPF Insider: Subscribe to the newsletter. 
Almost 24,000 people can't be wrong! Join the most followed Canada-focused think tank on LinkedIn to get daily policy updates, early notice of must-attend events and up-to-the-minute news on report releases.