Article
Wadih Fares: Save money and look for an empty niche
Advice from Atlantic Canada's Immigrant Entrepreneurs
Nova Scotia's premier developer feels an obligation to talk about why he came to Halifax from Lebanon, why he stayed, and why immigration is good for Canada
When Wadih Fares lost his engineering job at a concrete plant at age 26, he could have fled for one of Canada's big city immigration hubs. Instead, he hunkered down in Halifax, drawing on the strength of the local Lebanese community, and launched his own business.
Today WM Fares Group is one of the largest developers in Nova Scotia. The company has—literally—changed the shape of the city.
"There are two things to learn from my story," says Fares. "One, things don't come easy. Two, if Haligonians hadn't welcomed my ancestors, I wouldn't have stuck around."
More advice
Fares may be the region's most prominent newcomer. In addition to leading a major business, he is honorary consul of Lebanon, co-chair of the Nova Scotia Premier's Immigration Advisory Council and former chair of the Pier 21 Society. He has been honored by every major business group and was Atlantic Business Magazine's CEO of the year in 2011. He was appointed a member of the Order of Canada in 2012. And he still goes to work every day.
He also takes every opportunity to talk about immigration.
"It is important to have reputable people speaking about immigration," he says to explain why he carves out time from his schedule for every speech or interview request to counter disparaging remarks about newcomers.
"People who leave behind their home, their life, these people are not lazy. If you want to be a bum, you will stay home."
'If you want a better life, you work hard.
Immigrants work hard.'Wadih Fares
Fares left Lebanon in 1975 at age 18 to enroll at the Technical University of Nova Scotia. For some reason, he thought that the classes would be in French. They weren't, and he spoke almost no English. Fellow students and professors coached him through his engineering degree.
After graduation he got a job in a concrete plant owned by a big company but couldn't imagine a long-term future for himself there. He asked for vacation time to go check on his parents in Lebanon. When the request was denied, he went anyway. When he returned, he no longer had a job. He was told he would be rehired eventually, but he decided not to wait.
His wife was pregnant with their first child at the time.
"I came back from the plant with my stuff," he says. "My wife was pretty upset."
He put a small ad in the newspaper offering engineering consultations. That led to a business connecting contractors to architects, engineers and clients, a new model of one-stop-shopping for builders, buyers and property owners.
He focused on keeping people happy and making them comfortable. He spoke Arabic with Lebanese construction crews, put an ashtray on the table if he knew a client was a smoker.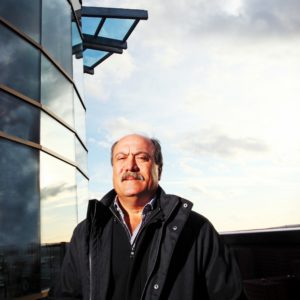 The first wave of Lebanese came to Halifax in at the end of the 19th century. Fares was part of a more recent wave sparked by the Lebanese civil war. His connection to the local Lebanese community is one of the reasons he urges policymakers to help build up nodes of immigrants from a country or culture so that they can support each other.
He says that immigrants have a business advantage because many Canadians don't manage their money well.
"We save our money and then we have money to start things," he says. "We aren't smarter, but we come here to get results and know how to do that."
He says there is even more opportunity for entrepreneurs in Halifax now as there was when he began.
"You have to find a niche," he says. "Look at what isn't being done."
Fares says he tries to run his company the way he wishes the concrete plant had been run all those decades ago.
"If I had had a boss like me, I would still have a job."