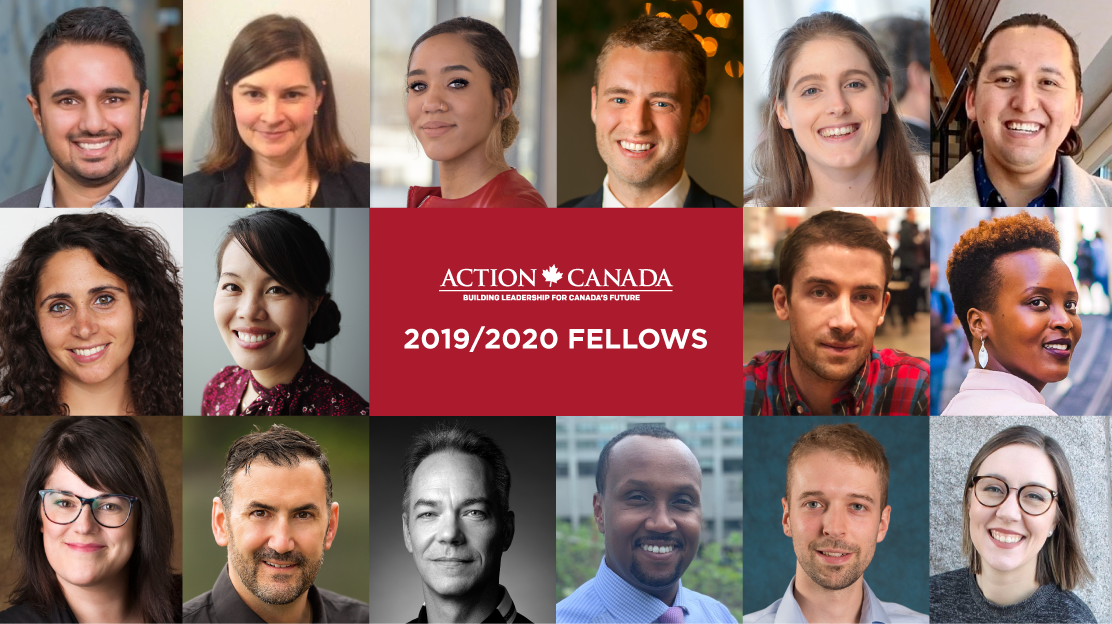 Article
PPF and Action Canada introduce the 2019/2020 Fellows
The 16 new Fellows from across Canada will be focusing on the Future of Work.
The Public Policy Forum and Action Canada are proud to announce the 2019/2020 Action Canada Fellows. Over the course of the year, the 16 Fellows will have a transformative experience by participating in five study tours and producing an in-depth policy report on an important issue to Canada.
This year's cohort benefits from the three-year partnership that combines Action Canada's nearly 20 years of experience in leadership development and PPF's more than three decades of expertise in public policy. This partnership strengthens the fellowship program in its mandate to increase civic engagement and knowledge of Canada among some of the country's most promising future leaders. We'd like to thank this year's partners: The Government of Canada, Power Corporation of Canada, the Government of Nova Scotia and the Government of Quebec.
"This year's Fellows are outstanding individuals who will benefit from the Action Canada leadership accelerator as the country will ultimately benefit from them," says PPF's President and CEO Edward Greenspon. "We're especially excited to see this year's policy theme of the Future of Work through their eyes as they bring their particular vantage points to one of the critical policy topics of our time."
"It's with great pride that we welcome these dynamic and engaged people from all across Canada who demonstrate great potential," adds Annie Sabourin, the Chair of Action Canada's Board of Directors and a 2012/2013 Action Canada Fellow. "Over the course of this very enriching year, these 16 new Fellows will join the more than 200 alumni of the program to form a strong network of devoted leaders who support each other in their work for Canada."
This year's Action Canada Fellows are:
| | |
| --- | --- |
| Aatif Baskanderi | Vivian Giang |
| Sara Bergen | Josh Grehan |
| Larissa Crawford | Sandra Isimbi |
| Jonathan Davey | Angèle McCaie |
| Katlin Davey | Jason McVicar |
| Isabelle Duchaine | Christian Sénéchal |
| Dustin Ross Fiddler | Mohamed Shuriye |
| Jo Flatt | Jonathan Williams |
The Fellows will meet for the first time in Vancouver for the initial study tour between June 13 and 16. Read the Fellows' full biographies on the Action Canada website.