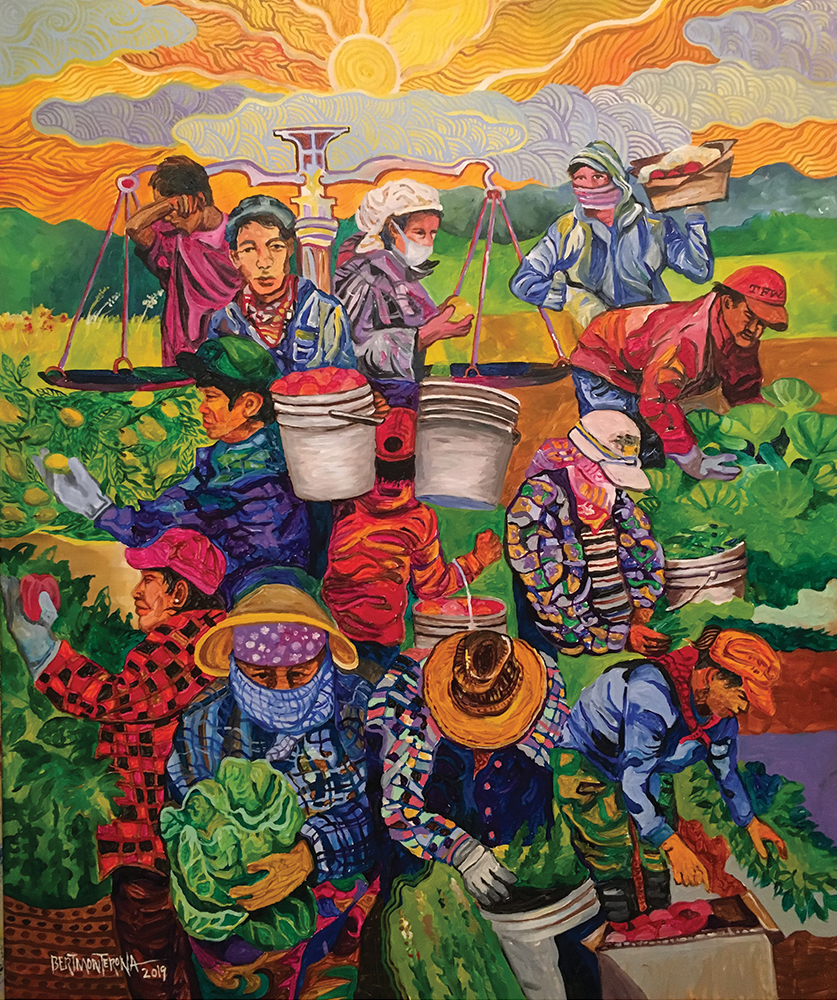 Publication
Permanently Impermanent: Migrant agricultural workers in Canada
An Action Canada Task Force report
Action Canada Task Force hears from workers, administrators and farmers that existing programs don't work quite right and they need to for Canada's agricultural sector to thrive.
Executive summary
Our vision
It's 2030: Canada's vibrant, prosperous agricultural sector is a competitive world leader. Local and international consumers enjoy safe, quality, well-priced food produced in Canada.
The 50,000+ migrant workers who come to this country each year as part of agricultural worker programs make a fair living in a dignified environment, their rights upheld through well-structured policies, and Canada is a world leader in terms of its international human rights obligations.
Migrant agricultural worker programs are simple to navigate and streamlined for employers, producers, and administrators alike.
The Canadian agricultural sector is well positioned for the next 50+ years, knowing there is a skilled and reliable workforce ready to respond to evolving demands, including climate change: Warmer temperatures will increasingly require a greater workforce to accommodate the changing face of Canadian agriculture.
What we know and what we heard
It's 2019: Farmers, employers and producers say migrant agricultural worker programs are confusing, difficult to navigate, and suffer from siloed government departments. Government officials note that processing labour market impact assessments is an onerous, lengthy and paper-based process. Migrant workers and the advocacy groups that work with them report cases of abuse made possible by precarious work environment and a lack of oversight. Academics and other stakeholders worry about climate change, labour shortages in the agricultural sector and also about Canada's reputation on the world stage as a leader in human rights.
Our analysis of our consultations and literature review revealed three key themes:
Reform over abolition: There was consensus among stakeholders we consulted that there is need for significant reform to the SAWP and other TFW programs; however, none of the stakeholders we consulted thought Canadians or migrant workers would be better off if the channel for bringing these workers in were closed entirely.
Power imbalance: The stakeholders we consulted and the literature review noted that the current system provides limited rights to migrant workers, and that cultural differences and fear of retribution make migrant workers hesitant to exercise the rights they do have. This leads to a significant power imbalance where workers need to please their employers; however, feel that they are viewed as interchangeable from the employers' perspective.
Policy solutions, but no panacea: Our consultations and the literature revealed a number of potential policy recommendations that would make necessary fixes to the system and many of those recommendations are featured in the policy recommendations section below. However, there is acknowledgement that no policy solution is a silver bullet and that there are broader systemic challenges related to economic imbalance that are expected to persist.
What we recommend
We offer policy recommendations in four categories: employment relationship, health care, settlement, and program administration. These recommendations are meant to be practical and are in pursuit of a balance between the concerns and requirements of all stakeholder groups, including producers, consumers, workers, and administrators.
Thank you to Action Canada's partners: