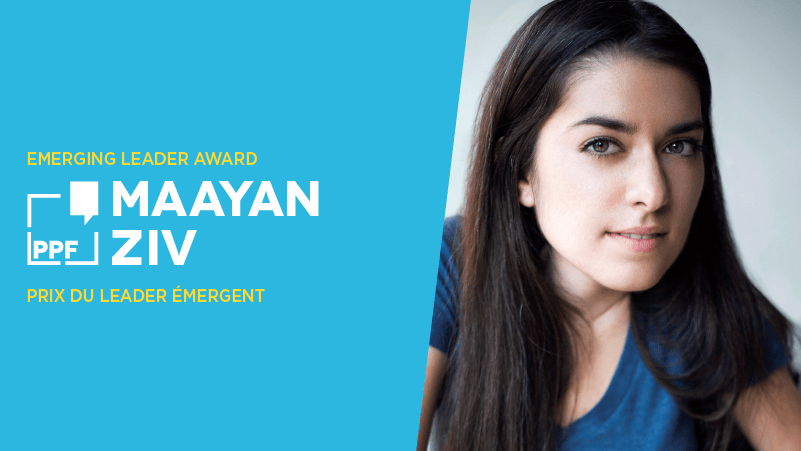 Article
Meet our Emerging Leader Award recipient, Maayan Ziv
Named one of 2018's Top 100 Most Powerful Women in Canada
Maayan Ziv will be honoured for her advocacy with the Emerging Leader Award at PPF's 2019 Testimonial Dinner and #PPFawards on April 11 in Toronto. Founder and CEO of AccessNow, an app and digital platform, she is passionate about creating a more accessible and inclusive world.
Maayan Ziv is an activist, a photographer and an entrepreneur. Living with muscular dystrophy, Maayan is a passionate and relentless advocate for creating a more accessible and inclusive world. She is the founder and CEO of AccessNow, a digital platform that is mobilizing communities by mapping the accessibility of places and experiences worldwide. A regular in the media on topics such as accessibility, diversity and inclusion, Maayan was named one of 2018's Top 100 Most Powerful Women in Canada by WXN. Maayan is also the proud recipient of the City of Toronto Access Award, the Startup Canada National Resilient Entrepreneur of the Year Award and the David C. Onley Leadership in Accessibility Award in recognition of her innovative solutions and commitment to improving the lives of people of all abilities.
Maayan also acts as an advisor to the Government of Canada on disability and inclusion initiatives and sits on the boards of the Toronto Arts Council and the Centre for Independent Living in Toronto.
She earned a Bachelor's degree in Radio and Television Arts and a Master's degree in Digital Media at Ryerson University. You can follow Maayan on Instagram.
Join us to celebrate Maayan Ziv and our other 2019 honourees on April 11 in Toronto.
And don't miss the 2019 Canada Growth Summit, also on April 11 in Toronto.