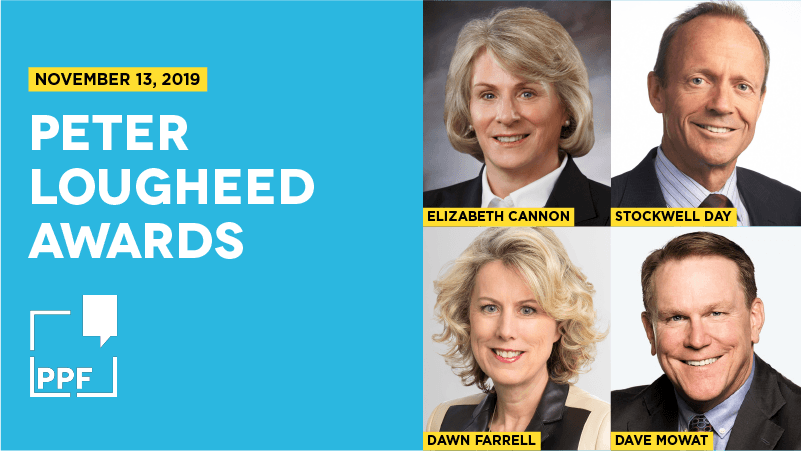 Article
Announcing our 2019 Peter Lougheed Award honourees
On Nov. 13, join us at our Western Dinner in Calgary to honour Elizabeth Cannon, Stockwell Day, Dawn Farrell & Dave Mowat. Tickets are on sale now.
At PPF's 2019 Western Dinner, the Peter Lougheed Award for Leadership in Public Policy will be presented to four exceptional Western Canadians who have dedicated their careers to leadership and advancing public policy in the region and across Canada.
Congratulations to Elizabeth Cannon, Stockwell Day, Dawn Farrell and Dave Mowat. Join us to celebrate them in Calgary on Nov. 13. Tables and tickets are on sale now.
Reserve your seat or table today
---
Meet our honourees
Dr. Elizabeth Cannon
Dr. Elizabeth Cannon is President Emerita and Professor in the Department of Geomatics Engineering at the University of Calgary. As a leader for women in engineering and science throughout her career, she served as chair of NSERC, was president of Universities Canada and was Dean of Engineering at the University of Calgary. From 2010 to 2018, she served as the university's eighth president.
Dr. Cannon's research has been at the centre of global positioning systems (GPS) in both industrial and academic settings, and she has commercialized technology to over 200 agencies worldwide. Among her many accolades, she is a member of the Royal Society of Canada and in 2006 she was named one of Canada's Top 100 Most Powerful Women by the Women's Executive Network.
Stockwell Day
For more than 25 years, Stockwell Day served in high-profile positions in federal, provincial and municipal politics and policy, most notably as Leader of the Official Opposition in Ottawa. As a federal cabinet minister, he oversaw Public Safety, International Trade, and was President of Treasury Board. In Alberta, his senior portfolios included treasury and labour. Mr. Day also chaired the committee of provincial ministers who negotiated with the federal government on changes to the national child benefit program.
After retiring from elected office, Mr. Day joined Canadian law firm McMillan LLP as a senior strategic advisor, where he is helping public, private and not-for-profit clients across industries in Canada, the United States and internationally.
Dawn Farrell
Dawn Farrell, the President and Chief Executive Officer of TransAlta Corporation in Calgary since 2012, has more than 30 years of experience in the electric energy industry. In her senior roles at TransAlta and BC Hydro, Mrs. Farrell has shown strong leadership on clean energy transformation, Indigenous relations, generation and many other key aspects of the energy sector.
Mrs. Farrell sits on the board of directors of The Chemours Company, The Conference Board of Canada and the Business Council of Canada, and served previously on many boards, including at the Calgary Stampede and Mount Royal College. She is a graduate of the University of Calgary.
Dave Mowat
Dave Mowat is the former President and Chief Executive Officer of ATB Financial, the largest provincially based financial institution in Alberta. Under his leadership, ATB became a leader in technology and customer experience across the banking sector, including being the first financial institution in Canada to make a cross-border payment using blockchain technology. In 2016, he led Alberta's Royalty Review panel, which recommended a new approach to Alberta's oil and natural gas royalty structure. Since retiring from ATB, Mr. Mowat has become involved in several boards such as TELUS, Alberta Blue Cross and the Citadel Theatre in Edmonton.
---
Join us in Calgary on Nov. 13 to celebrate these exemplary and inspiring leaders at PPF's 2019 Western Dinner. Tables, tickets and partnership opportunities are available now. 
Reserve your seat or table today
For media information, contact: Carl Neustaedter
For partnership opportunities, contact Masha Kennedy
Thank you to our sponsors: