2019 Peter Lougheed Awards Dinner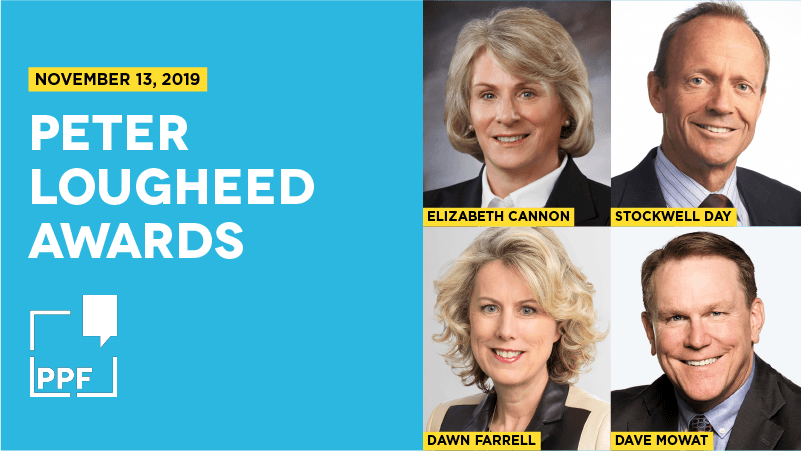 Date & Time
Wednesday November 13, 2019
3:30 p.m. - 9:00 p.m.
Location
Telus Convention Centre
120-Ninth Avenue SE
Show Map
The Peter Lougheed Award for Leadership in Public Policy was presented to four exceptional Western Canadians who have dedicated their careers to leadership and advancing public policy in the region and across Canada.
Congratulations to Elizabeth Cannon, Stockwell Day, Dawn Farrell and Dave Mowat. Global Public Affairs' Tom Clark hosted the evening & Premier of Alberta Jason Kenney joined us for the evening.
Photos from the 2019 Peter Lougheed Awards Dinner:
The event began with a special panel discussion on the future of work in the transitioning energy economy, with Mark Cameron, Deputy Minister, Policy Coordination Office, Executive Council, Government of Alberta, Elizabeth Cannon and Paul Thompson, Associate Deputy Minister, Innovation, Science and Economic Development Canada, moderated by Ilse Treurnicht, Former CEO, MaRS Discovery District.
Please see a list of our Brave New Work Panelists in the speakers tab below!
Energy is a primary employer and source of economic growth in Canada, with many of these jobs concentrated in Alberta. Radically new jobs, processes and ways of working are being created through technological and creative advances, especially in the energy sector. Industry skills and labour needs are changing, as are the flow and makeup of workers across jobs. What do we need to do to support people in work as Canada's energy needs and energy sector jobs change? What are the opportunities to ensure Alberta's workforce stays competitive as energy and work changes?
In supporting this panel, PPF is grateful to Brave New Work lead sponsor TD Bank Group and our partners: Business Council of Canada, Canadian Bankers Association, Cogeco, Deloitte, General Motors Canada, ESDC, ISED, Metcalf Foundation, and Unifor.
For more information please contact Heba Elhalees
Thank you to our lead partner:
Thank you to our partners:
2019 Peter Lougheed Awards Dinner
Honourees
---
---
---
---
2019 Peter Lougheed Awards Dinner
Speakers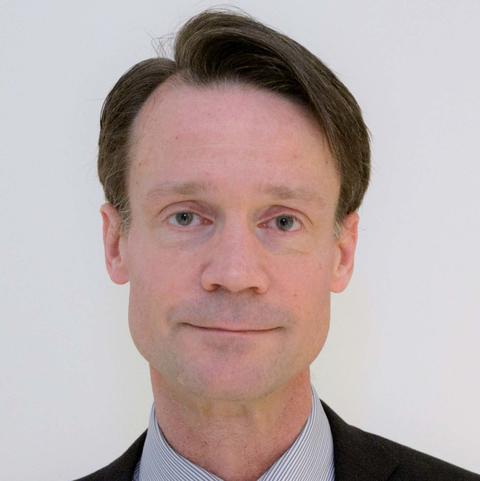 Mark Cameron
Mark Cameron – Deputy Minister, Executive Council – Policy Coordination Office, Government of Alberta
Mark brings extensive policy experience in federal-provincial relations and in climate and energy policy. He has worked in public policy roles in government, business and consulting for more than 20 years. He was previously director of policy in the Office of the Prime Minister and has also worked for Ontario Power Generation, BlackBerry and as a consultant on energy and environmental issues, most recently heading the energy practice at Hill+Knowlton Strategies. Mark has long been engaged in the environmental policy debate in Canada and serves on the advisory board of the Pembina Institute and the steering committee of Sustainable Prosperity.
---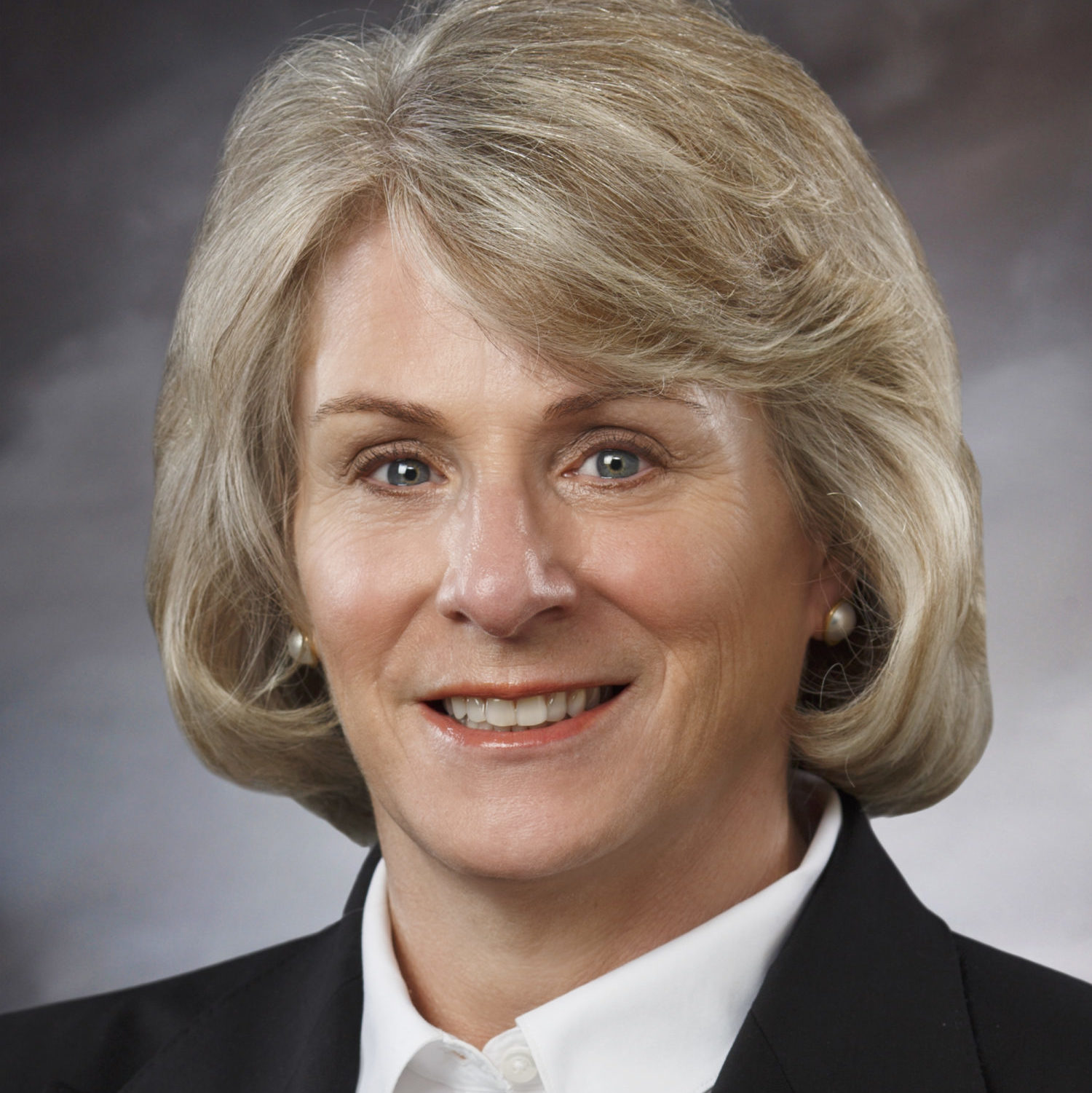 Dr. Elizabeth Cannon
Dr. Elizabeth Cannon is President Emerita and Professor in the Department of Geomatics Engineering at the University of Calgary. As a leader for women in engineering and science throughout her career, she served as chair of NSERC, was president of Universities Canada and was Dean of Engineering at the University of Calgary. From 2010 to 2018, she served as the university's eighth president.
Dr. Cannon's research has been at the centre of global positioning systems (GPS) in both industrial and academic settings, and she has commercialized technology to over 200 agencies worldwide. Among her many accolades, she was just named an Officer of the Order of Canada, is a member of the Royal Society of Canada, and in 2006 she was named one of Canada's Top 100 Most Powerful Women by the Women's Executive Network.
---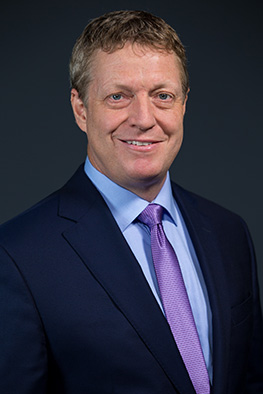 Paul Thompson
Mr. Paul Thompson was appointed as Associate Deputy Minister at Innovation, Science and Economic Development Canada in November 2017.
He has held executive positions in various departments including the Privy Council Office, Fisheries and Oceans Canada and the Treasury Board Secretariat. Prior to his current role, he held several Assistant Deputy Minister positions at Employment and Social Development Canada and most recently as the Senior Assistant Deputy Minister for the Skills and Employment Branch.
Mr. Thompson has 3 teenage children and enjoys staying active in a number of summer and winter sports and outdoor activities.
Mr. Thompson holds a Master of Arts degree in Economics from Queen's University and a Bachelor of Arts degree in Economics and Political Science from the University of Toronto.
---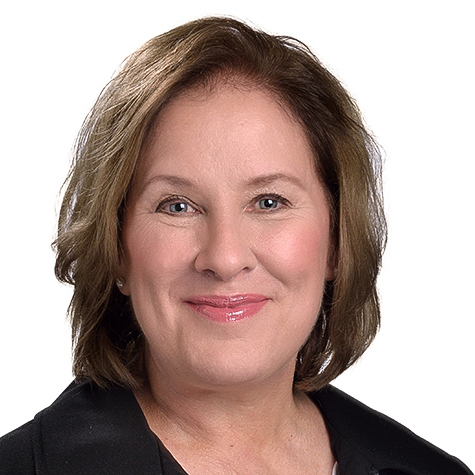 Ilse Treurnicht
Former CEO, MaRS Discovery District
For the past 12+ years, Ilse Treurnicht has served as CEO of MaRS Discovery District, a leading innovation hub located in the heart of Toronto's Discovery District.  She has overseen the development of the MaRS Centre, a 1.5-million-sq.-ft. facility providing specialized infrastructure to leading research groups, startups and young scaling firms, multinational businesses and investors – drawing 6,000 people from 150+ organizations to work there every day.
In addition, she has led the development of MaRS' broad suite of innovation programs and partnerships.  MaRS supports innovators and entrepreneurs building high-impact growth businesses, providing connections to critical talent, capital and customer networks. In addition, MaRS works with partners to accelerate the adoption and diffusion of innovation in regulated sectors, with a special focus on modernizing procurement and regulations, liberating data, and developing new funding models.
Ilse joined MaRS in 2005 from her role as CEO of Primaxis Technology Ventures, a seed-stage venture fund.  She has been a research scientist and entrepreneur, with senior roles in a number of emerging technology companies. She was Chair of the Canadian Task Force on Social Finance in 2010, served on the Government of Canada's Science, Technology and Innovation Council (STIC), and is a member of the Advisory Council on Economic Growth. She chairs the board of Triphase Accelerator Corporation, a cancer drug development firm, and serves on the boards of Cogniciti, a brain health company, and Canada's Public Policy Forum.
Ilse holds a DPhil in chemistry from Oxford University, which she attended as a Rhodes Scholar.
---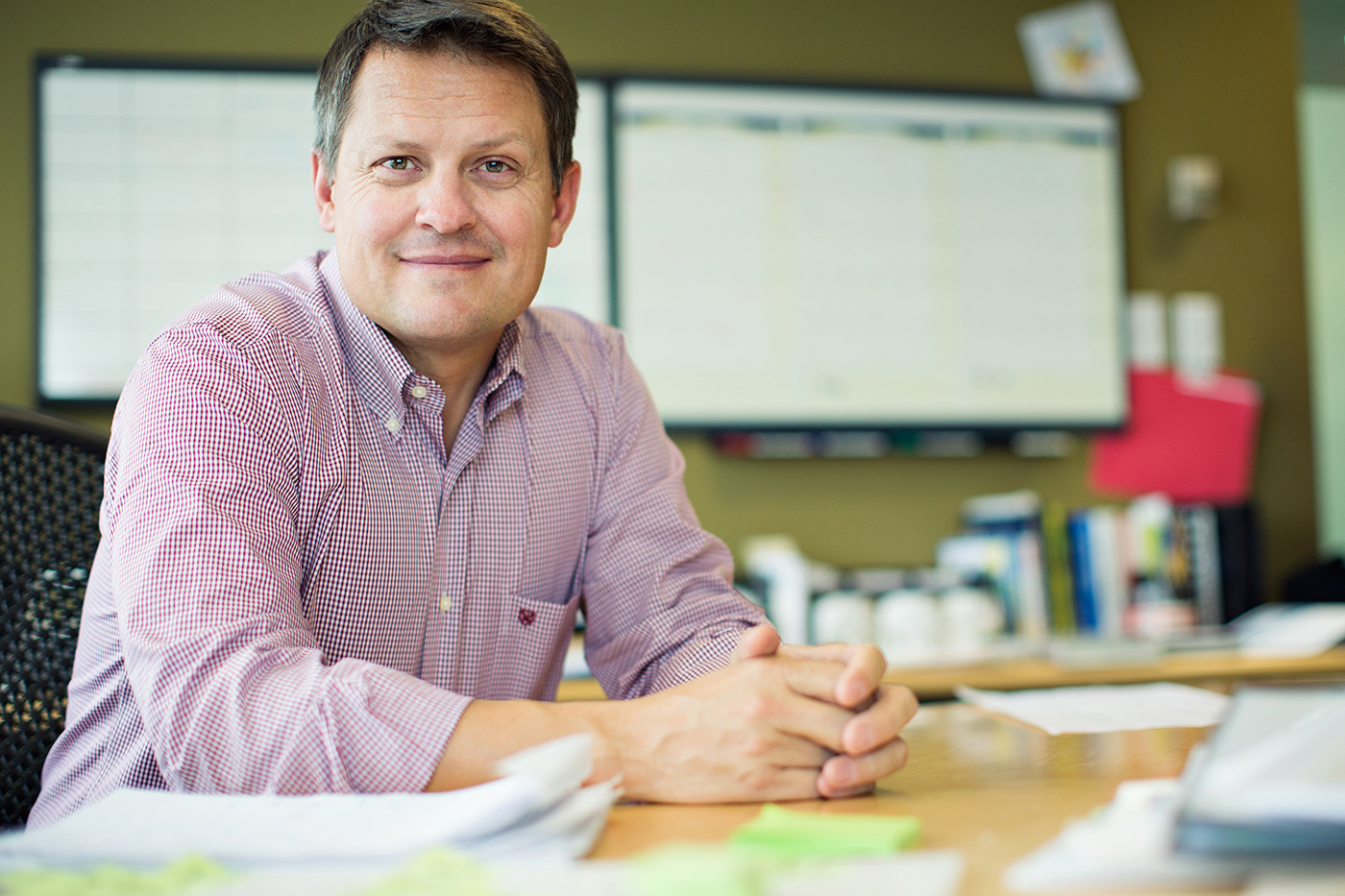 Brad Zumwalt
Brad Zumwalt has been growing technology companies for over 25 years. He led Image Club, Eyewire, and Veer to acquisition by Adobe, Getty, and Corbis, respectively. Today, Brad is leading initiatives to support other entrepreneurs and innovators. He co-founded Rainforest Alberta, a collective working to improve Alberta's innovation ecosystem, and collaborated with the city to build Platform, an innovation centre in Calgary's East Village. Brad is also a member of the boards of the Alberta College of Art and Design, Science Alberta Foundation, University Technologies International, Norlien Foundation, Viewpoint Foundation, and Social Venture Partners Calgary.
---
2019 Peter Lougheed Awards Dinner
Agenda
November 13

3:30 p.m. - 4:00 p.m.
Registration & Reception
---
4:00 p.m. - 5:15 p.m.
Panel – Today's Workers and Tomorrow's Energy Sector
---
5:15 p.m. - 6:30 p.m.
Networking Reception
---
6:30 p.m. - 7:00 p.m.
Welcoming remarks & Peter Lougheed Awards
---
7:00 p.m.
Dinner
---
8:10 p.m. - 8:55 p.m.
Peter Lougheed Awards
---
8:55 p.m.
Closing Remarks
---
9:00 p.m.
Adjourn
---