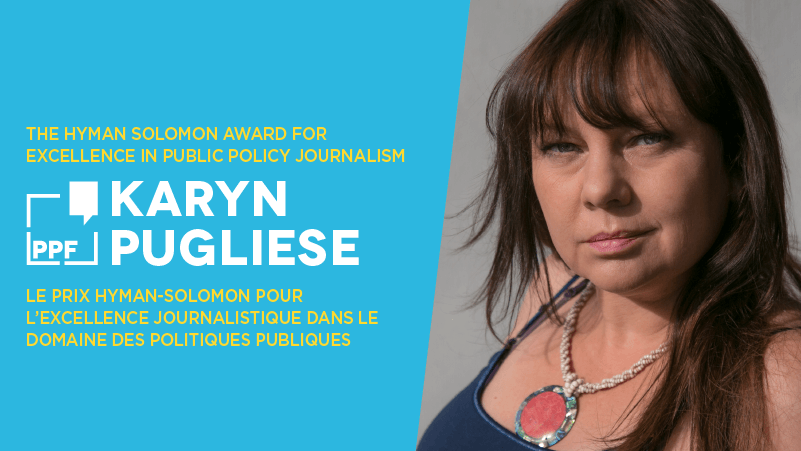 Article
PPF to honour Indigenous journalist Karyn Pugliese with 2019 Hyman Solomon Award
Karyn Pugliese of APTN will be honoured with the Hyman Solomon Award for Public Policy Journalism at PPF's 2019 Testimonial Dinner and Awards on April 11 in Toronto.
Ms. Pugliese is an award-winning journalist who has defended the rights of journalists and advanced the training, visibility, participation and leadership of Indigenous journalists throughout her career. Best known for her leadership role as the Executive Director of News and Current Affairs at the Aboriginal Peoples Television Network (APTN), Ms. Pugliese is also the first Indigenous person to become President of the Canadian Association of Journalists.
Ms. Pugliese is also an ambassador for Journalist for Human Rights and she sits on the board of Canadian Journalists for Free Expression. She worked previously at ichannel, Vision TV and CBC, and has also served as a communication director for the Assembly of First Nations.
Ms. Pugliese has won two Native American journalism awards and received nominations at the Canadian Association of Broadcasters and the Canadian Screen Awards. In 2017, she and APTN were recognized with the Charles Bury Award for their contribution to the field of Canadian journalism, particularly Ms. Pugliese' s advocacy for the rights of journalists. In 2018, Pugliese was honoured with the Gordon Sinclair Award, presented by the Academy of Canadian Cinema and Television, for excellence in broadcast journalism.
A graduate of Carleton University in journalism and history, Ms. Pugliese also earned a Masters in History and volunteers as a mentor through the university's alumni program.
Ms. Pugliese is a citizen of the Algonquin First Nation of Pikwàkanagàn. She grew up and raised her son, Zackery, on her People's traditional, unceded territory, which is today known as Ottawa.
She joins the prestigious company of previous Hyman Solomon award winners such as Susan Delacourt, Peter Mansbridge and last year's honouree, Francine Pelletier. Learn more about the award and previous honourees.
Join us to celebrate Karyn Pugliese and our other 2019 honourees on April 11 in Toronto.
And don't miss the 2019 Canada Growth Summit, also on April 11 in Toronto.