Marcel Côté Award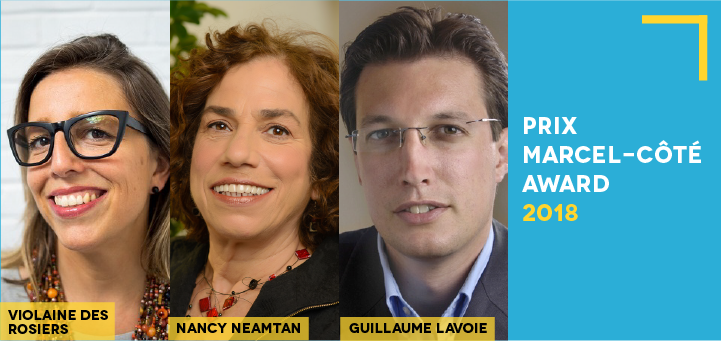 Date & Time
Tuesday October 30, 2018
6:00 p.m. - 8:00 p.m.
Location
Musée d'art contemporain de Montréal
185, rue Sainte-Catherine Ouest (corner Jeanne-Mance), Montréal (Québec) H2X 3X5
Show Map
This award is presented to Quebecers who demonstrate extraordinary leadership qualities and help improve public policy and public discourse at the municipal, provincial, national and/or international levels.
Marcel Côté was a boundless visionary, a bridge-builder and a tireless advocate for good public policy. It's in his honour that the Public Policy Forum created the annual Marcel Côté Award for Leadership in Public Policy. PPF, in partnership with the Board of Trade of Metropolitan Montreal and the Young Chamber of Commerce of Montreal, presented the first award on May 20, 2015.
Marcel Côté was an economist and founding partner of SECOR Inc., which he helped build into Canada's largest independent management consulting firm. His advice was sought by corporations, community and cultural organizations, as well as senior-level governments in our country.
To confirm you will be attending, please contact Husvini Poolay at husvini.poolay@ppforum.ca
#MarcelCôté2018
OUR HONOREES
Violaine des Rosiers
Co-CEO, Social Innovation House
Violaine helps support social innovators across Quebec through her role at the Social Innovation House. She is also co-author of two, non-fiction compilations of stories relating to her humanitarian experiences around the world – including with the International Red Cross – collaborating with local governments to develop policies and laws that protect women and children and coordinate civil & military responses during conflict and natural disasters.
---
Nancy Neamtan
Strategic Consultant, TIESS (Territoires innovants en économie sociale et solidaire)
Nancy is a member of the Order of Canada, an officer of the National Order of Quebec and has honorary degrees from Concordia and the University of Quebec in the Outaouais. She is the past CEO of the Poles of the Social Economy and she has nearly 30 years' of expertise in social economics, for which she is recognized nationally and internationally.
---
Emerging Leader
Guillaume Lavoie
Public policy entrepreneur; Lecturer, National School of Public Administration (ÉNAP)
An expert on the collaborative economy and its impacts on public policies, Guillaume Lavoie advises public and private organizations at home and abroad, and has been invited to speak at over 200 conferences on the subject. He also chaired the Government of Quebec's working group on the collaborative economy. He has worked in public diplomacy, international relations, and more recently, as a city councillor in Montreal. An engaged social entrepreneur, he is the co-founder of the Collège néo-classique.