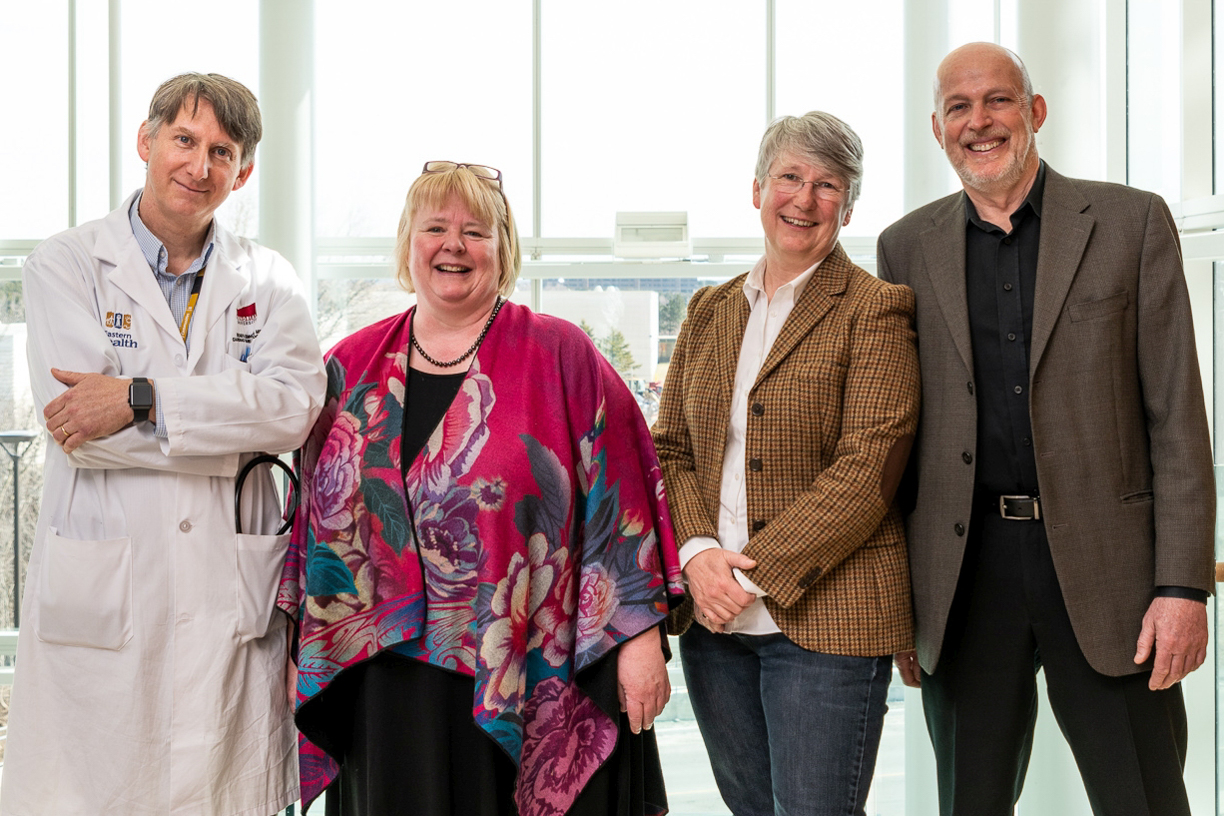 Article
MUN research team: How collaboration solved the deadly 'Newfoundland Curse'
This is one in a series of profiles of the winners of the 2018 Governor General's Innovation Awards. See all honourees
---
It's often said that teamwork is important to innovation, but an award-winning group of professors from the faculty of medicine at Memorial University of Newfoundland (MUN) in St. John's has proven that it's essential.
Drs. Terry Young, Sean Connors, Kathy Hodgkinson and Daryl Pullman identified a lethal gene mutation known to have caused sudden cardiac death in 25 families in Newfoundland and Labrador, succeeding where many well-known international groups had failed. They established life-saving screening methods and preventative treatments for the disease and are responsible for a major shift in ethical oversight in the province.
"We had a desperate need to find that gene so we could start saving people," says Dr. Young, the team leader and a molecular geneticist at MUN.
Known as the "Newfoundland Curse", the mutation causes ARVC, a rare arrhythmia. Dr. Connors, a cardiologist at MUN, says that among young men with ARVC, 50 percent die by age 40, and 80 percent by age 50. For women, the rates are 5 percent and 20 percent.
"In many, the first symptom is likely to be death. We knew there was something going on with these families, but we didn't have a clear marker as to who was at risk and who was not." — Dr. Sean Connors
Dr. Hodgkinson, a clinical epidemiologist at MUN, has been following the trail of the deadly disease in the province's families for two decades, originally as a genetic counselor. "Genetic research is complicated. In order for it to be successful, it has to be done well," she says, noting that the ARVC cases raised a number of ethical issues, from how individuals who might be at risk should be informed about the "expanding knowledge base" to whether outside researchers should disclose their discoveries to residents of the province.
Dr. Young says she was "one of the last people to come on board the molecular hunt." On a snowy day in January 2004—just nine months into her first academic position at the university and overloaded with work commitments—she was summoned to the morgue by Dr. Hodgkinson.
"On the steel table was a human heart. Half of it looked nice and half of it was all fatty and flabby. Kathy said: 'This is the heart of a 43-year-old man. He dropped dead in front of his children shovelling his driveway last weekend'," Dr. Young recalls. "Then she asked, 'Are you going to take this project on or not?' And, with tears running down my face, I turned on my heels and I said, 'Yes'."
The case was monumental. Indeed, it had stymied researchers from Germany and the United States. "These are huge families, with 10 to 12 generations. There were hundreds of samples. What had those other teams missed?" Dr. Young says. "We were systematic and thorough, it took a lot of money and people working at it full time to find out."
Research brought legislative change to Newfoundland
The mutation, called TMEM43, was finally isolated in early 2007, she says. "It was quite an emotional thing … we could test any patient worldwide, in the absence of a family history. It wasn't just a genetic find, now we had a pre-symptomatic test."
Dr. Connors developed a program in which each family member with the mutation could be given an implantable cardioverter defibrillator (ICD). The device recognizes when the heart goes into an abnormal rhythm and provides an internal electrical shock to return it to a normal rhythm.
As well as the life-saving therapy, the MUN team created a major shift in the regulation of genetic research in the province. Dr. Pullman, a medical ethicist at MUN, helped develop legislation to ensure that all human-subject research conducted in Newfoundland and Labrador is reviewed by a research ethics board there.
Dr. Pullman says there were also changes limiting the confidentiality of medical information for genetic conditions, so that life-saving information can now be shared. In another measure, results from research using the province's "founder population" must be used to benefit its people.
International partnerships now working to correct mutation
Dr. Young says the mutation originally came to Newfoundland through its Northern European ancestry and became concentrated, given the province's limited genetic pool and large families. But it's found everywhere and believed to be 1,000 years old, so the MUN research has worldwide impact. "The gene is known to be of international concern," she says, noting that it's one of 20 listed as "must report" by the American Society of Human Genetics.
MUN is collaborating with several international groups to work toward correcting the gene mutation, she says, as the current treatment with ICDs "doesn't stop the disease pathology."
The team's success shows that "scientific excellence is not just found in big centres," Dr. Young adds. "It can occur wherever there are great scientists in great collaborations."
Our proudest moment …
… was the day in the spring of 2007 when we discovered the lethal gene mutation that was causing sudden cardiac death. We were all hugging, crying and all that stuff. It was quite an emotional ride in the lab, more so than most lab stories.
—Drs. Terry Young and Kathy Hodgkinson
We were most inspired by …
… the resilience and fortitude of the families dealing with this genetic disorder. The histories eloquently emphasised the tragedies that families had to endure. We listened to stories told by Newfoundland and Labrador families linked by a shared history and passion for their province, flavoured by stoicism, resilience and fortitude.
—Drs. Kathy Hodgkinson and Sean Connors
Our research is meaningful …
… because of the lives we've touched and legislation that's been enacted because of our work. We thank the many patients and families we have had the opportunity to collaborate with as well as our researcher partners at Memorial.
—The MUN team
And don't miss this video from our member Genome Canada about the MUN Research Team.