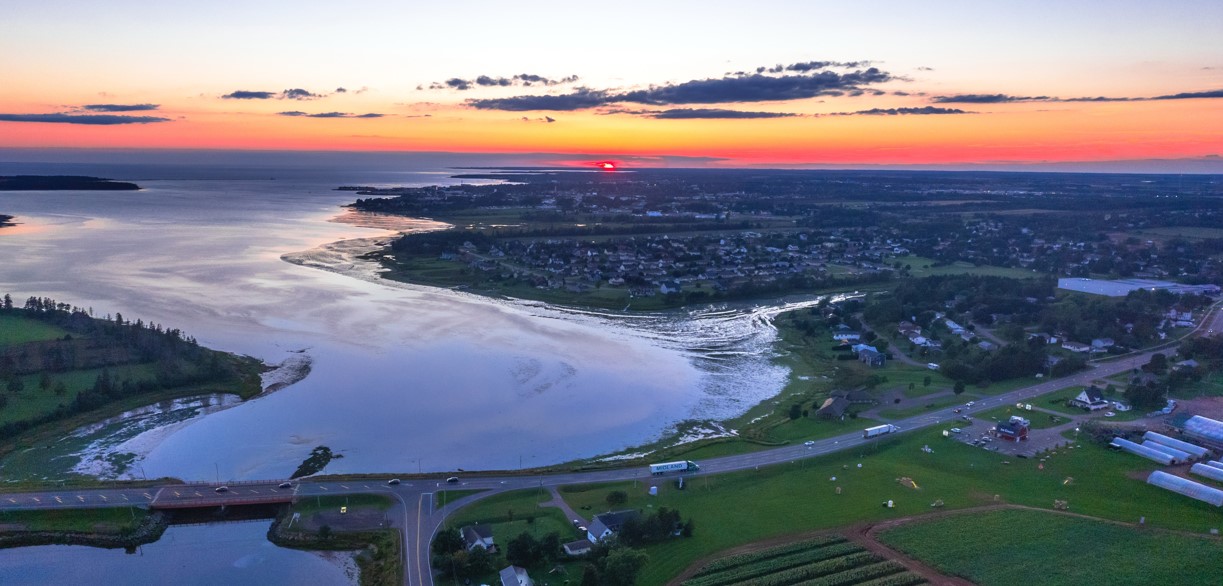 Article
Small Island, Big Impact
PEI's BioAlliance took a team approach to solving its workforce challenge, and here's what the rest of Canada can learn.
The fast-growing biosciences sector in Canada's smallest province is making big waves among worldwide competitors, thanks to an innovative approach to a global problem.
The Prince Edward Island BioAlliance's latest strategic plan sets a goal of $500 million in revenue earned by companies involved in the high-tech cluster by 2025. It also aims to add another 1,000 employees to the approximately 2,000 already working in the sector on P.E.I.
Reaching that last target means finding hundreds of skilled workers on an island with the population of a big-city suburb. A rare collaboration among a range of stakeholders is tackling that daunting problem through the innovative Canadian Alliance for Skills and Training in Life Sciences (CASTL).
Those behind the endeavour say what's working on the Island holds important lessons for others struggling with productivity-crippling workforce pressures across Canada.
---
The 17-year-old PEI BioAlliance is a not-for-profit organization that combines and co-ordinates the efforts of about 60 bioscience companies, seven research organizations, academic partners and government agencies to build a competitive cluster.
Mandated with attracting new bioscience businesses, boosting exports, attracting private capital and creating new jobs, the BioAlliance reports impressive numbers. Its economic impact on the island doubled from 2016 to 2019, when it reported more than $260 million in revenue.
Rory Francis, the BioAlliance's longtime executive director, said the groundwork for recent success was laid about a decade ago when private sector companies realized they'd need to play a leadership role in collaborating with the government to develop their industry on the island.
"We had a bad habit of asking and waiting for governments to fix our problem," he said.
Francis, a longtime senior bureaucrat in the provincial government, saw an opportunity.
"You realize the gap between how we spend money and how we make money," he said. "Like most of Atlantic Canada, we are in a deficit situation and depending on the federal government to balance the books. We're not self-reliant, and we should be. I've always had a bee in my bonnet about that."
His solution was the PEI BioAlliance, incorporated in 2005 alongside a new National Research Council presence on the Island.
Then deputy minister of the province's health department, Francis was given the latitude to take the project in a different direction than typical of biosciences advocacy bodies or trade organizations elsewhere.
"I wanted to explore the cluster idea, where we had a board structure that included business, research and academic, and government partners," he said. "Voting or non-voting wasn't important. It was everyone buying into a strategy and committing to what was necessary."
It proved a shrewd decision.
Building CASTL
The recent product of that momentum was a homegrown solution to a problem facing employers across the globe: a shortage of skilled labour.
Francis saw the challenge coming, thanks to a decade of quarterly surveys that probed labour market conditions. For years, experts have warned about how aging demographics on the Island and across the country would collide with a sector increasingly desperate for talent.
In the past few years, those surveys indicated the impact on the Island of the sector's growth. Every year, several hundred new specialized jobs have bolstered the ranks of the 2,000 or so people already employed in the sector on P.E.I.
"For a population base like ours, it was getting tight, and we were seeing more musical chairs and people spinning between companies," Francis said. "Around our table, we said, 'well, we can sit here and complain or we can do something about it.'"
Their solution is the Canadian Alliance for Skills and Training in Life Sciences.
The concept isn't as much about reinventing the wheel as adopting a wheel that's already working in other countries, said Penny Walsh-McGuire, CASTL's executive director.
The curriculum comes from Dublin's National Institute for Bioprocessing Research and Training (NIBRT), which supplies much of the skilled labour required by Ireland's world-leading life sciences sector.
"Their government has supported the sector significantly, and they have 10 of the largest pharmaceutical companies based in their back yard," Walsh-McGuire said. "NIBRT trains the talent that works in the sector to make it one of the most important sectors in the country."
Francis saw the same potential for P.E.I., and convinced governments on both sides of the Atlantic to have the BioAlliance buy the exclusive rights to NIBRT's curriculum for Canada.
Two years later, CASTL is using the curriculum to drive three streams of programs designed in close collaboration with industry and Atlantic universities to meet the unprecedented demand for labour in the sector.
The first stream, New Skilling, targets post-secondary schools with existing biotech or medical engineering programs. CASTL offers its curriculum to the university to integrate with existing coursework, providing educators with an easy way to "try on" changes to their academic offerings.
In a second stream, Reskilling, cohorts of 20 unemployed or underemployed Islanders with some background in science or biomanufacturing take an intensive 12-week course. The expenses-paid program fully prepares them for entry-level production technician positions within the industry.
Walsh-McGuire said participants who have a science degree of some sort but aren't working in the field are ideal candidates. Newcomers, she said, make up about 60 per cent of registrants so far.
The program is fully funded by the government, at a cost of between $10,000 and $12,000 per learner. Subsidies covering travel and daycare costs are available to reduce common barriers to entry.
Demand for the program is impressive, with each cohort typically attracting more than 70 applications. By the end of the 12-week program, three in four students have offers for first jobs as technicians that often pay $18 to $20 an hour and offer a pathway to more senior positions, Walsh-McGuire said.
Mary Hunter, the province's workforce development director, said she has been extremely pleased with the types of Islanders taking advantage of the program. It has attracted a strong mix of ages, nationalities and genders, and given people who previously lacked a credential or skill the chance to participate fully in the Island's economy.
What started as a pilot project has developed into a permanent solution, Hunter said. The businesses benefiting include large manufacturers whose struggles to find the right skilled workers have intensified in recent years and small and medium enterprises in the BioAlliance increasingly experiencing the same pressures.
The final stream is dedicated to upskilling people already employed in the sector, to meet its need for more skilled, experienced workers.
Walsh-McGuire said close collaboration between industry and education partners is critical.  CASTL works closely with industry partners, requiring up-to-date information about available jobs and the necessary skills, and how the positions are filled.
Another key element of the program is that the people teaching the curriculum often have biomanufacturing experience in the private sector, she said. The instructors are usually people nearing the end of their career who are looking to give back to the sector.
'Working beyond self-interest'
Surita Maddox, Atlantic Region's director general at Innovation, Science and Economic Development Canada (ISED), said Francis's vision of a codependent "triangle" has been key to its success. This involves government, industry and associations, and academic partners collaborating to develop the sector.
That dependency has helped all corners of the triangle flourish, she said, rather than being dragged down by private sector competitiveness, political whims and personality squabbles.
"Relationships are extremely important in our province," said Mary Hunter at P.E.I.'s Department of Economic Growth, Tourism and Culture.
"We're a population of just over 160,000 people. We pride ourselves in strong relationships."
That's something Stefanie Corbett experienced firsthand, immediately after she became CEO of Innovation PEI, the Crown corporation dedicated to economic development and a key partner in the BioAlliance.
"Twenty-four hours after my appointment was announced, Rory Francis was the first person to reach out, other than with a congratulation, and ask for a meeting," she said. "The BioAlliance does a really good job of telling their story, and that's something other sectors could learn."
Maddox agreed, noting that the "commonality of purpose" is largely achieved by the work the PEI BioAlliance, and Francis in particular, does in the background.
She credits Francis's experience in the bureaucracy for his ability to navigate the whims of industry partners and keep governments of different political stripes on board with the long-term vision of the BioAlliance.
Tim Wartman, P.E.I. policy director at ISED, also has praise for the BioAlliance approach.
"They've managed to look at the overarching good for the sector as opposed to focusing on, 'what's good for my company?'," he said. "Getting an employee here is good for the whole sector as opposed to just one company."
Hunter applauds the open and transparent quarterly meetings between Francis's team and her deputy minister, with more communication as needed. It works, she said, when the government is never surprised by requests directed their way.
Critically, Maddox added, those around the board table value collaboration and respect over ego.
"I've worked in another region in the country and I've also worked in headquarters about half of my career," she said. "And if you said this to someone else in another region, they'd be [surprised]. At the heart of it is folks who care about the growth of the sector, not just about padding their own nest."
For his part, Francis pointed to other leaders who set the tone at BioAlliance's inception, including Regis Duffy, the Islander who founded Diagnostic Chemicals Limited and spinoffs BioVectra and Sekisui Diagnostics.
"[Duffy is] a prince of a man and bulletproof because he's always working beyond self-interest and everyone knows that, and that's gold," Francis said.
Canada-wide plans
Next, Walsh-McGuire said, is to bring the CASTL curriculum to other centres across Canada. It's being translated for use in Quebec, and talks are underway across the country to develop training programs for similar sectors elsewhere.
"We have nuances and technical specialty areas that have come to the forefront," she said. "But at the end of the day, the foundational training and knowledge is a global pedagogy."
Applying what's being learned on the Island to other regions of the country faced with similar workforce needs is potentially a key value proposition for CASTL, Maddox noted.
On the Island, the next priority is CASTL's first biopharmaceutical manufacturing training facility, being built within the Bioscience Manufacturing Incubator in Charlottetown in time for a fall cohort.
The idea, Walsh-McGuire said, is to provide more hands-on experiences for students and trainees at various points in the upskilling process.
Evaluating value
Stefanie Corbett at Innovation PEI gives "all credit" for CASTL's first steps to Francis.
"There's a labour shortage in every industry in every sector right now and by being so wired into that sector, they're hearing it," she said. "And so rather than sit around and talk about it, they built a plan on how they can try to help support and correct that."
It's too early to declare the mission a total success, Corbett said, but she's willing to be patient.
"What often isn't talked about is the large amount of government support that has gone into them, and sometimes the private sector likes to forget about that," she said. "But it's really key that the government is there, because it wasn't going to happen without that support."
Corbett noted that the analysis should be deeper than simply counting the job opportunities created.
"We already have too many jobs. We need humans," she said.
"From a provincial standpoint, we want to get to a place where we're seeing wages increase. The employment income line has to move. It's a key measure of economic success.
"CASTL is a really great starting point, and I'm excited to see what they're able to do."
Critically, Maddox added, those around the board table value collaboration and respect over ego.
"At the heart of it is folks who care about the growth of the sector, not just about padding their own nest," she said.