Citizens' Assembly on Democratic Expression: Recommendations for Reducing Online Harms and Safeguarding Human Rights in Canada

The Canadian Citizens' Assemblies on Democratic Expression — three in total and involving more than 90 Canadians who together contributed 6,000 volunteer hours — have examined how the Government of Canada should regulate digital service providers to create a safe environment where Canadians can express themselves and be protected from a range of harms.
The members of the Assemblies have come from communities across Canada. Together, they represent almost every facet of Canadian life. Some are digital natives — spending much of their working and leisure time online. Others are less familiar with the range of online services but are nevertheless concerned with their significance and social impact.
Each Assembly has been unanimous on the need for immediate and far-reaching regulations to curb what they see as the pernicious and largely unconstrained ability of bad actors to exploit, harass, and victimize Canadians online. They express deep scepticism about the sincerity or ability of many digital service providers to take the steps necessary to curb these harms.
At stake in the minds of many members is the future of democracy. This democracy is not an unconstrained, anything goes, free-for-all, but rather a society that upholds the same principles which they believe have made Canada successful — a respect for difference, a belief in human rights, a recognition that there must be reasonable limits to expression in a free society, and the conviction that a good society is one where citizens act responsibly towards one another. This is the final report marking the culmination of a unique effort to bring Canadians closer to the centre of one of the most consequential policy initiatives in a generation.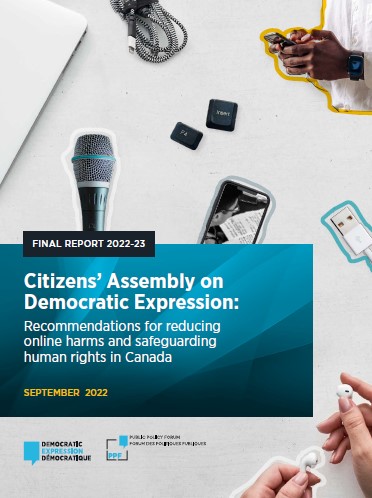 Citizens' Assembly on Democratic Expression: Recommendations for Reducing Online Harms and Safeguarding Human Rights in Canada
Download PDF