Canadian Commission on Democratic Expression: How to Make Online Platforms More Transparent and Accountable to Canadian Users

Following six months of study and deliberations, the Canadian Commission on Democratic Expression has settled on a series of principles and recommendations that underlie a practical course of action for the public, governments and social media platforms to protect democratic expression in Canada and to counter the harms created by content posted, shared and amplified through social media platforms. We recognize the complexity of the issues at play in a free and democratic, rights-based society, and offer these recommendations as a path forward. We encourage debate that may further refine them and lead to their implementation in the coming months by governments and regulators.
---
Principles
Free speech is fundamental to a democratic society. The internet enables more people to participate in public discussions and debates.
The rise of hatred, disinformation, politically polarizing content, conspiracies, bullying and other harmful communications online is undermining these gains and having a corrosive impact on democratic expression in Canada, both online and offline.
The status quo of leaving content moderation to the sole discretion of platforms has failed to stem the spread of these harms. Platform companies can find themselves in conflict between their private interests and the public good.
The notion that platforms are neutral disseminators of information is faulty. Platforms distribute content to serve their commercial interests and so must assume greater responsibility for the harms they amplify and spread while being mindful that free expression is the bulwark of a democratic society.
Public agencies must play a more active role in furthering the cause of democratic expression and protecting Canadians from online harms.
Any policy response must put individuals first, reduce online harms and guard against the possibility that will have chilling effects on participation particularly for Indigenous peoples and other equity seeking groups. This requires a balanced and multi-faceted approach.
Privacy protections are fundamental to human rights and democratic expression. Remedies to address online harms and protect democratic expression should centre on rights-based approaches, both in safeguarding citizens against possible privacy infringements and empowering individuals with greater control over their data and democratic expression.
Minors (under 18) are particularly vulnerable to online harms and so platforms which are accessed by minors have a special obligation to ensure that the appropriate safeguards are in place.
Many like-minded democracies are facing similar challenges to democratic expression in the 21st century and as such Canada should look to act multilaterally and in concert with other like-minded nations as much as it possibly can and where it makes the most sense.
These principles have led the Commission to an interrelated set of recommendations around three core themes of democratic expression: transparency, accountability and empowerment.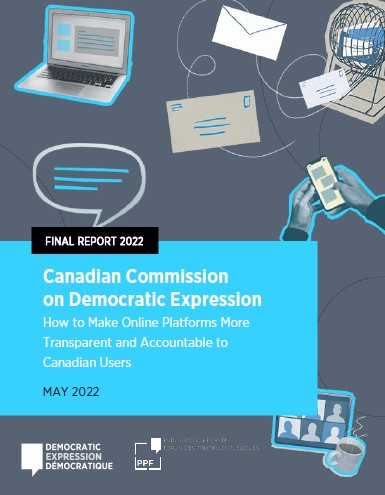 Canadian Commission on Democratic Expression: How to Make Online Platforms More Transparent and Accountable to Canadian Users
Download PDF
---
Policy Memos:
---