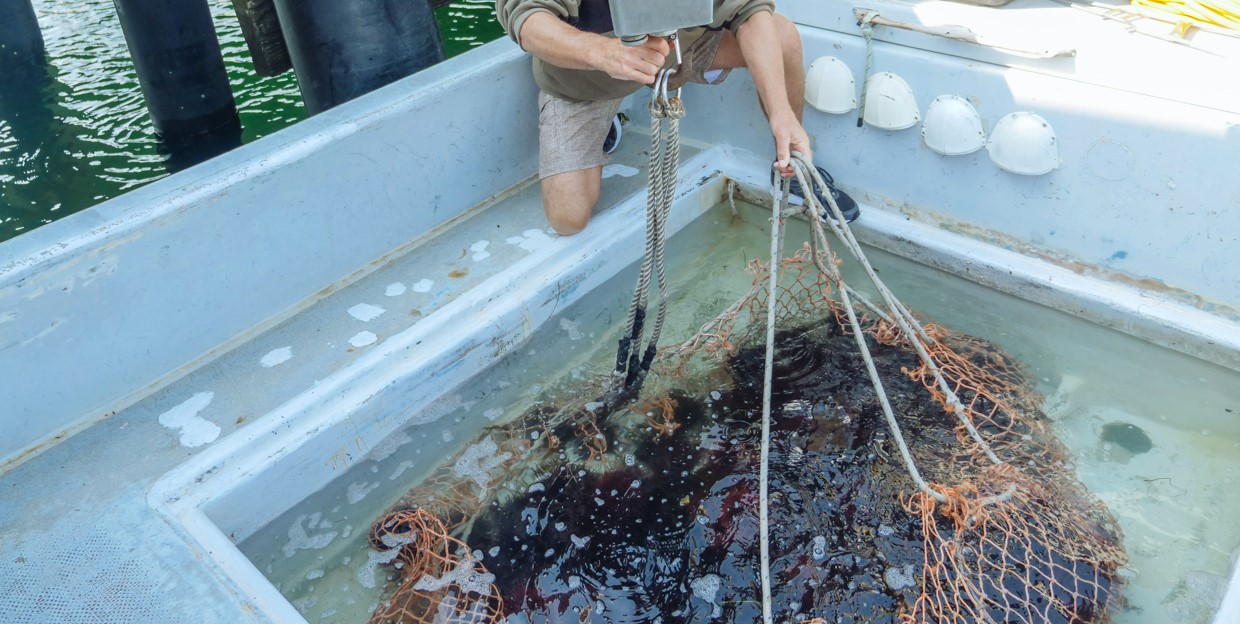 Article
Teaching a Machine to Fish
Younger generations of New Brunswickers aren't supplying the lucrative seafood processing sector with the labour it needs. Has a Tracadie plant's $26-million automation play found the future?
It's a gruelling job.
During peak times along the Acadian Peninsula and Northumberland Strait, hundreds of New Brunswickers put in long hours, seven days a week, on production lines in fish plants. These facilities turn fresh-off-the-boat lobster, snow crab and other fish into seafood products that rank among the province's most valuable exports.
Heaving heavy boxes from one location to another, repetitively trimming and shucking rock-hard and razor-sharp crustacean shells, standing through 12-hour shifts amid the briny ocean stench and the droning hum of powerful refrigerators – all to ensure the product is packed away according to exacting specifications demanded by lucrative foreign markets.
A former mainstay of the region's economy and source of pride for generations, fish processing is an increasingly tough sell for the fish plant operators who depend on labourers, said Jake Augustine, general manager of McGraw Seafood.
McGraw processes between $30 million and $50 million worth of snow crab and herring a year, primarily for American and Japanese markets. The largely seasonal operation requires about 200 employees for a "very intense period" from April until October, Augustine said.
Finding those 200 workers has become his biggest challenge, a trend consistent across the industry.
"We're not able to offer very attractive employment, " he said. "We are not attracting young talent and we're not able to retain new talent, because the only individuals who are able to sustain this intensity are our older employees who grew up in a culture of working in seafood processing plants."
This year, the average age of workers on McGraw's processing floor was 57, Augustine said.
Younger New Brunswickers simply aren't willing to work under the same conditions as previous generations, he said. Finding new ways to get the work done has become his main preoccupation.
Adding automation to the mix
While most of Augustine's competitors have turned to temporary foreign workers, he has leaned into automation.
Between 2017 and 2019, a team of engineers, equipment suppliers and in-house experts was assembled to design what Augustine describes as "the most modern crab production line in Atlantic Canada."
The result is a $26-million, 80,000-square-foot, state-of-the-art facility that includes a 20,000-square-foot cold-storage space.
The process is far from wholly automated. Augustine said it's hard to imagine a time when humans won't be required to ensure quality control, properly feed the butchering machines and constantly tweak the machines' functioning.
But central to the design of the new plant were advances that make hands-on processing jobs easier, with a focus on improving ergonomics and reducing stress injuries.
For example, employees no longer have to lift and rotate 30-pound boxes of crab, as previously required. Robots do more of the butchering – an especially taxing position on the line.
The improvements make it what Augustine believes is the most efficient production line in the industry.
"When it came to workplace safety, we were by no means a leader. We had way too many workplace injuries," he said. "It was a result of the fact we are very labour-intensive, and we wanted to get away from that."
The revamp also responds to requests from key customers, like "the Costcos and Walmarts of the world," who are pushing producers for certifications from groups such as the British Retail Consortium.
Another benefit was that the new technology would create well-paying positions for local people with a technical background.
However, it hadn't been fully understood that those skilled jobs would be hard to fill when the work is largely seasonal and located farther from the urban centres where many of the candidates are willing to live, Augustine said.
McGraw's bottom line becomes vulnerable when downtime is required if an obscure part or a specialist can't make it to the Acadian Peninsula in a timely fashion.
'A competitive disadvantage'
Alex LeBlanc, CEO of the New Brunswick Business Council, said improving productivity is central to how the region will manage a period of economic and population growth.
"Increasing labour productivity against the backdrop of the labour shortages across the province is critical," he said. "Businesses get it."
While larger companies are "well down the road" in leveraging automation and artificial intelligence for their own purposes, LeBlanc said smaller and medium-sized businesses face more immediate hurdles.
"The two kinds of enablers and barriers to this are capital and skills," he said. "And if you're a medium-sized company, you may not have the available financial resources to invest."
Some businesses have been forced to prioritize their spending in ways that hinder their economic progress, LeBlanc said. Several rural New Brunswick manufacturers who offer year-round work and are "ripe for automation" operate under capacity because prospective workers can't find housing.
"I hate to bring it back to housing, but it is a critical public policy that's directly related to the competitiveness of our manufacturers," he said. "Several of my members are investing in housing in rural areas instead of automation. That is putting companies in our region at a competitive disadvantage."
The unrealized revenue, LeBlanc explained, limits the private sector's ability to invest in the cutting-edge technology that would make it more competitive globally – and eventually help address the housing shortage.
His anecdotal evidence appears consistent with recent research that found both an interest in technological innovation and a hesitancy among Atlantic businesses to take risks.
The Atlantic Canada Opportunities Agency reports it has nearly tripled funding for larger-scale automation projects between 2016 and 2019, up to about $95 million.
The federal economic development agency found that a majority of businesses surveyed recognized the opportunity provided by technology to help recruit and retain employees.
"However, key informants underlined that a risk-averse business culture in Atlantic Canada tends to restrain the use of innovative technologies and challenges the promotion of a growth mindset among entrepreneurs," the 2020 Innovation Programming Evaluation Report found.
'The whole system needs to spin fast'
Dr. Fatah Chetouane, a professor in industrial and electrical engineering at the Université de Moncton, thinks changing that mindset starts with removing the silos separating him and his colleagues and students from businesses that could benefit from automation.
"The whole system needs to spin fast – I'm an engineer, and I like to solve problems," he said.
In addition to academic work, Chetouane has consulted on several industrial automation and process improvement projects for local manufacturers and processors, including in the seafood sector.
He believes that should happen much more frequently, but that much of the potential he, his colleagues and students can provide is being "locked inside a box" on a university campus.
Chetouane said his work is often misunderstood, even by his own school, which in the past has cut back on automation-related offerings to its engineering students.
"Our students find jobs directly after graduating," he said. Employers are diverse and not always obvious. For example, he said area hospitals have recently been hiring students to improve processes in healthcare.
Chetouane suggests his own university's Bureau de soutien à l'innovation should be "unleashed" to seek automation projects like a real estate agent pursues house sales.
After all, Moncton is a centrally located city with a vibrant history of blue-collar, industrial hubs such as the former CN rail yards, Atlantic Underwear and Marven's Biscuits.
He sees his own labs and classrooms adopting something similar to the Japanese kaizen philosophy, where research and development expertise is housed alongside the production floors and operations centres that could benefit from improved processes.
"If something doesn't work, you just look up and ask 'can you review this?' [The two departments] talk all the time," Chetouane said. "At our university, there are some rooms that are empty, that store chairs and desks. I'd like to clean that all out and create offices for people working at companies for free rent.
"Automation is about balance. It's how to respect human beings and how to take away tasks that people don't do anymore because maybe they are degrading, maybe they are very tiresome, maybe they have the probability of health concerns or big accidents," he said.
"Automation is about understanding people, understanding processes and making that process better."
Helpful, not a heal-all
McGraw Seafood's Jake Augustine said their new facility is a helpful recruiting tool, but not a panacea.
"Everyone wants to work at the new plant in Tracadie," he said. "Their wages have basically doubled in the last maybe eight years or so," thanks to strong global markets for crab and competition among area plants.
Still, of the 200 workers McGraw hired for this year's season, 75 left before their seasonal contract was up, he said.
"Recruitment and retention are totally different things. We might post something on Facebook a couple of weeks before the season and we usually get an overwhelming response.
"But what happens is that a lot of people are not familiar with the work environment here. After the first couple of weeks, sometimes they're 100-hour weeks and seven days a week, so they get overwhelmed."
It's a situation that leaves Augustine feeling forced to consider hiring temporary foreign workers (TFWs) to ensure the plant stays competitive. This is something the company has never done and that he knows is "a really touchy subject."
"We have basically gone as long as we can without the TFWs," he said. "I think that what we're seeing now is that other plants are seeing some really positive results by experimenting with their first years of TFWs."