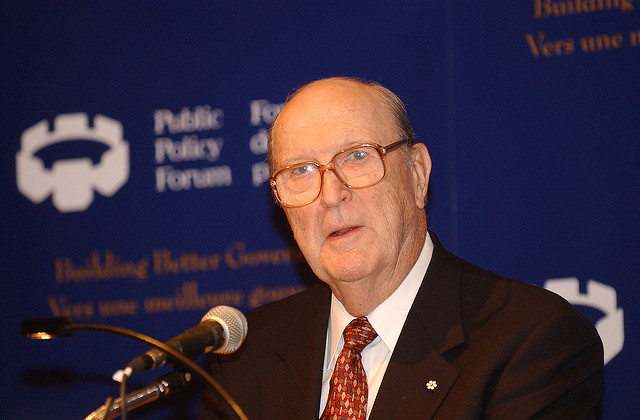 Article
PPF mourns death of former Privy Council Clerk Gordon F. Osbaldeston
The Public Policy Forum is offering heartfelt condolences to the family of former Clerk of the Privy Council, Gordon F. Osbaldeston, who has passed away at age 88. Since 2006, our annual lecture on public service issues has honoured his name and legacy.
"There are very few Canadians who have the title 'honourable' conferred upon them not for holding high elected office but for their extraordinary contributions to public life and the betterment of Canada," says PPF President and CEO Edward Greenspon.
"The Honourable Gordon F. Osbladeston was one of those remarkable Canadians. He touched our country as a trade commissioner, deputy minister, Clerk of the Privy Council to three prime ministers, director of nation-building corporations, professor and author.
"The Public Policy Forum was among those institutions that benefitted from his inexhaustible wisdom. On behalf of all of us at PPF past and present, we offer condolences to the family and our appreciation for a life of such sterling public service."