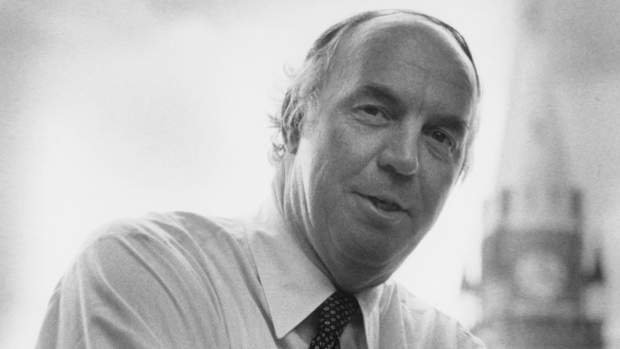 Article
Canada's Next Leap of Faith
From resource reliance to natural resilience
November marks the 40th anniversary of Donald Macdonald's Royal Commission on Canada's Economic Prospects, with its signature recommendation to take a leap of faith on free trade with the United States (Mr. Macdonald is pictured above.) The Public Policy Forum has marked the occasion with a new report by Sean Speer and Ed Greenspon that provides their view on the country's next great leap of faith. Here, Macdonald's daughter Sonja Macdonald answers the question: What Would Donald Macdonald Do (WWDMD)?
By Sonja Macdonald
I come at the question of "What Would Donald Macdonald Do?" from a somewhat unique angle, as one of his children. I grew up witnessing his public service and political contribution, but more importantly, his personal commitment to improving the world around him. As such, my perspective is driven by his practical actions.
My father had a very personal commitment to reforestation and the protection of watersheds. For almost 40 years our family stewarded a small parcel of land atop the Oak Ridges Moraine. Inspired by his own father's legacy as Canada's last Dominion Forester, my father spent decades working to reforest and reintroduce native tree diversity to a segment of Durham region. He planted tens of thousands of trees and also advocated for the reforestation of former gravel and aggregate sites, understanding that our natural assets are essential infrastructure that need to be valued differently. He included this sensibility in the Commission's report, writing that "the environment is a source, not of wealth alone, but of other, less tangible satisfactions as well. Moreover, abuse of the environment is seen to threaten not only our prosperity, but also our health, our safety and, ultimately, our society."
This led to the Commission's recommendation for "the development of a combined social and economic accounting system that covers not only the conventional economic indicators" but includes "soil depletion, forest degeneration, the costs of restoring a damaged environment, and the effect of economic activity on health."
I would suggest the time is overdue for Canada to transition from creating wealth from natural resource extraction to creating wealth through the preservation and rehabilitation of our natural assets.
The existential threat of the climate emergency means that shifting to a natural assets perspective is of even greater urgency now than it was in my father's day. Canadians have experienced a recent series of catastrophic events such as heat domes, wildfires, landslides and hurricanes that are devasting to individuals and costly for communities. A natural assets management approach measures the value of how watersheds help mitigate flooding, as well as how reforestation and the native diversity of Canada's forests ensures clean water and defends against greater erosion and catastrophic landslides. This new prism would allow governments to account for the value of these natural resources against the rising costs and risks of climate events.
Investing in our natural assets as a way of mitigating damage from these disasters creates a long-term infrastructure investment that results in significant cost savings for municipalities and provinces. As well, the value of our natural assets can reach beyond physical infrastructure to mitigating health care costs. Practical examples of this work are already underway across Canada as communities begin to conduct inventories of their natural assets, but they need to become central to decision-making across all levels of government.
By fully adopting a natural assets approach, we position Canada to not only weather severe climate events, but grow more sustainably and improve individual health, ultimately becoming a leader in innovative solutions in a shifting global economy. As the country's next leap of faith, this one is long overdue.