Article
Recollection: Substance in politics. Honouring John Crosbie.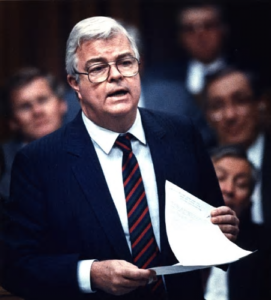 By Edward Greenspon
I didn't know John Crosbie as well as the generation of journalists before me, or those fortunate members of the land of unrequited dreams. He crackled with political courage and straightforwardness in an occupation that continues to challenge the proposition that the shortest distance between two points is a straight line.
He split with Joey Smallwood, the last Father of Confederation. He popularized the concept of short-term pain for long-term gain in his infamous 1979 budget, although the voting public was a decade-and-a-half away from buying-in. He closed the over-exploited cod fishery, throwing 30,000 people out of work and responding to protestors wanting to play pretend that "I didn't take the fish from the god damn water."   Blame lay with the all the short-termers who came before and refused to act for fear of political retribution.
I had two particular encounters with Crosbie that left me deeply impressed. The first was an interview over lunch in London. Resting his eyelids, he let loose with some particularly quotable invective against Greenpeace. After the meal, his press secretary headed me off and insisted the conversation had been off the record. I disagreed, loud enough for Crosbie to hear the ruckus. The minister made clear to his aide he was more than willing to stand by his words.
The other incident made a lasting impression on me that Crosbie was that rare politician of intellectual depth and uncompromising character. It occurred in Kazakhstan of all places, on the northeast shore of the Caspian Sea. I was gathering string for a story about the rise of national disunity and push for autonomy among the Soviet republics. Ukraine and Russia were reasonably accessible, but I wanted to include reporting from a more remote area and noticed Crosbie, then international trade minister, was planning a trip to a Canadian-backed oil development. He allowed me to hitch a ride.
Food staples were hardly plentiful, but the banquet in honour of the visiting Canadian minister was well supplied with caviar, vodka and endless toasts, ostensibly to the guest of honour. The words of tribute had referred, in a series of increasingly contorted non sequiturs, to beds and dreams. Kazahk officials were a bit more direct about their frustration at the colonial attitudes and actions of the Russian-dominated central government. "I only wish," one declared, "we had been dreaming for the last 70 years."  The old-style apparatchik from the ministry in Moscow shot back that if not for Soviet technological prowess there would be no oil and gas project in the Kazak wilderness, just sand. The Canadians looked on astonished.
The air was thick with even more slurred invective by the time for Crosbie to speak. Just about any other politician would have stuck to the scripted diplomatic niceties. Crosbie must have made one of those short-term pain, long-term gain calculations. He started slowly, speaking about Newfoundland and Canada then moving on to Quebec and Canada. He explained the nature of the tensions among regions in his country, and the civil ways in which we had learned to address them. In a desert far from home, you could see firsthand the suppleness of mind and unwillingness to duck the difficult conversation.
A great deal of the commentary since his death has focused on Crosbie as almost a jokester. Most notably his legendary House of Commons sparring with Sheila Copps – Pass the Tequila, Sheila. That, too, was part of John Crosbie. But it falls well short of an adequate accounting of one of the best and brightest of our recent political history.