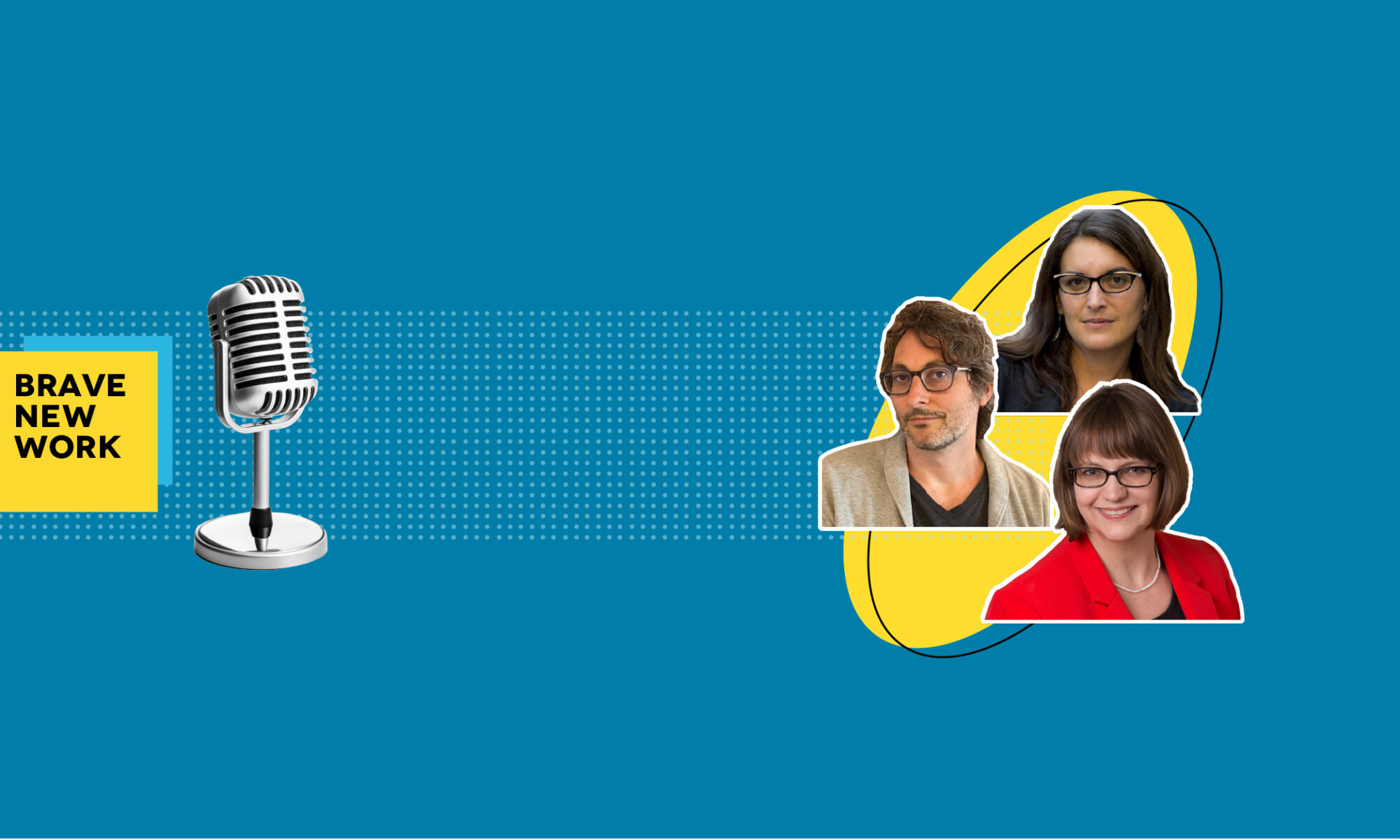 Podcast
Ep.51: Skills and Surveillance
With Kaylie Tiessen, Benjamin Lorr and Brenda McPhail
Vass Bednar takes over as host of Policy Speaking, for a special Brave New Work discussion on how to think more fully about technological change. This week's focus is on skills and surveillance, with special guests: Unifor economist and policy analyst Kaylie Tiessen who talks trends in workplace training and how truck driving has been transformed; Director of the Canadian Civil Liberties Association Brenda McPhail who talks about the right and very wrong ways surveillance can be used in the workplace; and author of 'The Secret Life of Groceries' Benjamin Lorr who talks about how minimum wage grocery work is no longer the care-free job we nostalgically remember.
Brave New Work special | Episode 1 of 3
Listen in with Kaylie Tiessen, Benjamin Lorr and Brenda McPhail
Kaylie Tiessen is an economist and policy analyst at Unifor where she focusses on issues relating to the future of work and macro economic policy. Prior to joining Unifor Kaylie held positions in sales, strategy and research. Kaylie applies her research efforts to questions related to social justice and inequality authoring papers relating to the future of work from the lens of workers and how to create and maintain decent work in Canada. Kaylie sits on the boards of Abundance Canada and Kindred Credit Union.
Brenda McPhail is the Director of the Canadian Civil Liberties Association's Privacy, Surveillance, and Technology Project. She guides CCLA's interventions in key court cases that raise privacy issues, such as the recent Supreme Court of Canada cases R. v. Marakah and R v. Jones, which confirmed privacy rights in electronic communications. Her research agenda focuses on the social implications of technology, and recent work has focused on surveillance of dissent, government information sharing, digital surveillance, video surveillance, and rights issues raised by artificial intelligence. CCLA also has an education mandate, and Brenda works to develop resources and presentations to drive public awareness about the importance of privacy as both an individual and a social good. She received her Ph.D. from the University of Toronto, Faculty of Information.
Benjamin Lorr is the author of The Secret Life of Groceries: The Dark Miracle of the American Supermarket, which pulls back the curtain on the highly secretive grocery industry. His preview book, Hell-Bent, is a critically acclaimed exploration of the Bikram Yoga community that first detailed patterns of abuse and sexual misconduct by guru Bikram Choudhury. Lorr is a graduate of Montgomery County public schools and Columbia University. He lives in New York City.
Listen in and join the conversation with the hashtag #PolicySpeaking!
Follow the podcast on Apple Podcasts and Google Podcasts. Subscribe to Public Policy Forum updates and be first to know about new events, reports and projects.