Putting Reconciliation into Practice: Inclusion and Action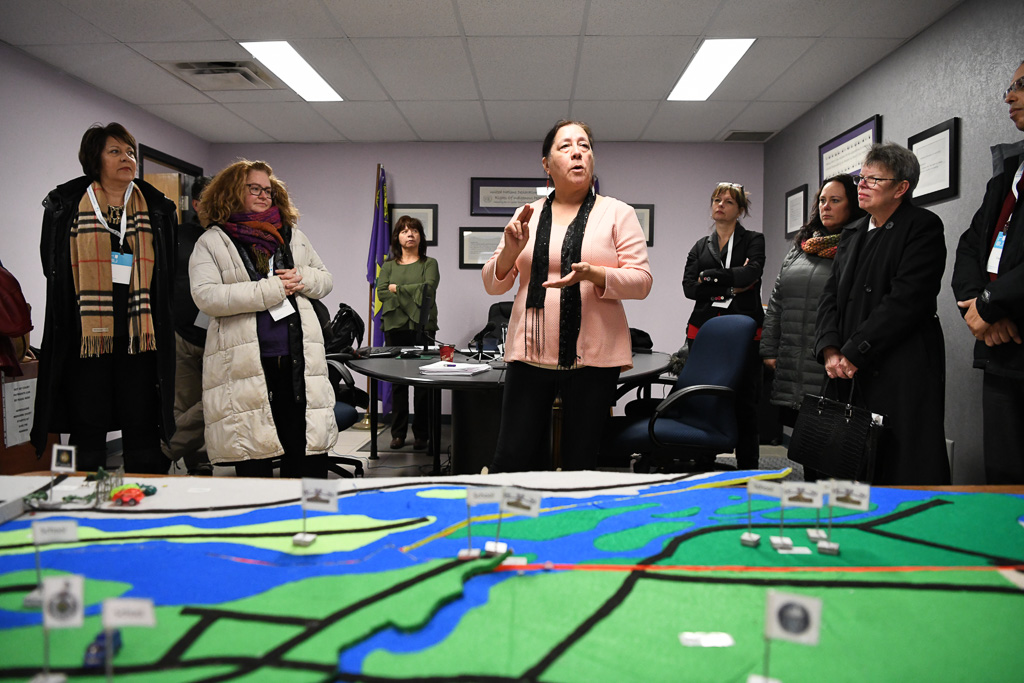 Now on its third offering, the Public Policy Forum is once again presenting this professional development opportunity for public service executives and non-profit leaders to explore in-depth how reconciliation with Indigenous Peoples can be put into practice. This learning program features four learning modules that will better equip officials to take concrete steps in policy development towards renewing this important relationship, and to do so in an inclusive way.
The federal government is committed to a renewed nation-to-nation, government-to-government and Inuit-Crown relationship with Indigenous peoples. The seminar series represents a further step towards implementation of Truth and Reconciliation Commission Call to Action #57.
Testimonials
It's been an inspirational learning experience. It's the best learning experience I've had since joining the government 26 years ago. Coming into my role, I had little to no experience working with Indigenous communities. Now, I have a better sense of the scope of the work." – Jeff, series participant with ESDC in Vancouver
Who Should Attend
The learning program is for executives, policy directors and practice leads in the public service who seek to better understand how they can take concrete steps now to practice reconciliation.
*The seminar series will be in English.
The Program
The sessions are facilitated by a team of experienced moderators and involve presentations by leading experts including Indigenous leaders, discussion, critical thinking and interactive learning. The seminar series will focus on considering concrete policy solutions to some of the topical and important issues associated with the Indigenous agenda.
During the first offering, speakers included:
Senator Murray Sinclair
Grand Chief Wilton Littlechild
Professor Ken Coates
Gina Wilson
Max FineDay (recently appointed by the Government to the Interim Board of the National Council for Reconciliation)
Harold Calla (Executive Chair of the First Nations Financial Management Board)
Kimberly Murray (Assistant Deputy Attorney General for the Indigenous Justice Division at the Ontario Ministry of the Attorney General and previously the Executive Director of the TRC)
Dawn Madahbee Leach (Vice Chair of the National Indigenous Economic Development Board)
Sessions
Session 1 on Sept. 24, 2019: Understanding and applying the government's agenda
Session 2 on Oct. 29, 2019: Visit to an Indigenous community
Session 3 on Nov. 19, 2019: Working Together – Partnership and co-development
Session 4 on Dec. 10, 2019: Building a nation-to-nation, government-to-government and Inuit-Crown relationship
Objectives of the Seminar Series
Basics: Increase understanding of the history of the relationship with Indigenous peoples, Indigenous peoples' perspectives, what reconciliation means, the past and present policy environment, as well as greater cultural competence and confidence.
Practical: Increase understanding about how officials can take reconciliation forward in their own role and in their department, and how officials can incorporate it into their everyday policy-making.
Extension: Take their knowledge back to their department and share it with colleagues.
Leadership: Create a core group of 'champions' for practicing reconciliation.
Collaborative: Build networks with other officials who are working through similar issues.
Cross-cutting: Thought-provoking program with new, innovative and credible ideas on how to move forward with reconciliation.
Contact: Jonathan Perron-Clow
Putting Reconciliation into Practice: Inclusion and Action
The Team

Karen Restoule
Karen is a member of Dokis First Nation (Anishinabek Nation) and a beneficiary of the Robinson-Huron Treaty 1850. She currently serves as the associate chair of the Ontario Parole Board within Safety, Licensing Appeals and Standards Tribunals Ontario.
Previously, Karen was director of the Justice Sector at the Chiefs of Ontario, where she coordinated the efforts of First Nations leadership in Ontario to address justice and legal issues. She started her career in restorative justice and later worked in Ontario's correctional system.
In 2016, Karen co-founded Bold Realities, an organization that aims to promote discourse among Indigenous and non-Indigenous leaders on the importance of reconciling the relationship between Indigenous communities and corporate Canada. She is a graduate of the University of Toronto and the University of Ottawa's common law program (in French), where she was inducted into the Honour Society in 2014 for using her legal education as a foundation for making a significant contribution to her community.
Karen is the Prime Ministers of Canada fellow and a fellow with PPF and sits on boards for the Banff Forum and Level Justice. She enjoys leisure and commuter cycling, kayaking and spending time at the cottage with friends and family.