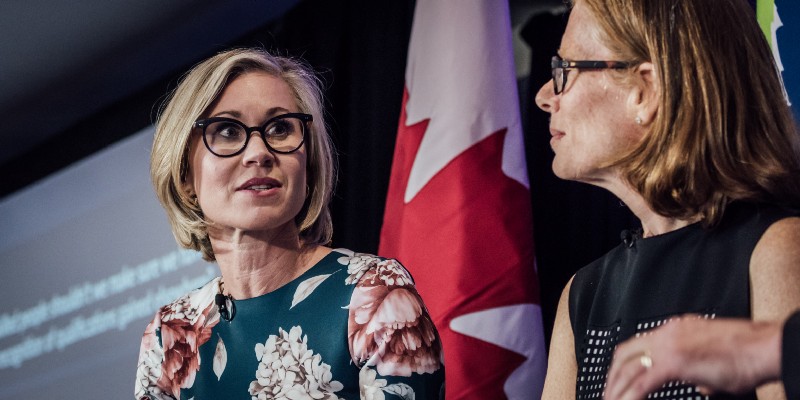 Publication
Growth Summit II: Five Takeaways
No matter the speaker or the panel discussion, some common and urgent themes emerged repeatedly at the Public Policy Forum summit on economic growth on April 20.
1. Immigration
It's clear — Canada needs immigrants badly if it's truly to grow its economy. Low-skilled temporary foreign workers are needed desperately in the agri-food sector as it attempts to position itself as a global powerhouse. And the highly skilled newcomers of the type that are coming to study at the University of Toronto's Rotman School of Management not only bring brains and skills to Canada — and should be fast-tracked to citizenship, the school's dean says — they also benefit Canada when they return home and start up global businesses with ties to Canada. Far from killing jobs, immigrants create them by starting their own businesses in greater numbers than those born in Canada, and in doing so, boost economic growth.
2. Infrastructure
From Finance Minister Bill Morneau to Toronto's chief planner Jennifer Keesmaat, many panelists cited the urgent need for improved infrastructure — especially better public transit and affordable housing. Immigrants in Canada's largest city will have trouble succeeding without it, Keesmaat warned the summit, and so too will various sectors critical to the health of the Canadian economy, including agri-food, an industry that needs better ports and more rail capacity. It needs to be built at hyper-speed, Keesmaat said, but Calgary mayor Naheed Nenshi urged governments to ensure infrastructure actually helps those most in need — shiny new public transit, he said, doesn't mean much to people who can't afford to go to university, don't have a job to go to and don't have the money to buy a bus pass
3. Tech skills
The good news from the summit: Canada has rapidly become a world leader in Artificial Intelligence, with some of the best brains on the planet working on deep learning and machine learning right here in Canada. The bad news? There's a looming skills gap because not nearly enough young Canadians are going into tech, a stubborn and persistent problem that threatens the future health of the tech sector in Canada and necessitates — you guessed it — more immigrants with tech prowess. Morneau said the government is working to ensure Canadian children learn code in schools, while Michael Serbinis, co-founder of Kobo and CEO of League Inc., only half-jokingly called for "kindergarten coders" during a panel discussion on competitiveness.
4. Thinking big
Canadian entrepreneurs haven't always done well at this, but are finally starting to think big — agri-food businesses believe they have what it takes to compete on a global scale, and so too do Canada's tech startups. Michael Sabia, president and CEO of Caisse de dépôt et placement du Québec, told a panel on competitiveness that it's "no longer any good" to be a company that simply gets along in Canada — businesses need to aspire to compete in global markets. Young companies and young entrepreneurs, he added, who have come of age in an era in which the whole world is open to them, are increasingly coming to the table with a global focus. "Those are the people we ought to back," he said.
5. Innovation, research and development
The news out of the summit was disheartening — Canadian companies still do badly investing in innovation, research and development. And there's not enough access to capital for the country's boldest entrepreneurs. Sabia expressed dismay that a recent Statistics Canada survey found less than a third of big Canadian companies feel innovation is important, and only 15 per cent said they were prepared to take some financial risk in order to innovate. Jonathan Goodman of Deloitte Monitor also pointed to the "crappy" progress Canada has made in embracing innovation over the past 25 years. The message was clear: if Canadian companies don't get serious about investing in innovation, research and development and engaging in so-called innovation superclusters, significant economic growth is not in the cards.