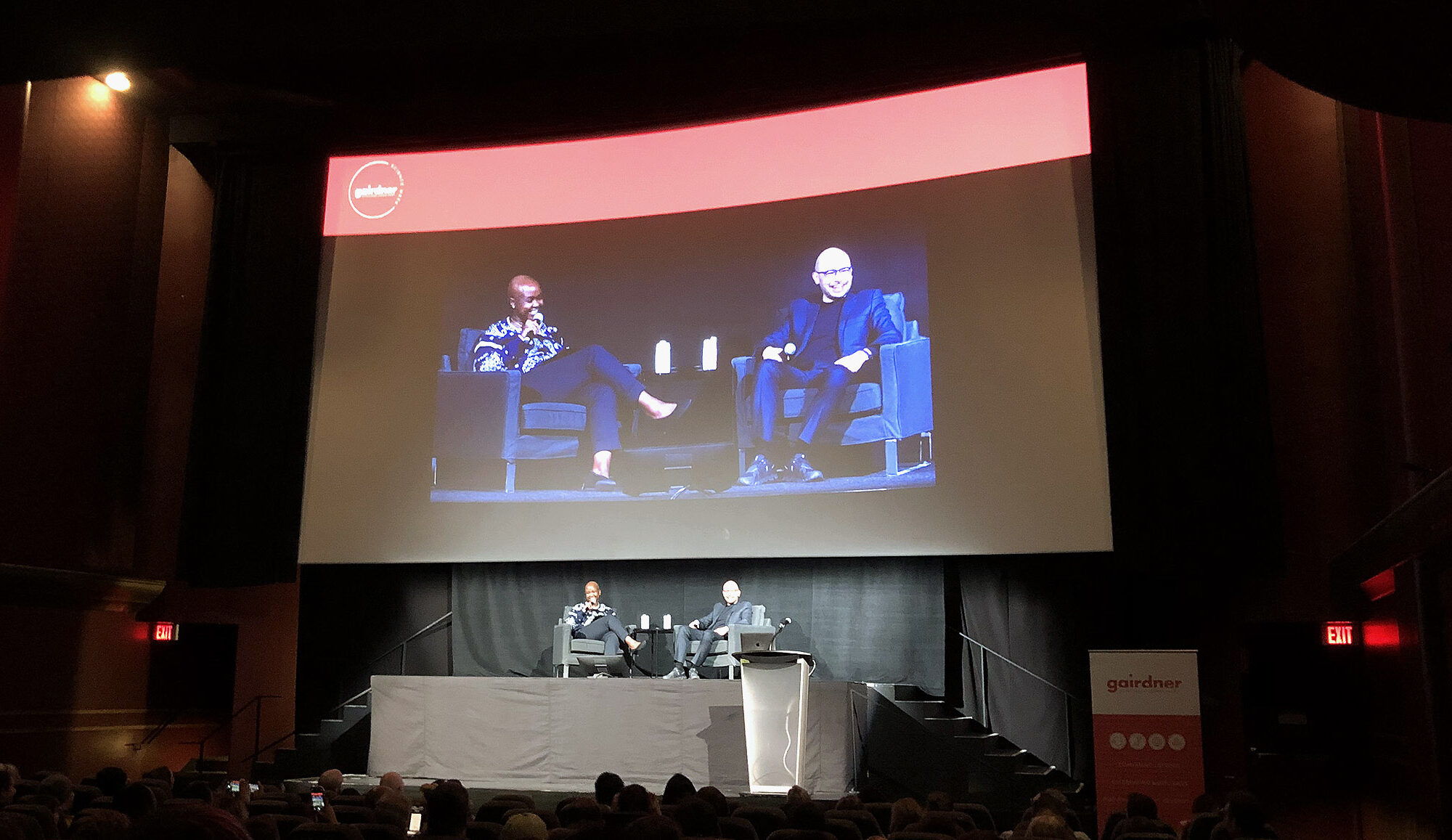 News
PPF Insider: Some advice from Google's AI guru
In this month's guide to all things PPF: Tips from Google's AI guru, and a new Canadian superpower.
PPF REPORTS
Catching the Wind: How Atlantic Canada Can Become an Energy Superpower
Despite having one of the world's longest and windiest coastlines, Canada does not yet have a single offshore wind turbine in its waters. If the country is going to meet its net-zero goals and growing demand for electricity, that will have to change — and fast. This presents a massive opportunity to turn Atlantic Canada into an energy superpower, according to PPF's latest report Catching the Wind. "Offshore wind could be for Atlantic Canada what oil was to Texas or hydro power to Quebec. We are talking here not of something incremental but monumental," says the report.
Written by Peter Nicholson, chair of the Canadian Climate Institute, the report outlines how essential offshore wind power will be in securing clean energy, and how Atlantic Canada can capitalize on the opportunity.
One logical location for offshore wind development is the Sable Island Bank, an ice-free area shallow enough to secure turbines to the sea floor. It could be home to 1,000 offshore turbines capable of powering 6.5 million Canadian homes, or twice the power consumed in Atlantic Canada. And that's just one of several potential sites.
The economic benefits of offshore wind in Atlantic Canada are equally impressive. Installing 15 GW of offshore wind generation would create 30,000 direct jobs annually over several years. The region would also grow to support a supply chain ecosystem and spin-off businesses. All in all, a game changer for Atlantic Canada, and benefit to the entire country.
The report was widely covered (see our PPF in the News section, below) and prompted much discussion in PPF's Atlantic Momentum newsletter, which focuses on news and events that are making waves in the Atlantic Region. If you're not already a subscriber and want to keep reading, sign up now.
PPF EVENTS
Introducing our Testimonial Dinner Award honourees (with more to come!)
Janice Charette and Marc Garneau will be two of the honourees at PPF's Annual Testimonial Dinner Honour Roll in April.
Charette was twice clerk of the Privy Council. She was first chosen as clerk by Stephen Harper in 2014, only the second woman named to that position. In 2016, Prime Minister Justin Trudeau replaced her — she headed to the U.K. to become Canada's high commissioner — only to bring her back in March 2021 (at the height of the pandemic) as interim clerk, and then permanently in May 2022. She retired in June 2023, after almost 40 years in nine different government departments.
"Not everybody gets a second act. That was a huge, great privilege for me to get to do that," she tells PPF. "To be the head of an institution, a pillar of our democracy, and to have a chance to work with prime ministers, to sit in the cabinet room, to lead and help to shape the future of the institution — there's nothing that will ever touch that."
Marc Garneau has had three remarkable careers: Navy commander; federal cabinet minister; and, of course, astronaut. He went to space in 1984, then again in 1996 and 2000. Before entering politics, he was head of the Canadian Space Agency. "I've always been open to all sorts of possibilities that have taken me many places," he says, "I've led a charmed life in service of my country."
In 2015 Garneau was named minister of transport, and in 2021 became foreign affairs minister. He resigned his seat in the House last March, and is his writing his memoir in retirement.
Charette and Garneau will be celebrated at PPF's next Testimonial Dinner Honour Roll on April 11, 2024 in Toronto. More than 1,100 leaders and policy wonks from all sectors of society will gather to pay tribute to distinguished Canadians who have made outstanding contributions to public policy and good governance. And what a time we'll have; take a look at the 2023 edition, and register now. We've extended our early bird pricing until Nov. 30, 2023.
Stay tuned for announcements about more honourees in the coming weeks.
PPF MEDIA
Here's some of what PPF has been covering and writing about in recent weeks:
'Ragging the puck' on energy: In the wake of the Supreme Court of Canada's recent environmental decision, the provincial and federal governments reacted with wildly disparate interpretations. "The result is a political dissonance that comes with dire consequences — it is a setback in the fight to reduce GHG emissions and the race to a net-zero future," write Mike Blanchfield, PPF's Director, Energy Policy and Arash Golshan, a PPF Policy Associate. In an op-ed for PPF Media, they argue that the fallout from the decision flies in the face of what's urgently needed — a hurry-up, speed-focused strategy.
Pandemic Lessons: Canada is at risk of losing the health security momentum gained during the pandemic. That was a key message PPF members heard at an event to discuss The Next One, our recent report on preparing Canada for the next health emergency. When COVID struck, a newfound degree of cooperation emerged between governments, academics and industry. Decisions were made quickly, advice was heeded, and vaccines were secured. But those lessons now need to inform new systems and institutions to prepare for the inevitable: another health security emergency. Read our coverage of the event.
How not to handle AI: The world is at a pivotal moment in history with the rise of AI, said Dr. Demis Hassabis at an event hosted by Gairdner and PPF.  Hassabis, the founder and CEO of Google DeepMind, sat down for a discussion with Shingai Manjengwa, head of education at ChainML, founder of Fireside Analytics and a PPF Fellow. The pair discussed the dangers of treating AI like any other technology, the massive potential it unleashes for health research, and how far along AI is in terms of creativity and sentience. PPF covered the event and offered five key takeaways.
Thrown for a Loop: New Brunswick and Nova Scotia recently agreed to a 'modified Atlantic Loop,' building a new high-power transmission line between the two provinces. What is the Atlantic Loop, and why is it considered an important part of building a clean energy grid? Check out our latest PPF Explains feature.
PPF ACADEMY
Policy 101
PPF and Action Canada have introduced two new modules in the Policy 101 video series: "What does the government do and how does it relate to public policy?" and "How does public policy get created?" These videos feature insights from Action Canada Fellows and simplify the components of public policy into accessible and engaging content, complete with real-world examples and teacher guides. These resources are aligned with high school curriculums across Canada, making them valuable tools for educators to introduce content to their students. Start watching the videos today!
Policy Perspectives Podcasts
Action Canada is excited to announce the launch of its second "Policy Perspectives" podcast. In this episode, Action Canada Fellows Madison Rilling '23 and Michelle Bailey '23 examine the significance of public policy, drawing from insights gained during their study tour in Whitehorse. This podcast follows Action Canada's inaugural episode, where fellows explored what public policy means to them and how their visit to Halifax influenced their understanding of this intricate field.
AI Policy Compass
The AI Policy Compass program is your guide to navigating the ever-changing AI policy landscape. It's designed for policymakers at all government levels (federal, provincial, and municipal) and individuals in the private, academic, or non-profit sectors engaged in AI governance and policy work. We are proud to partner with Mila – Quebec Artificial Intelligence Institute and feature speakers like Jeremy Pinto. The next cohort starts on Nov. 28. Visit our website for more details and to register for the AI Policy Compass program.
PPF IN THE NEWS
PPF's Catching the Wind report was first reported on by Bloomberg. It was also covered closely by the CBC.
Author Peter Nicholson talked to Global News about the so-called modified Atlantic Loop plan, which he calls "a first downpayment" on a wind-powered clean energy strategy.
The Catch the Wind report also appeared in RBC's newsletter Climate Signals, as well as on Newfoundland's VOCM, among other places.
Christopher Dornan, a co-author of PPF's Shattered Mirror, spoke to the Hill Times about the uncertainty surrounding the Online News Act and how Google will respond.
The polarization of Canadian politics continues to be a source of debate and concern. The National Post's John Ibbitson approached it with some historical context in a column citing PPF's work on the subject.
PPF Fellow and Columbia Business School professor Brett House spoke with Forbes about the global economic impacts of the Israel-Hamas war. Prof. House is a sought-after commentator on economic matters and became America's go-to expert on 'Taylor Swift-onomics.' He also appears weekly on the radio show Dollars and Sense with Brett House.
PPF Fellow Ed Whittingham and his co-hosts released a new episode of their Energy vs. Climate podcast, looking at interregional transmission lines and their role in the energy transition puzzle. "Despite the well-documented benefits of long-distance transmission, to date there has been limited progress in building out interties across North America."
Victoria Kuketz, PPF Fellow in Digital Democracy, hosted a panel discussion with Justin Ling, the author of PPF's Far and Widening report, and Shweta Menon, Policy Lead at PPF. Part of the Democracy Dialogues at Toronto Metropolitan University, the discussion examined party politics and the rise of polarization and the impact on youth.
Kuketz will also be moderating a panel at Rotman's "Culture of Cohesion Summit" presented by their Intercultural Skills Lab on Nov. 13.
PPF RECOMMENDED READING
PPF recently hosted Professor Ben Perrin at our Ottawa office for the launch of his book Indictment: The Criminal Justice System on Trial with Prof. Benjamin Perrin. Prof Perrin is a national best-selling author, UBC law professor and Action Canada alumni. His book is at the heart of a vital national conversation about our failed criminal justice system, and how we can build a new way to better address harm in our society.
Between Doom and Denial: Facing facts about climate change, by Andrew Leach. This is the first in a planned series of Max Bell Lectures and you should go watch Dr. Leach give a talk in person if you can. Each chapter tackles one myth that gets in the way of reasonable and fruitful policy discussion about climate policy. This book does a major public service for all of us, because whether we're personally working on climate policy or not, we're going to be living with the consequences.  – Jennifer Robson, PPF Fellow
The New Map: Energy, Climate, and the Clash of Nations, by Daniel Yergin. This is a captivating book that reveals how the world of energy and geopolitics is transforming in the face of climate change, technological innovation and shifting power dynamics. The book covers topics such as the shale revolution in the U.S., the rise of China and its ambitious Belt and Road Initiative, the conflicts and rivalries in the Middle East, the new energy Cold War between China and the U.S., and the challenges and opportunities of the energy transition to a low-carbon future. It is based on extensive research and interviews with key players in the energy sector and provides a thorough and insightful analysis of the new map of energy and its implications for the global order. The book is a must-read for anyone curious about understanding the forces that are shaping the energy world. – Arash Golshan, PPF Policy Associate
Against Remembrance by David Rieff. I read this book some years ago when the peace agreement between the FARC guerilla and the Colombian government was under negotiation. Rieff, a war correspondent, offers a different perspective on reconciliation after the war and poses some controversial ideas about the best way to achieve peace and avoid future conflicts. What if collective memory is an obstacle to peace? What if remembering the great tragedies is used politically to keep conflicts alive? Can new generations turn the page easily without carrying the burden of past conflicts? The author uses examples of social conflicts and ethnic cleansing in former Yugoslavia, South Africa and the Holocaust to demonstrate his arguments. – Rodrigo Barbosa, PPF Policy Associate
Don't miss next month's PPF Insider: Subscribe to the newsletter. 
More than 24,000 people can't be wrong! Join the most followed Canada-focused think tank on LinkedIn to get daily policy updates, early notice of must-attend events and up-to-the-minute news on report releases.