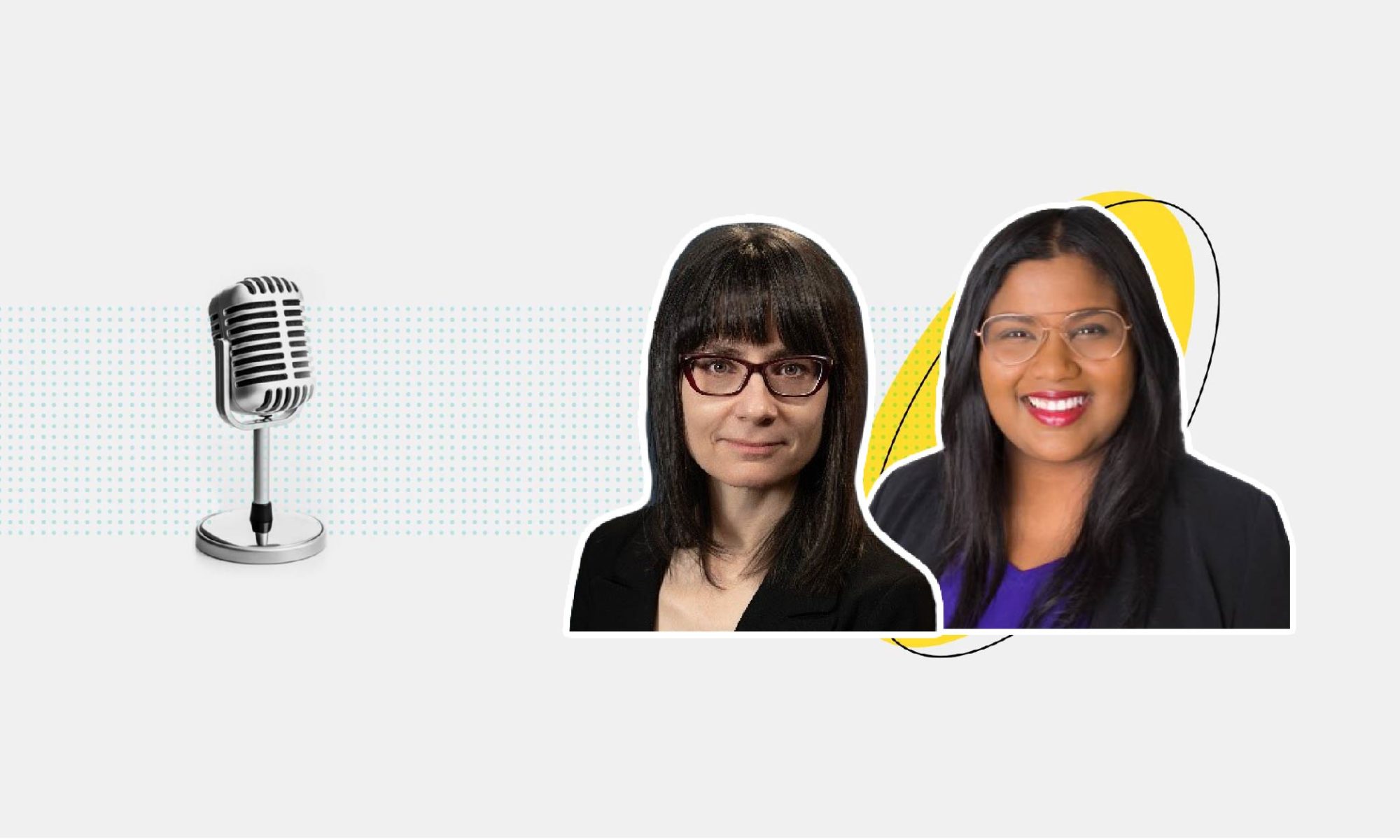 Podcast
Ep.41: She-cession – Unprecedented and Uneven
With Lynn Barr-Telford & Anjum Sultana
Women are the heroes of the COVID-19 pandemic. From nurses to doctors, school teachers to orderlies, women represent 50% (or much more) of many front-line professions. Yet employment outcomes for women, particularly young women and racialized women, are the most troubling. Lynn Barr-Telford, Assistant Chief Statistician at Statistics Canada, joins Policy Speaking to share these numbers and Anjum Sultana, National Director of Public Policy & Strategic Communications at YWCA Canada, shares how the pandemic has transformed hidden trends in the labour market and offers solutions from the YWCA's 8-point feminist economic recovery plan.
Listen in with Lynn Barr-Telford & Anjum Sultana
The contribution of women on the front lines who have put their own safety – and in some circumstances that of the families – at risk for the sake of pandemic recovery has been extraordinary. Yet the recovery has seen peaks and valleys. In the summer, Canada re-made 80% of the employment losses from the early pandemic but by January 2021, unemployment had risen to 9.4 percent. These high-level numbers only tell part of the story. Women are over-represented in all these statistics. At home, 64 percent of women said they helped the most with the children's schooling during the pandemic, versus 19 percent for men. In the labour market, young women (those under 24) are suffering employment losses three times worse than the average – placing them the furthest of any demographic away from pre-COVID numbers. As Lynn Barr-Telford, assistant chief statistician explains, there is further complexity in these numbers. Racialized women and low-wage workers also have a steeper hill to climb to return to pre-COVID levels of employment. In this episode, Policy Speaking is also joined by Anjum Sultana, National Director of Public Policy & Strategic Communications at YWCA Canada. She shares the hidden trends behind some of these numbers that the pandemic has revealed and offers some solutions from the YWCA's 8-point feminist economic recovery plan.
---
Lynn Barr-Telford represents Statistics Canada on CIHI's Board of Directors. She is the assistant chief statistician of the Social, Health and Labour Statistics Field at Statistics Canada. The Social, Health and Labour Statistics Field provides accurate, timely and relevant information across a range of social subject matters to decision-makers at all levels of government, to non-governmental organizations, to researchers and to the Canadian public. The portfolio includes a number of large survey and administrative data programs such as the Centre for Population Health Data; the Canadian Centre for Justice Statistics; the Centre for Gender, Diversity and Inclusion; and the Centre for Labour Market Information, among others. The field is also the home of Canadian census content expertise.  Ms. Barr-Telford holds a Master of Sociology from Carleton University and has several years of experience as a senior executive with responsibility for large, complex statistical programs.
Anjum Sultana is an award-winning public affairs strategist, sought-after media commentator, accomplished public speaker, and published researcher with expertise in gender equity, public health, and civic engagement.In 2020, Anjum was named a Global Woman of Distinction by the NGO Committee on the United Nations Commission on the Status of Women as well as named Canada's Top 30 Under 30 in Sustainability by Corporate Knights. Anjum is the National Director of Public Policy & Strategic Communications at YWCA Canada, the country's largest and oldest gender equity organization. Anjum is the Primary Author and Operations Lead for 'A Feminist Economic Recovery Plan: Making the Economy Work for Everyone', the first nationally-focused recovery plan of its kind.
Listen in and join the conversation with the hashtag #PolicySpeaking!
---
We'd like to thank the Diversity Institute and the Future Skills Centre for partnering with us to bring you Policy Speaking in February and March. Both Diversity Institute and Future Skills Centre are valued partners of PPF, and their work contributes greatly to the conversation around innovation, skills, diversity, and inclusion in Canada. PPF is currently working with these partners on a project called Skills for the Post-Pandemic World. Papers in this series will be released in March and April.