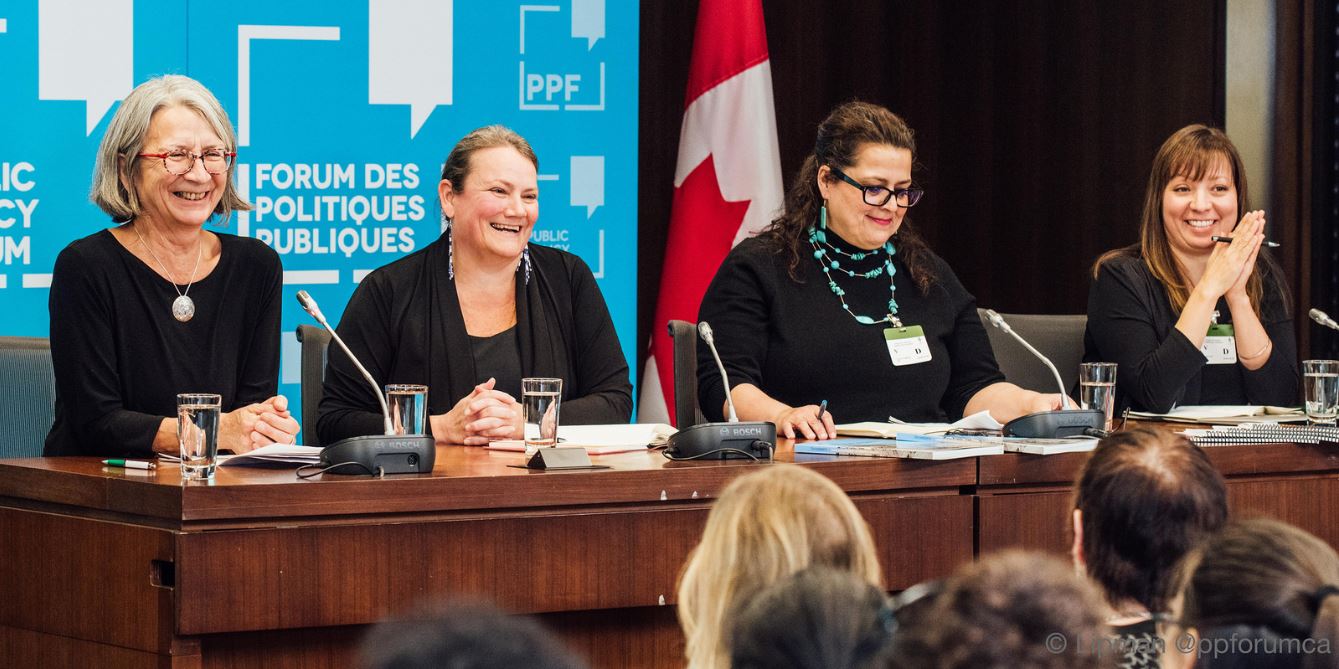 Event
Raising the Bar: Indigenous Women's Impact on the Law-scape
Indigenous Womens' Impact on the Law-scape
Special guest announcement - The Honourable Jody Wilson-Raybould, Minister of Justice and Attorney General of Canada. On Oct. 30, join us, the Minister and our panel for a discussion on Indigenous women in the law facilitated by the Public Policy Forum's Prime Ministers of Canada Fellow Karen Restoule. The panel discussion will be followed by a reception.
About the Event
Speakers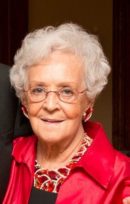 Founding Member and Honourary Senator, Métis Nation of Ontario (MNO)
Senator Reta Gordon is a founding member of the MNO and has been actively sharing Métis culture since 1993. She became the Senator for the MNO Ottawa Métis Council in 1999 and was elected PCMNO Executive Senator in 2002. In addition to her work as a liaison for MNO Senators, Senator Gordon has, for more than 20 years, represented the MNO at hundreds of gatherings from small intimate workshops to large conferences and similar events.
One of the most memorable events of her career as Senator was joining then Governor General Michaëlle Jean and the Commissioners of the Truth and Reconciliation Commission at Rideau Hall in 2009 for Witnessing the Future, a poignant and emotional event that launched the work of the Truth and Reconciliation Commission. During the event, Senator Gordon presented Governor General Jean with a Métis sash.
On Remembrance Day, Senator Gordon represents the MNO by laying a wreath at the Aboriginal Veterans Monument on Elgin Street in Ottawa.
Senator Gordon is very proud of her Métis culture and is always open to sharing her knowledge with audiences young and old. She takes seriously the need to educate and inform people about Métis culture and governance, and to explain what makes the Métis distinct among the three Aboriginal peoples of Canada recognized in the Canadian Constitution.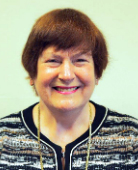 Dean, Faculty of Law, University of Victoria
Dr. Breau was the Head of the School of Law at the University of Reading, UK from 2014 to 2018, and has a distinguished record of achievement as a researcher, teacher and administrator. Her scholarship engages with multiple forms of law and legal orders, particularly in the law of armed conflict, international humanitarian law, international human rights law and international disaster law.
She completed her Bachelor of Arts, Bachelor of Laws and Masters of Arts degrees at Queen's University. She practiced law in Kingston, Ontario, for almost 20 years before completing Master of Laws and Doctor of Philosophy degrees at the London School of Economics and Political Science. She has taught and lectured at law schools throughout the United Kingdom and Australia. Dr. Breau was the Dorset Fellow in Public International Law at the British Institute of International and Comparative Law.
Dr. Breau will serve as the University of Victoria's Dean of Law for a five-year term from July 1, 2018 to June 30, 2023.
Minister Jody Wilson-Raybould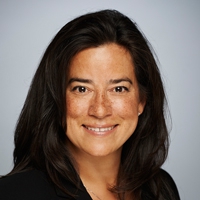 Minister of Justice and Attorney General of Canada
Minister Jody Wilson-Raybould is a lawyer, advocate, and leader among British Columbia's First Nations. As a former Regional Chief of the BC Assembly of First Nations, Minister Wilson-Raybould brings extensive experience in law, public service, and First Nations governance to Cabinet.
After being called to the Bar in 2000, Minister Wilson-Raybould began her legal career working as a provincial crown prosecutor in Vancouver. She later served as an advisor at the BC Treaty Commission, a body established to oversee treaty negotiations between First Nations and the Crown. In 2004, Minister Wilson-Raybould was elected as Commissioner by the Chiefs of the First Nations Summit.
Since being elected Regional Chief of the BC Assembly of First Nations in 2009, Minister Wilson-Raybould has devoted herself to the advancement of First Nations governance, fair access to land and resources, as well as improved education and health care services. She was re-elected as Regional Chief in 2012 and held responsibilities for governance and nation building on the Assembly of First Nations Executive. She has previously been involved with the Chiefs Committee on Claims and chaired the Comprehensive Claims joint working group.
An active volunteer in her community, Minister Wilson-Raybould has served as a Director for Capilano College, the Minerva Foundation for BC Women, the Nuyumbalees Cultural Centre, and the National Centre for First Nations Governance. She was also a director on the First Nations Lands Advisory Board and Chair of the First Nations Finance Authority. She is the recipient of the alumni award from the Minerva Foundation and the University of Victoria.
Minister Wilson-Raybould is a descendant of the Musgamagw Tsawataineuk and Laich-Kwil-Tach peoples, which are part of the Kwakwaka'wakw and also known as the Kwak'wala speaking peoples. She is a member of the We Wai Kai Nation and is married to Dr. Tim Raybould.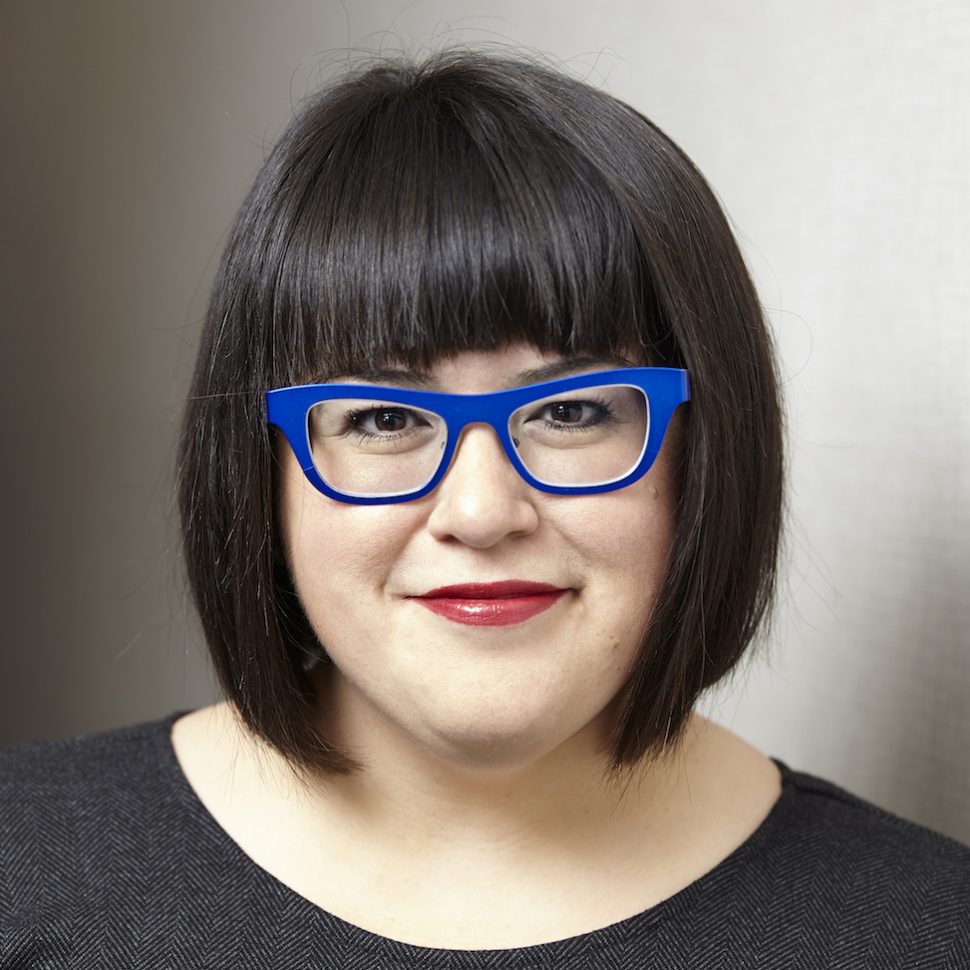 Public Policy Forum Prime Ministers of Canada Fellow
Karen Restoule is a member of Dokis First Nation (Anishinabek Nation) and a beneficiary of the Robinson-Huron Treaty 1850. She currently serves as the associate chair of the Ontario Parole Board within Safety, Licensing Appeals and Standards Tribunals Ontario.
Previously, Ms. Restoule was director of the Justice Sector at the Chiefs of Ontario, where she coordinated the efforts of First Nations leadership in Ontario to address justice and legal issues. She started her career in restorative justice and later worked in Ontario's correctional system.
In 2016, Ms. Restoule co-founded Bold Realities, an organization that aims to promote discourse among Indigenous and non-Indigenous leaders on the importance of reconciling the relationship between Indigenous communities and corporate Canada. She is a graduate of the University of Toronto and the University of Ottawa's common law program (in French), where she was inducted into the Honour Society in 2014 for using her legal education as a foundation for making a significant contribution to her community.
Ms. Restoule is a fellow with PPF and sits on boards for the Banff Forum and Level Justice. She enjoys leisure and commuter cycling, kayaking and spending time at the cottage with friends and family.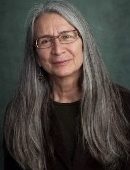 Associate Professor, Law Foundation Professor of Aboriginal Justice and Governance, University of Victoria
Dr. Val Napoleon (LLB (UVic) 2001, PhD (UVic) 2009, called to the British Columbia Bar in 2002), was appointed Law Foundation Professor of Aboriginal Justice and Governance at the Faculty of Law, University of Victoria on January 1, 2012. She is from north east British Columbia (Treaty 8) and a member of Salteaux First Nation. She is also an adopted member of the Gitanyow (Gitksan) House of Luuxhon, Ganada (Frog) Clan. Prior to joining the Faculty of Law at UVIC, she was an associate professor cross-appointed with the Faculties of Native Studies and Law at the University of Alberta.
She worked as a community activist and consultant in northwestern BC for over 25 years, specializing in health, education, and justice issues. She has also worked with a number of regional, provincial, national, and international projects relating to indigenous legal traditions, conflict management, education, and citizenship. Her dissertation on Gitksan law and legal theory was awarded the UVIC Governor General's Gold Medal for best dissertation in 2009. Her current research focuses on indigenous legal traditions, indigenous legal theory, indigenous feminism, citizenship, self-determination, and governance. Several of her major initiatives include the newly launched JID (joint JD and indigenous law degree) program and establishing an indigenous law clinic. She works with numerous community partners on a range of Indigenous law projects, and also with several national and international Indigenous law research initiatives. She has taught and published on aboriginal legal issues, indigenous legal theory, indigenous feminist legal studies, self-government, critical issues in restorative justice, oral traditions, and contemporary aboriginal issues. She also teaches property law. One of her interests is the development of Indigenous law materials that are plain language and non-text for use beyond the university.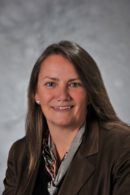 Ontario Assistant Deputy Attorney General for Aboriginal Justice
Kimberly Murray is a member of the Kahnesatake Mohawk Nation. She is the Province of Ontario's first ever Assistant Deputy Attorney General for Aboriginal Justice. She has been in this role since April 1, 2015.
Prior to this position, Ms. Murray was the executive director of the Truth and Reconciliation Commission of Canada where she worked to ensure that survivors of Canada's Indian Residential Schools system were heard and remembered, and to promote reconciliation between Indigenous and non-Indigenous people.
From 1995 to 2010, Ms. Murray was staff lawyer and then executive director of Aboriginal Legal Services of Toronto. She has appeared before the Ontario Court of Appeal, the Federal Court of Appeal, and the Supreme Court of Canada on Aboriginal legal issues. She has acted as counsel or co-counsel on numerous Coroner Inquests, was instructing counsel for ALST at the Ipperwash Inquiry and co-counsel for ALST at the Goudge Inquiry and the Frank Paul Inquiry in British Columbia. Ms. Murray is the recipient of the Dianne Martin Medal for Social Justice Through Law, the City of Toronto's Aboriginal Affairs Access, Equity and Human Rights Award, the Law Foundation's Guthrie Award, the Law Society of Upper Canada's Laura Legge Award and the 2017 National Aboriginal Achievement Award for Law and Justice. She was also an Adjunct Professor at Osgoode Hall Law School where she co-facilitated the Aboriginal Land Resource and Governance Intensive program. Recently, the Indigenous Bar Association granted Ms. Murray the Indigenous Peoples Counsel (IPC) designation.
Professor, Faculty of Law, Common Law Section,
University of Ottawa
Dr. Tracey Lindberg is a citizen of the As'in'i'wa'chi Ni'yaw Nation, also known as Kelly Lake Cree Nation (KLCN). A bestselling author (of the novel "Birdie"), a former Canada Research Chair and current University of Ottawa Research Chair in Indigenous Law and Legal Traditions, she tries every day to honour her relatives and to be a better aunt. She writes and teaches from Algonquin territory.

PhD Student in Indigenous Law, University of Victoria, and Director, Fort Nelson First Nation Lands Department
Ms. Lowe is Dene from the Fort Nelson First Nation in northeastern BC. She holds a Master's degree in Indigenous Governance from the University of Victoria. She has worked extensively on Indigenous land and water governance issues on behalf of her community, including inter-governmental and industry relations, community-based research and monitoring, and strategic policy and program development. Ms. Lowe has been Director of the Fort Nelson First Nation Lands Department since 2009 and is currently on leave from her position to complete her studies. She is the recipient of the 2018 REFBC Land Champion Award.